Muslim Anti-Wahhabi Protest, Washington, DC
Al-Baqee Coalition/CIP
September 23, 2009
http://www.islamicpluralism.org/1367/muslim-anti-wahhabi-protest-washington-dc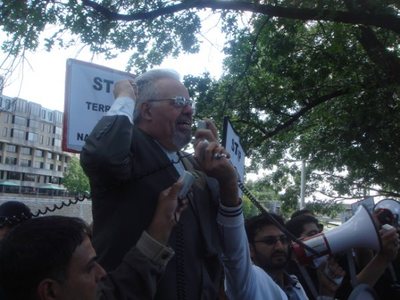 Suleyman Schwartz speaking at DC demonstration, 9-28-09 -- Photo by Ali Syed
FOR IMMEDIATE RELEASE
MASS PROTEST AGAINST SAUDI CULTURAL VANDALISM
TO BE HELD 10 AM-2 PM MONDAY, SEPTEMBER 28, 2009
AT ROYAL EMBASSY OF SAUDI ARABIA, WASHINGTON, DC
On Monday, September 28, 2009, the Al-Baqee Coalition, bringing together Muslims opposed to cultural vandalism by the official Wahhabi sect in Saudi Arabia, will gather for a protest in Washington, DC, demanding reconstruction of the demolished cemetery of Al-Baqee, in Medina, one of the two holy cities of Islam in Arabia.
The protest will be held from 10 AM to 2 PM at the Royal Embassy of Saudi Arabia, 601 New Hampshire Avenue, NW, Washington, DC 20037. Guest speakers will include Shia Muslim clerics Hujjat-ul-Islam Moulana Mehboob Mehdi Abidi, Hujjat-ul-Islam Moulana Sakhawat Hussain, Hujjat-ul-Islam Moulana Sheikh Jaleel Isa, and American Muslim author Stephen Suleyman Schwartz.
The destruction of Al-Baqee, the resting place of the Companions and many family members of the Prophet Muhammad (peace be upon him) was carried out after the seizure of Mecca and Medina in 1925 by the Wahhabi allies of the House of Sa'ud. Wahhabi fanatics object to prayer at tombs, shrines, and cemeteries, claiming such observance represents polytheism and idol worship. Reconstruction of Al-Baqee in Medina has been a constant demand of moderate Muslims since then.
Further information is available at the website www.baqee.org or by contacting Syed Ali Yousuf at [email protected], telephone number 1-630-400-7272.
* * *
Related Topics: Saudi Arabia, Shiism, Wahhabism receive the latest by email: subscribe to the free center for islamic pluralism mailing list