Mueller Releases Indictments, While Our Founder Is Silenced on Anti-Social Media
by Luciana Zana Trëndafilazezë
CIP
February 16, 2018
http://www.islamicpluralism.org/2669/mueller-releases-indictments-while-our-founder-is

Zana.
Today, US Deputy Attorney General Rod Rosenstein disclosed the indictment of 13 Russian nationals and three entities accused of breaking US laws to interfere with the 2016 presidential election.
Our founder, Ashk Sylejman, born Stephen Schwartz, is an expert on Russian disinformation, as may be perceived by a glance at our websites.
Our Ashk has beaten a steady drum of warning about this reality.
But thanks to Twitter Russophile boss Jack Dorsey and others, our Ashk has been silenced, labelled a hatemonger.
"Moscow Dorsey" simply could not stand that our Ashk lashed "Natasha in the hacker office" repeatedly.
Our Ashk even warned that "sealed indictments" were on the way, and would rock the White House.
The former runway model Dorsey postures as a pillar of moral equivalence by striking at our Ashk while encouraging Nazis to befoul his platform.
CIP is under serious pressure to withdraw our voices from this public debate in America.
We have been labelled as insane because we try to bring to this crisis an understanding of how events in Russia and the Balkans, beginning in 1987, are reproduced in Western Europe and America: ethnic polarization, financing of militias, "fake news."
Unfortunately, the knowledge each of us in the former Communist empire possesses is dismissed by Americans as an exotic fairytale.
We asked our Ashk, who has been taxed severely by life during the past year, to enter khalwa for a much-needed rest.
That proved impossible.
Our Ashk, and some of us in CIP (not all) cannot abandon the front lines in this struggle.
We opposed Russian aggression in Afghanistan. We oppose it when it infiltrates America.
We fought Serbian fascism. We fight it when it has descended like a blight on America.
With the support of millions of Muslims, we will continue.
Luciana Zana Trëndafilazezë, International Director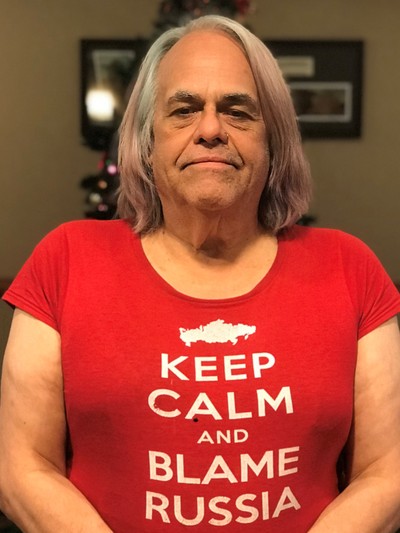 Our Ashk.
Related Topics: African-American Muslims, Albanian Muslims, Alevism, American Muslims, Balkan Muslims, Bektashi Sufis, Bosnian Muslims, British Muslims, Canadian Muslims, Central Asia, Chechnya, China, Deobandism, Dutch Muslims, European Muslims, French Muslims, German Muslims, Indonesia, Iran, Iraq, Kazakhstan, Kosovo, Kurdish Islam, Kyrgyzia, Macedonia, Malaysia, Moldova, Montenegro, Muslim Brotherhood, Muslim-Christian Relations, Muslim-Jewish Relations, Pakistan, Prisons, Russia, Saudi Arabia, Sephardic Judaism, September 11, Shariah, Shiism, Singapore, Sufism, Takfir, Terrorism, Turkish Islam, Uighurs, Uzbekistan, Wahhabism receive the latest by email: subscribe to the free center for islamic pluralism mailing list