Fatiha for the Blessed Sufi Shaykh Abd al-Aziz Bukhari
by Stephen Schwartz
CIP
June 3, 2010
http://www.islamicpluralism.org/1560/fatiha-for-the-blessed-shaykh-abd-al-aziz-bukhari
The Center for Islamic Pluralism joins numerous Sufis and believers in the other faiths around the world in mourning the blessed Shaykh Abd al-Aziz Bukhari, who has died in Jerusalem at 61. His janaza was held on Tuesday, June 1.
Stephen Suleyman Schwartz, Executive Director of CIP, asked Muslims to recite Fatiha, the opening verse of Qur'an, as a memorial to Shaykh Bukhari. Schwartz commented, "I met Shaykh Bukhari in 2004 and was immediately impressed by his dedication to inter-religious respect. He inspired me to write my book The Other Islam: Sufism and the Road to Global Harmony, which was published in 2008. His tireless work with Jews and Christians in Jerusalem will not soon be replaced. He was taken by Allah Almighty at a time when he was most needed. He was under constant pressure from radicals and this weakened his health. We have seen more than one such case in recent times. "
Shaykh Bukhari was the head of the Naqshbandi Sufi Order in the Holy Land. A direct descendant of the noted collector of hadith, Imam Muhammad ibn Ismail al-Bukhari, Shaykh Bukhari was also head of the Uzbek Muslim Community in the Holy Land, which counts about 3-4,000 members. His family had emigrated there from Central Asia in 1616 to found a khaniqa, or lodging house for pilgrims of the Naqshbandi order. Under the Ottoman empire, the family was responsible for the maintenance of Muslim holy sites in the entire region, including Lebanon. His family zawiya housed an important library of Islamic manuscripts. At his death, he was Islamic representative to the Municipality of Jerusalem.
Shaykh Ghassan Manasra of Nazareth, whose father, Shaykh Abd al-Salaam Manasra, is leader of the Qadiri Sufi Order in the Holy Land, commented, "Shaykh Bukhari influenced lots of people, worked hard to bridge the religions and cultures; and his teaching is keeping part of the youth on the right path. We worked together for many years and succeeded many times and failed many times and decided to stay on the [path] of God to bring peace, tolerance, harmony and moderation," he said.
According to an article in The Jerusalem Post, the funeral was attended by Muslims, Jews, and Christians. Shaykh al-Bukhari was buried in his family tomb. The newspaper added that for the succeeding three days, rabbis, Muslim and Druze shaykhs, Christian clerics and others were expected to visit the mourning tents at his graveside.
Shaykh Bukhari was a founder of the Jerusalem Peacemakers, an interfaith group: "At least I tried; I am not just waiting for change," he told Schwartz. As noted in The Other Islam, "He was criticized by some Muslims in the Old City of Jerusalem for welcoming non-Muslims to his Sufi rituals, and was accused of being a Baha'i, a Freemason (the focus of much paranoia in the Muslim world), and an adherent of a 'false belief that all religions are one.' The latter is a common reproach hurled at Sufis, yet Shaykh Bukhari answers serenely, 'We are all born with no distinct religion, and it is the decision of the Creator how people will come to religion.' But the shaykh could not yet make the hajj to Mecca because he does not hold a Jordanian passport—when I interviewed him only Israeli Muslims who could show pre-1948 residence papers, which he lacks, were allowed into the Saudi kingdom for hajj."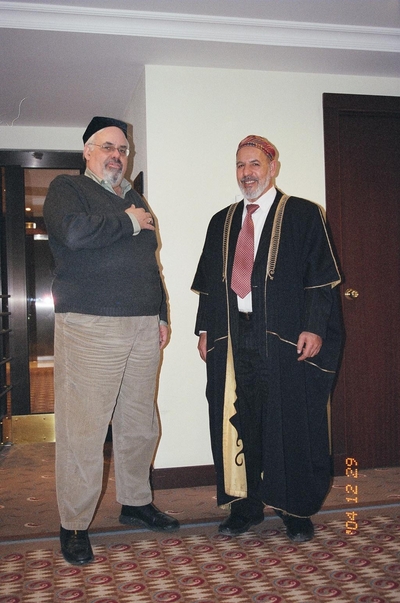 Stephen Suleyman Schwartz with Shaykh Abd al-Aziz Bukhari
For the shaykh's obituary in The Jerusalem Post, see http://www.jpost.com/LandedPages/PrintArticle.aspx?id=177302
Related Topics: Muslim-Christian Relations, Muslim-Jewish Relations, Saudi Arabia, Sufism, Uzbekistan receive the latest by email: subscribe to the free center for islamic pluralism mailing list