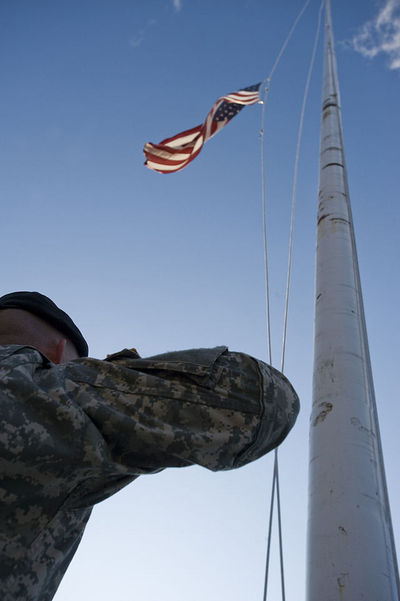 The U.S. Army in Honor of the Victims at Fort Hood, Texas, 2009 -- Via Wikimedia Commons.
As September ended, America confronted two different but similar threats in the zones where the terrorist Al-Qaida network and its allies have been most active recently: specifically, in Yemen and Pakistan.
In Yemen, U.S. forces on September 30 accomplished a strike by remote-controlled drones carrying Hellfire missiles. They eliminated two and possibly three of the most notorious and deadly leaders of Al-Qaida in the Arabian Peninsula (AQAP), the extremist cadres pushed out of Saudi Arabia. The two confirmed dead were both American by citizenship: Anwar Al-Awlaki, 40, who was born in the U.S., and Samir Khan, 25, who was of Pakistani origin, born in Saudi Arabia, and a U.S. citizen by naturalization. The third, unconfirmed target was Ibrahim Al-Asiri, 29, considered the chief AQAP bomb fabricator, and a Saudi subject.
Al-Awlaki was known to Americans as the radical agitator who incited Nidal Malik Hasan, a U.S. Army psychiatrist, to commit the massacre at Fort Hood, Texas, in 2009. Hasan's court-martial, in which he will be charged with 13 counts of murder and 32 counts of attempted murder, has been set for March 2012. Another U.S. Army soldier, Jason Naser Abdo, who had tried to obtain status as a conscientious objector to war so as to leave the American armed forces, was arrested in July 2011 for possession of an unregistered firearm and bomb-making materials, in the vicinity of Fort Hood. In his court hearing, Abdo shouted out the name of Nidal Hasan as an expression of his anti-American views.
From a Yemeni background, Al-Awlaki had been involved with members of the Al-Qaida group that carried out the airline hijackings of September 11, 2001, and had preached at Dar ul-Hijrah, the most prominent Wahhabi mosque in America, located in Falls Church, Virginia. The Yemeni-American Islamist was portrayed as "charismatic" because of his command of English and his ability to frame radical arguments. Aside from Hasan and, by extension, Abdo, other terrorists and would-be "martyrs" affected by Al-Awlaki's exhortations included the Nigerian-born Umar Farouk Abdulmutallab, who sought to blow up an airliner over the city of Detroit in 2009; Sharif Mobley, an American Muslim who supported Al-Qaida and was arrested in Yemen last year; Faisal Shahzad, a Pakistani-born Muslim and naturalized U.S. citizen, charged with placing a car bomb in New York's Times Square in 2010; Roshonara Choudhry, a British Muslim who stabbed UK parliamentarian Stephen Timms in 2010; and an Albanian Muslim, Betim Kaziu, arrested by Kosovo police and found guilty in a U.S. court earlier this year of terrorist conspiracy.
Considering the worldwide fame he acquired after the Hasan atrocity, and the ease by which his speeches and writings could be transmitted on the internet, Al-Awlaki was doubtless involved in numerous similar instances, some of them perhaps yet to be revealed. He was also a planner of terror assaults, who is believed to have directed an effort to send bombs to the U.S. using air courier services last year. As an illustration of the distorted character of the debate over Islamist terrorism that continues in the U.S., the decision of the Obama administration openly to mark Al-Awlaki for execution was assailed by some Americans as an abuse of power and a denial of Al-Awlaki's judicial right to due process as an American-born citizen. Others have, more significantly, criticized the failure of U.S. law enforcement agencies, which had been aware of Al-Awlaki's activities for years, to respond more rapidly to the evidence against him they had accumulated.
Samir Khan, a former blogger, was less well-known globally than Al-Awlaki, but his efforts for Al-Qaida were nonetheless significant. He was a leading figure in production of an Al-Qaida online magazine, Inspire, that served as a recruiting tool for AQAP, disseminating texts by Al-Awlaki and others in English.
The unconfirmed fatality in the drone operation, Ibrahim Al-Asiri, has been described by some as potentially more important than Al-Awlaki in AQAP operations, since he was an inventor of weapons. These included a bomb carried by his own brother, Abdullah, who was killed in a mysterious, failed attack in 2009 on the life of Saudi Prince Muhammad Bin Nayef, son of hard-line Wahhabi interior minister and Saudi second deputy prime minister Prince Nayef, plus the "trouser bomb" worn by Abdulmutallub, and the 2010 courier service bombs sent to the U.S.
But Al-Awlaki, the "star" in terms of publicity, was also in contact with another Islamist cleric in North Virginia, Ali Al-Timimi, convicted in 2005 and sentenced to life imprisonment for recruiting on behalf of the Pakistan-based Lashkar-e-Taiba (LET), the so-called "Army of the Righteous." An Al-Qaida auxiliary, LET has been involved in conspiracies against the U.S., India, and other nations. LET has focused on Kashmir as a training and combat zone, but was also involved in the 2006 plot aimed at Heathrow airport in the UK, and was blamed for the devastating 2008 attack on Mumbai.
And it is here that we should begin to ask questions about the similarities between Yemen and Pakistan. We can take for granted that Al-Awlaki in Yemen and Al-Qaida and LET in South Asia were complicit with one another. In May 2011, following the successful elimination of Osama Bin Laden in Pakistan, a drone sortie in Yemen against Al-Awlaki failed to kill him. Unfortunately, even with the now-confirmed removal of Al-Awlaki, Khan, and (presumably) Al-Asiri from the scene, AQAP retains control over substantial territories in Yemen. AQAP has profited from the political chaos created by the revolt against dictator Ali Abdullah Saleh – who, in another enigmatic Saudi development, may have misled the Riyadh authorities so as to go home.
The situation in Yemen is more confusing than in any other land affected by the "Arab Spring," with competition between AQAP, the local branch of the Muslim Brotherhood, known as Al-Islah, and Shia Muslim protestors and armed rebels, as well as the forces supporting Saleh, a Zaydi Shia. The U.S. wants, with the Saudis, support from Saleh for a transitional agreement that would transfer power to his vice president, Abdo Rabbo Mansour Hadi. Since returning to Yemen, with a new outbreak of violence and the successful action against Al-Awlaki, Saleh continues to squirm away from such a handover. But U.S. pressure on him has been light, amounting to little more than statements by U.S. officials calling on him to resign. That is the first similarity with the state of U.S.-Pakistan relations: the U.S. treads softly in dealing with Saleh.
A second parallel is that observers of the Yemeni conflict suspect Saleh will use the success of the operation against Al-Awlaki as a pretext to remain in power, just as Pakistani leaders pledge their commitment to the anti-terror war, and cite minor victories they have attained. Yet a third is that relations between the Saleh government and its enemies have never been transparent, just as those between the Pakistani military and Islamist radicals are, according to many enlightened people, ambivalent. Anwar Al-Awlaki's father Nassir served as a government minister under Saleh. Abd Al-Majid Al-Zindani, known as the "red sheikh" because of his henna-dyed beard, is a former Saleh confidante, and has been associated with Bin Laden as well as other radical personalities and institutions. Al-Zindani turned against Saleh early this year. At that time, dictator Saleh denounced the protest movements of the "Arab Spring," including that against him, as "managed by Tel Aviv and under the supervision of Washington," according to The New York Times.
The main resemblance between the Yemeni and Pakistani crises is that in both, local rulers accuse the U.S. for all their troubles, while arguing that the U.S. plays the "blame game." In Pakistan, even moderate Barelvi Muslim clerics, other Sufis, and Shias, whose followers have been killed by the Pakistani Taliban, the jihadist acolytes of Abu'l Ala Mawdudi, and their allies, seem unfailingly to place responsibility for their predicament on Washington. By fighting the extremists, it is said, America provokes the murderers to new atrocities. And then there is the fallacious charge that America brought Pakistan's troubles down on the country by supporting Zia ul-Haq and the Afghan mujahidin against the Russians.
This urban legend, circulated widely in Pakistan and in the West, alleges that radical Islamist ideological influence inside the Pakistani military began with the resistance to the invasion of Afghanistan by the former Soviet Union. In reality, Islamist power inside the Pakistani state was apparent from the time Zia overthrew Zulfiqar Ali Bhutto – another master of two-faced international relations – in 1977, two years before the Russian occupation began. Zia established an "Islamic state" in Pakistan in 1978, a year before then-Soviet troops crossed the Afghan border. It is easy to "blame America first" for the consequences of opposition to the Russians in Afghanistan, in that the U.S. entered the conflict without questioning the ideology or goals of those mujahidin who acted under the influence of, and with financial support from, the Wahhabi clerics of Saudi Arabia. But it is false.
In Islamabad, nevertheless, a difference is visible. Pakistani political leaders are pushing back against criticism from the U.S., in a manner far more aggressive than in Yemen. Islamabad's governing elites were outraged by U.S. Admiral Michael Mullen's denunciation to the U.S. Senate, late in September, of the "veritable" role of the Pakistani Inter-Services Intelligence (ISI) in directing the terrorist network of Jalaluddin Haqqani and his son Serajuddin Haqqani. Mullen identified the Haqqani network and its ISI backers with the horrific series of attacks in Afghanistan this year – on the Intercontinental Hotel in Kabul, a NATO base in Wardak, and the U.S. embassy in Kabul.
Pakistan's politicians and media have expressed extraordinary outrage, during the past week, at Mullen's remarks, predicting an imminent American invasion of North Waziristan, where the Haqqani apparatus finds sanctuary, and warning against any "violation of Pakistani sovereignty."
Pakistani prime minister Yusuf Raza Gilani, having called an All-Party Conference to reinforce national unity, professed a willingness to talk with other nations – meaning the U.S. – on the basis of equality and mutual respect; i.e., diplomatic canons that exist between all nations that have stable relations. But if one looks at the situation frankly, the U.S. and Pakistan have not accepted an equal burden in the Afghan wars, where blood and treasure has been expended by America and hoarded by Pakistan, and American respect for Pakistan cannot be affirmed when Pakistan's duplicity is obvious. The turning point for most Americans who were previously unclear about the Pakistani problem came in May of this year, when Bin Laden was found and killed at a location, Abbottabad, indicating Pakistani military protection of him.
On September 30, Pakistani president Asif Ali Zardari contributed new obfuscations to the controversy, writing in The Washington Post, "After the attacks of Sept. 11, 2001, the world's most powerful democracy compromised its fundamental values to accommodate a dictator in Pakistan… The war is being fought in Afghanistan and in Pakistan, yet Washington has invested almost nothing on our side of the border and hundreds of billions of dollars on the other side… We have to live in the neighborhood. So why is it unreasonable for us to be concerned about the immediate and long-term situation of our Western border? We jointly appreciate that trade, job creation and manufacturing will dry up conscripts for the extremist banner." To call these declamations empty would be superfluous; they are merely variants of the "blame game." It has long been obvious to the world's moderate Muslims that radical Islam is a product of ideologies originating among Muslim rulers in Saudi Arabia, Pakistan, Malaysia, and Iran, and cannot be ascribed to economic deprivation.
The dictator in question, Pervez Musharraf, has accused the U.S. of making Pakistan the "scapegoat" for American failures in Afghanistan. Musharraf has threatened a breach in the already-questionable U.S.-Pakistan alliance if America "violates" Pakistani interests. He has also called for negotiations with moderate, pro-peace elements among the Taliban – a component of the radical movement that informed observers believe to be fictional.
Afghan president Hamid Karzai, for his part, has announced that he has abandoned any hope of discussions with the Taliban. As reported in The Wall Street Journal, Karzai effectively echoed Mullen's claim that the future of the Afghan war is in Pakistani hands. The Afghan president declared, "I do not have any other answer other than saying that the other side of the talks is Pakistan. This is because we cannot find [Taliban leader] Mullah Mohammad Omar. Where is he? We cannot find the Taliban council. Where is it?" The Afghan government has cancelled a conference with the U.S. and Pakistan that was to have taken place on October 8, and, instead, will present Islamabad with evidence of ISI coordination of the recent assassination of Afghan peace negotiator Burhanuddin Rabbani.
As in Yemen, however, one aspect of American policy is undeniable. Even in Pakistan, the U.S. has chosen, finally, to proceed cautiously. Admiral Mullen's remarks before the Congress, if not disavowed, were qualified decidedly by President Barack Obama, who told a radio interviewer on September 30, "the intelligence is not as clear as we might like in terms of what exactly that relationship is [between the ISI and the Haqqani network]." At an event marking the close of his tenure as chairman of the Joint Chiefs of Staff, Mullen himself qualified his earlier outspoken comments, by referring to the U.S.-Pakistan relationship as "vexing and yet vital."
U.S. Secretary of State Hillary R. Clinton endeavored to accommodate both positions – as the U.S. has in Yemen – by telling an Arkansas audience, according to the Reuters news agency, that, in the reporters' words, "Pakistan had a history of trying to distinguish between 'good terrorists' that it could use for its own strategic purposes and 'bad terrorists' that are working against it."
Reuters quoted Clinton's opinion that "it's important that we appreciate their perspective about where we both are now. That in no way excuses the fact that they are making a serious, grievous strategic error supporting these groups."
One reality about Yemen and Pakistan seems undeniable. Both are far from Washington, and what ordinary Muslims in both places know about the chicanery of leaders like Ali Abdullah Saleh, Asif Ali Zardari, and others will not easily be recognized or resolved from such a distance.
Related Topics: American Muslims, Pakistan, Terrorism receive the latest by email: subscribe to the free center for islamic pluralism mailing list