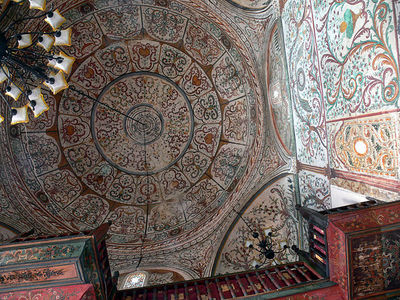 Ceiling decoration, 18th-19th c. CE Haxhi Et'hem Beu Mosque, Tirana, in 2007 – A most precious jewel of Albanian sacred architecture, subsidized by a Bektashi Sufi shahid. Photograph Via Wikimedia Commons.
In her latest offering to the fiction-reading public, the prolific Francine Prose has embarked on a daring project: to center a novel on a protagonist from a remote culture—ex-Communist Albania—about which the author knows very little. My New American Life describes a series of episodes experienced by a character whose personality and surroundings, both past and present, seem deliberately ill-defined and disjointed.
The principal figure of the novel, Lula, is a twenty-six-year-old Albanian immigrant woman who once served as an illegally employed waitress in a Manhattan establishment specializing in mojitos, a Caribbean drink made with rum and mint leaves. At the novel's outset, she has moved to the invented suburb of Baywater in northern New Jersey, to work as an au pair, overseeing the home life of Ezekiel "Zeke" Larch, a high-school senior who postures in all black clothes and listens to loud pop music. "The word nanny was never mentioned," Prose writes.
Lula's employer, Stanley Larch—or "Mr. Stanley" as she habitually calls him, somewhat to his discomfort—is a Wall Street analyst who abandoned a teaching career, and has been abandoned by his deranged wife Ginger. Four more men and two women fill out the cast: Don Settebello, a lawyer hired to straighten out Lula's immigration status; three Albanian immigrant thugs, known by their nicknames as Alvo, Guri, and Genti; a Hispanic cleaning lady, Estrelia; and Lula's former colleague in slinging mojitos, another Albanian woman and illegal entrant to America, named Dunia.
The novel is set in 2005, from October to the end of the year. The action begins when the three gangsterish Albanians appear one morning in a black Lexus SUV, unannounced, at Mr. Stanley's front door. They tell Lula that they are friends of her "Cousin George," another vague character who, like everyone else in this narrative, exists as a plot device rather than a human being. The trio call Lula "Little Sister," and ask her for a favor: to conceal a pistol for them. She complies, hiding the firearm in her underwear drawer.
The progress of the story is as uninflected as its initial scene. Alvo, the leader of the Albanian crew, passes in and out of Lula's consciousness as a possible sexual partner. She worries about the gun, but not very much. Lula is an aspiring writer, and uses Zeke's computer to keep a journal and compile amateurish stories based on Albanian folklore as filtered through the undistinguished novellas of Ismail Kadare, who here as elsewhere is undeservedly honored as Albania's "greatest novelist." Lula has found Kadare's books, translated into English, in the local public library, and transfers the tales he lifted from Albanian tradition into her own versions. Her own English is good—better than her inventiveness as a writer.
Against this drab panorama, "mysterious" events take place. Someone sneaks into the Larch house and takes a bath in the tub Lula uses. Alvo, the main Albanian heavy, is a red-head, and a red hair is left on the soap, so Lula suspects that he has invaded the home. Later, the three toughs return and, without retrieving the gun, drive Lula to a supermarket, which Alvo and she visit briefly. Then the Albanians drop her back at the Larch residence and disappear.
Lula, meanwhile, has been writing a "story" cribbed from an Albanian folk legend involving a charismatic but cruel woman, the "Earthly Beauty." Another anonymous foray into the Larch home takes place, and Lula finds that her story has been completed on Zeke's computer, by someone who appears not to know English well enough to spell "beauty" or "healer" correctly. Again, Lula suspects the red-headed Albanian, Alvo.
The remainder of the novel includes exploratory trips by "Mr. Stanley" and Zeke, with Lula as a sad travelling companion, to prospective colleges where the sullen son might seek admission. There are dinners and flirtation with Don Settebello, the immigration lawyer, and Thanksgiving and Christmas observances. The amorphous puzzles represented by the showering stranger, who is also a writer, as well as the criminal aura projected by the three Albanian men, are eventually explained. The story becomes more vivid when it deals with sex or the possibility of it. But these are not characters or happenings about whom most readers would typically care. An Albanian or a person knowledgeable about Albanian or Albanian-American culture would recognize the superficiality and gaffes in Prose's portrait of Lula, but there are few among the first category who read American novels of this kind, and the second category is rare in the United States.
Francine Prose has created these caricatures for a purpose: to convey her hatred of George W. Bush and his two presidential administrations. For Prose, Lula exists most importantly as a megaphone for disgust with America after September 11, 2001, as embodied in President Bush and Vice President Richard B. Cheney. The last is, in particular, a target of an inexplicable abhorrence in Lula's mind. Early in the book, Lula thinks of President Bush as "a dim little boy who'd told a lie that had set off a war," and whom she imagined was "scared of the vice president, who scared Lula, too, with his cold little eyes not blinking when he lied, like an Eastern Bloc dictator."
More insults in the well-known idiom of moral equivalence between totalitarian regimes and contemporary America come along. Pondering her success in gaining legal status, Lula thinks "This was Dick Cheney's America. Native-born citizens worried. It was just a matter of time before someone on Fox News got the bright idea of sending back the Pilgrims from Plymouth Rock." Later, she comments to the immigration attorney, Settebello, who is agonizing over work he has done at Guantánamo, "If Hoxha and Milošević had a baby, and the baby was a boy, it would look like Dick Cheney." Here, Prose may have imagined she scored a real imaginative achievement, comparing Enver Hoxha, the tyrant who nearly destroyed Albania, and Slobodan Milošević, a Communist autocrat and the architect of attempted genocides in the Balkans, with the elected Vice President of the United States.
But do Albanians or Albanian-Americans think or talk this way? In reality, Albanians are among the most pro-American people in the world, and not simply in search of the benefits of a "new American life." As the book admits in its early pages, Albanians have had a "love affair" with American presidents, crediting Woodrow Wilson with preventing their partition between the then-Yugoslavs and the Greeks, and praising George H. W. Bush, father of George W., as well as Bill Clinton, for saving Kosova from the Serbs. The Albanian government supported the interventions in Afghanistan and Iraq. It proudly maintains a contingent in the first country today, while it sent a small detachment of troops to Iraq from 2003 to 2008. When George W. Bush visited Albania in 2007, he was greeted by such enthusiastic crowds that journalists from The New York Times and media of a similar bent were somewhat put off.
There is no point in arguing with fiction writers about the opinions voiced by their invented personages, but the dissonance between the true character of most Albanians and the visceral political biases of Lula the governess are too obvious to be ignored. When Lula emits her hateful comments on Cheney, it is the author talking, not the mojitos Lula drinks each day. Francine Prose's real goal in this book is to present America in 2005 as a nation drained of vigor, real affection, and pride, ruled by troglodytes and possessed by fear.
The Balkan nations made their great entrance into Western consciousness in the 1990s, during the wars in the former Yugoslavia, rather like the Latin Americans who swam into view in the 1960s and 1970s—the years of the fabled "boom" that produced worthy authors like Mario Vargas Llosa alongside leftist poseurs like Gabriel García Márquez. Like the Latin Americans, the Balkan folk had the prestige of victimization. But the phenomenon of the "boom" illustrated that Latin Americans, although generally more impoverished than Balkan people, brought with them an undeniable cultural distinction. By contrast, the inhabitants of the Balkans—Bosnians, Albanians, and others—were and are seen as peoples without cultures, even though they have produced a considerable number of great poets and writers that are, alas, largely untranslated.
Yet the same tragedy befell both groups; they became stereotypical figures for the use of mediocre American and European novelists. The Latin "revolutionary" and the Balkan gangster bridge a narrow gap in the dominant Western literary mind. But the absurd genre of pastiche represented in the more familiar tropical realm by writers like Barbara Kingsolver has now given way to works that make little or no pretense to familiarity with their characters' Balkan backgrounds. One such example was Geraldine Brooks's wretched People of the Book, which presented an egregiously false account of the rescue of the Sarajevo Haggadah, a priceless Jewish manuscript saved during the Bosnian war. Similarly, with this book, Francine Prose has done her own country, as well as another of which she knows little, a dual injustice.
Related Topics: Albanian Muslims, American Muslims, Balkan Muslims, European Muslims, Kosovo receive the latest by email: subscribe to the free center for islamic pluralism mailing list