West can't ignore Pakistan's threat
by Salim Mansur
Toronto Sun
October 8, 2011
http://www.islamicpluralism.org/1909/west-cant-ignore-pakistan-threat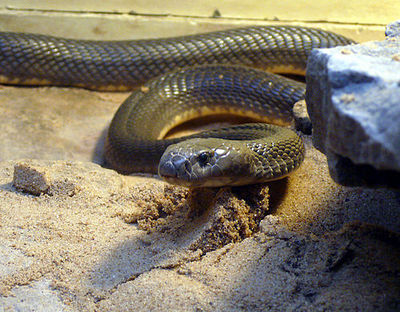 Central Asian cobra (Naja oxiana), Photograph Via Wikimedia Commons.
In the world of diplomacy, uttering words of caution on a troubled relationship with another state is pretty much raising a red-flag warning of impending or ongoing conflict.
This is what retiring Admiral Mike Mullen, chairman of the U.S. Joint Chiefs of Staff, did in his final appearance on Sept. 22 with the Senate Armed Services Committee in describing America's bizarre relationship with Pakistan.
In a carefully crafted public statement before U.S. senators, Mullen said, "Extremist organizations serving as proxies of the government of Pakistan are attacking Afghan troops and civilians as well as U.S. soldiers."
Then Mullen made the chilling observation: "We believe the Haqqani Network — which has long enjoyed the support and protection of the Pakistani government and is, in many ways, a strategic arm of Pakistan's Inter-Service Intelligence Agency — is responsible for the Sept. 13 attacks against the U.S. embassy in Kabul."
Those who have seriously studied the history, culture and politics of Pakistan, as I have done — full disclosure, my doctoral dissertation was on Pakistan and its failure in making the transition from a feudal society to a modern democratic state — is aware that from its origin resulting from a religious-based claim to partition undivided India, the country was a rogue state in the making.
Through the Cold War years, the U.S. turned a blind eye to Pakistan run by military dictators and a cabal of feudal lords. This was the Faustian bargain to maintain alliance with Pakistan as strategic real estate.
It mattered little to Washington — or London and Ottawa — whether this rogue state pushed for war with its neighbour (India), had its own population slaughtered or made into refugees (Bangladesh), oppressed ethnic minorities (Baluchis), persecuted religious minorities (Christians), promoted fanatics (Muslim fundamentalists), terrorized women (implementing Sharia), or was unable to feed its growing population while proceeding to build nuclear weapons.
Once the Soviet Union invaded Afghanistan in December 1979, Pakistan became the staging ground for the war that followed. The decade-long war not only turned Afghanistan into a graveyard for Moscow, it also made this landlocked country into the cradle of Taliban, al-Qaida and the worst excesses of Muslim fanaticism.
Pakistan has been in the thick of this. Its people obsessed with India, its military-political and intellectual elite driven by envy and resentment over India's relative success as the world's largest democracy and its rapidly growing economy, Pakistan became a Muslim version of North Korea. From aiding and hiding al-Qaida's leaders to arming, supporting and instructing Taliban fighters, Pakistan is in effect an objective enemy of the U.S. and the West.
Mullen's guarded words were meant, if understood properly, to publicly lift the veil on a relationship with a country that cheers the murder of U.S. citizens. Pakistan's rulers believe they can defy the U.S. so long as they enjoy the strategic embrace of Communist China, and the vital flow of petro dollars from the Gulf states — particularly the financial support of Saudi Arabia — remains unimpeded.
Moreover, a majority of Pakistanis are sold on the idea of being the vanguard nation of Allah armed with nuclear weapons. The peril from Pakistan is undeniable, and the West needs to acknowledge this urgently.
Related Topics: Pakistan receive the latest by email: subscribe to the free center for islamic pluralism mailing list