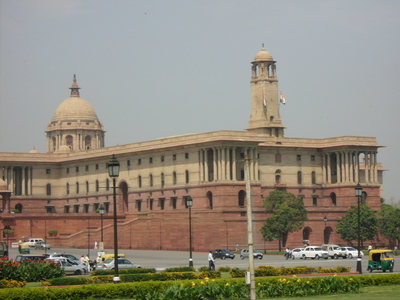 Parliament of India Building.
On February 5, the Times News Network, based in India, announced a development of significance to all Muslims, but especially in South Asia and the Pakistani, Indian, and Bangladeshi emigrant communities around the globe. Unnoticed in the West, and often ignored by the Urdu media, India is undergoing a revolution in its attitudes toward Islamic law. Perhaps the issues are too convoluted for Westerners. Or the plethora of initials and institutions may be an obstacle to comprehension. The All-India Muslim Personal Law Board (AIMPLB); the All-India Muslim Personal Law Board – Jadeed; the All-India Shia Personal Law Board (AISPLB); the All-India Muslim Women's Personal Law Board (AIMWPLB), and the All-India Ulema and Mashaikh Board (AIUMB) figure in the historical narrative. Keeping them straight is no small task for an outsider.
As reported by TNN writer Mohammed Wajihuddin, a recent meeting of Islamic scholars and activists has produced a "revolutionary" Draft Muslim Personal Law that would prohibit "triple talaq" divorce, in which a husband may reject his wife by a thrice-repeated oral declaration, and would require that all nikahnama (marriage contracts) be registered with state authorities. The minimum marriage age would be 18 for females and 21 for males. Polygamy would be disapproved.
The meeting that produced updated standards for Islamic Personal Law was called in New Delhi by the Institute of Islamic Studies (IIS) and the Centre for the Study of Society and Secularism (CSSS), both created by the Muslim modernizer Asghar Ali Engineer. It was co-hosted with the Bharatiya Muslim Mahila Andolan (Indian Muslim Women's Movement – BMMA), launched in 2007. Dr. Engineer, who originated in the Dawoodi Bohra community of Ismaili Shia Muslims, has become an international personality in his criticism of the current state of Islam. BMMA, according to the Indian daily Pioneer, has 25,000 members.
The Draft Muslim Personal Law corpus supported by the New Delhi convocation emerged from consultations with Muslim women and legal experts at the state and regional levels. Noorjehan Safia Niaz, a founder-member of BMMA from Mumbai, described the Draft as "a law based on Quranic principles to help women." A representative of the IIS, Qutub Jehan Kidwai, clearly denounced "triple talaq" divorce, stating "it must be abolished."
As noted, the new Draft would discourage polygamy. Retired Kerala High Court Justice P. K. Shamsuddin said that "the spirit of Islam" supports monogamy. He argued in conformance with the conventional Sunni Muslim account of Muhammad's life, which holds that many Muslim men were killed in the battle of Uhud, leaving a great number of widows and orphans. The scriptural reference to polygamy (Qur'an 4:3), as Shamsuddin pointed out, states "if you risk dealing unjustly with orphaned girls, you may marry those pleasing to you, two or three or four. But if you risk treating them unequally, marry only one." The same verse (aya) legitimizes marriage with slave girls, which is already deemed unacceptable in many Muslim countries. But the sense of the verse, as Justice Shamsuddin indicates, favors marriage with a single partner.
The proposals announced in New Delhi this month were not novel. Considerable turmoil involving Islamic law has occurred in India during the past several years. The Indian government grants Muslim Personal Law recognition in family affairs, and only the country's national parliament may amend the existing Islamic code. These matters have been governed generally by the All-India Muslim Personal Law Board (AIMPLB), created in 1973. That board was dominated from its beginning by Deobandi fundamentalism, which in its Pakistani form inspires the Afghan and Pakistani Taliban, and is aligned with the Saudi-financed global Wahhabi movement. Its first president was Qari Mohammad Taiyab, an administrator of Darul Uloom Deoband, the original medresa created by the sect. In its own words, AIMPLB was established "when [the] then-Government of India was trying to subvert Shariah law applicable to Indian Muslims."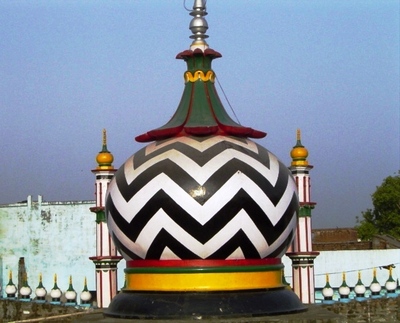 Dargah of Hazrat Ahmed Raza Khan, Bareilly Shareef -- Photograph 2004 Via Wikimedia Commons.
Its Deobandi-Wahhabi orientation led the AIMPLB to dissension in 2004. Adherents to the conservative and traditional Barelvi sect, which is linked with spiritual Sufism and claims the majority of Muslim believers in South Asia and in the subcontinental Muslim communities around the world, formed the All-India Muslim Personal Law Board (Jadeed). This was a "New" AIMPLB, under the leadership of Maulana Tauqir Raza Khan. The Barelvis protested against Deobandi-Wahhabi discrimination toward them.
The Barelvi complaint about the existing AIMPLB was later echoed by Shia Muslims – that the institution did not represent the diversity of Islamic interpretations present in India. In 2005 Shias broke away from the AIMPLB and created the All-India Shia Personal Law Board (AISPLB). When they left the All-India Muslim Personal Law Board, the Shia scholars affirmed that since its inception the AIMPLB had been dominated by "one view of one sect as the view of [the] whole of Islam." The "one sect" was Wahhabism. The current president of the All-India Shia Personal Law Board is Khateeb-e-Akbar Moulana Mirza Mohammad Athar Sahab Qibla.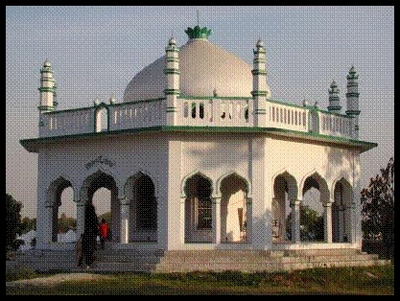 Shia Shrine of Imam Riza, Hallaur, India -- Photograph 2010 Via Wikimedia Commons.
Soon Muslim women set up the All-India Muslim Women's Personal Law Board (AIMWPLB). The president of the AIMWPLB, Mrs. Shaista Amber, charged the established Board with "ignoring and isolating problems of the Muslim women" making necessary the formation of a new platform for their concerns.
In 2010, another representative of the women's board, Parveen Abidi, told journalist Yoginder Sikand that the established AIMPLB was "vociferously opposed to gender justice, and even to the rights given to Muslim women by Islam. We felt that the AIMPLB was pronouncing on all sorts of issues related to Muslim women, generally in a manner very detrimental to us, but yet we, who were most immediately affected by their pronouncements, had no voice or forum of our own."
Abidi told Sikand, "Our work is, by and large, informal – it's more like a loose network of Muslim women activists in different parts of India. One of our notable achievements was a model nikahnama that we drafted which seeks to protect Muslim women, particularly with regard to divorce and polygamy." Sikand reminded her that the AIUMPB had "appealed to Muslims to try to settle their personal law-related disputes through the chain of shariah courts or dar ul-qazas that – or so it claims – it has set up across the country."
But Abidi replied, "We must use the state courts." She warned that recourse to the dar ul-qazas would produce patriarchal judgments by clerics from the fundamentalist medresas. Abidi went on to assail as un-Islamic the ideological barriers to justice and equality for women erected by the extremists, and specifically named the Taliban and Osama Bin Laden as "radical Islamists."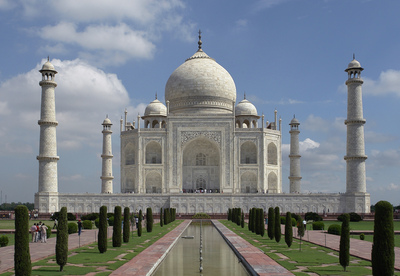 Taj Mahal, 17th c. CE, Agra, India -- Retouched image Via Wikimedia Commons,
The All-India Muslim Women's Personal Law Board has, since 2010, advocated the incorporation of Muslim women's rights into the Indian constitution. These would, at least in law, include among other provisions, protection of Muslim women's inheritance of their fathers' property; the right to education and choice of a career; a ban on underage marriage and forced marriage to men two or three times their age; the right to separation from abusive husbands; definition of rape as punishable by execution; and prohibition of divorce by "triple talaq." Marriage agreements or divorces transmitted by e-mail or celphone messages would be void.
The All-India Muslim Women's Personal Law Board has further urged investigation of the pious foundations or waqf boards in India. This demand has been echoed by a Sufi group, the All-India Ulema and Mashaikh Board (AIUMB). The general secretary of the latter body is Syed Mohammad Ashraf Sahab Kichowchhwi, head of the Sufi shrine of Kachhochha Sharif, in Faizabad. Kachhochha Sharif is among the most popular Sufi shrines in India, and is visited by non-Muslims as well as Muslims. The AIUMB leaders have preached volubly against the subversion of waqf boards. Last year, the AIUMB issued a detailed analysis of this process of infiltration and capture.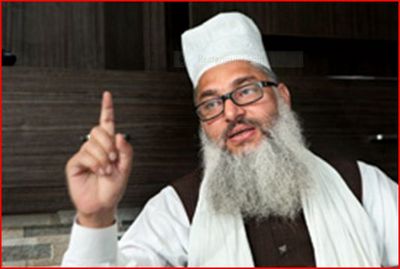 All-India Ulema and Mashaikh Board (AIUMB) general secretary Syed Mohammad Ashraf Sahab Kichowchhwi, head of the Sufi shrine of Kachhochha Sharif, in Faizabad, 2011.
The AIUMB accuses compromised waqf boards of playing the most dangerous role in bringing Indian Islam under Wahhabi influence. Waqf boards created by Sufis are purged, with Sufi imams replaced by Wahhabi imams who indoctrinate the believers in Wahhabi tenets. The AIUMB has asked for an inventory of all waqf properties in India; an end to their illegal appropriation by radicals; restoration of waqf properties to their initial administrators; a central organization for their maintenance; assurance of transparency of waqf activities; and annual audits of the waqf boards by the official Comptroller and Auditor-General of India. The AIUMB also stresses that waqf properties and burial grounds have been seized or leased in illegal property deals involving government officials.
AIUMB has articulated a major challenge to the Deobandi-Wahhabi conspiracy to occupy the summits of Indian Muslim authority. AIUMB has castigated Jamaat-e-Ulama-e-Hind (JUH), the leading Deobandi clerical group, along with Jamaat-e-Islami (JEI), the jihadist movement founded by Abu'l Ala Mawdudi (1903-79), which AIUMB describes as a "coordinator for various Wahhabi organizations." It has condemned Tablighi Jamaat (TJ), the transnational Muslim preaching movement. AIUMB refers bluntly to TJ as a "Scouting/searching/recruiting agency for promotion of Wahhabi ideology." It warns against the activities of the Students Islamic Movement of India (SIMI) and its presumed terrorist wing, the "Indian Mujahidin."
AIUMB envisions measures similar to those demanded by AIMWPLB to advance the education of Muslim women. Much of the controversy over Deobandi-Wahhabi influence and the future of Muslim personal law has been centered in Lucknow and other cities of Uttar Pradesh, where elections are scheduled for next month. Since the formation of the AIMPLB Muslim Personal Law has been treated as a political theme by which Indian politicians seek favor from Muslim clerics. But the process of transforming Indian Muslim personal law in the interest of gender equality, repudiation of radicalism, rehabilitation of waqf properties, and general administrative reform may go much farther than any party leaders expect.
Radical Islam is sweeping the countries of the "Arab Spring" and Turkey, heralding degraded status for women. If, by contrast, a mass movement in India achieves the changes in Muslim Personal Law demanded by women and Sufis, it may gain a new position as a country where Islam, although a minority faith, offers a positive direction for Muslims everywhere. The South Asian confrontation between Barelvis and Deobandis, Sufis and fundamentalists, traditionalists and Wahhabis, is reproduced among Pakistani, Indian, and Bangladeshi Muslims in the U.S., Britain, and elsewhere. Deobandi, Mawdudist, and Wahhabi extremism feeds terrorist conspiracies among South Asian Muslims abroad. The debate over the rights of Muslim women and the hegemony of common law over religious jurisprudence in India is therefore relevant to the whole world.
Related Topics: American Muslims, British Muslims, Canadian Muslims, Deobandism, European Muslims, Muslim Brotherhood, Pakistan, Shariah, Sufism, Wahhabism receive the latest by email: subscribe to the free center for islamic pluralism mailing list