Sufism in India
by Staff Writer
Indo-Asian News Service [India]
April 24, 2012
http://www.islamicpluralism.org/2037/sufism-in-india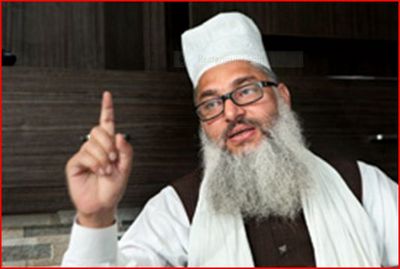 Hazrat Maulana Syed Mohammad Ashraf Sahab Kichowchhwi.
The realisation that jihadis are using Islam to create an environment of terror is leading Muslim youth in India to dissociate themselves from violence and radicalism, says a leading Islamic scholar and cleric.
"The followers of Islam have no link with the minions of terror," said Hazrat Maulana Syed Mohammad Ashraf Sahab Kichowchhwi, general secretary of the All-India Ulama and Mashaikh Board (AIUMB) an apex body of Sunni Muslims.

Addressing a gathering on "Sufism and Indian Islam" at the Vivekananda International Foundation late Monday, he said, "The Wahhabis (ultra-orthodox Muslim) were using biased literature to propagate their theorised monotheism which has currently become the reservoir of terrorism the world over."
Kichowchhwi struck a chord with the audience with his easy mix of Urdu, Hindi and English arguments in favour of peace, love and faith in god – the core of the moderate Sufi faith.
Kichowchhwi said his organisation "is carrying the message of peace to Muslims in the grassroots".
He said they were visiting places "to tell people that they cannot act against the country or people. Terrorists cannot disrupt Hindu-Muslim amity because they are not our people. We have told them to hand terrorists to police," the cleric said.
He said "altogether 20 lakh [two million] people in places like Moradabad, Bareilly in Uttar Pradesh and in Bhagalpur in Bihar had responded positively to this appeal for non-violence."
Kichowchhwi alleged that "the current thinktanks, in order to implement their multiple interests, are eliminating the judicial powers of prophet Muhammad by engaging their 'shura' council to get them vetoed so that by posing a fictitious threat to religion they could enforce 'whenever and wherever' they desire".
He said "all schools of Islam believe that the world is a land of peace and no single Muslim was forbidden to practise his religion".
Therefore there was no need of jihad and bloodshed, he argued. "Islam's soul is Sufism and only through Sufism can the message of Islam reach the world," the cleric said.
"People need to address the inadequacies in themselves and learn the joys of 'mohabbat (love)'," the cleric said at the lecture hosted by the Vivekananda International Foundation and the Global Foundation for Civilisational Harmony-India.
The cleric said a true Sufi must have "ilm" and "ishq" in their personality. "Sufism cannot be understood through literature but one has to live with the Sufi mystics to understand it," the cleric added.
Islamic scholars define Sufism as the inner mystical dimension of Islam which teaches the follower to cleanse the heart and seek god. The moderate nature of the faith has often set it against the orthodox Wahhabi Islam, fomenting criticism.
Sufism played an important role in the spread of Islam in India. The early Sufi mystics arrived in India in the 12th century and settled in northern India. One of its famous patrons was 16th century Mughal emperor Akbar.
Related Topics: Sufism, Wahhabism receive the latest by email: subscribe to the free center for islamic pluralism mailing list