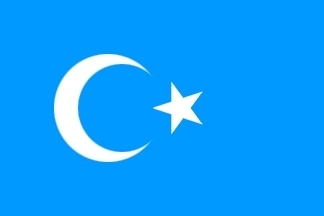 Flag of East Turkestan.
The mother of a Uyghur man missing for nearly three years after he participated in demonstrations in China's troubled Xinjiang region says she has been under constant surveillance by authorities bent on dissuading her from continuing the search for her son.
Patigul Eli said her son Imammemet Eli, 25, was taken by police on July 14, 2009, nine days after ethnic violence gripped the Xinjiang capital Urumqi, and that the last she heard about him was nine months later when fellow inmates said he was found severely tortured and bundled away in a hospital.
He is among several thousand who "disappeared" in the aftermath of the most deadly episode of ethnic unrest in China's recent history, according to Uyghur exile groups. More than 1,000 Uyghurs have been jailed over the riots, which left some 200 dead and 1,700 injured, according to official statistics.
Imammemet, a 2008 alumni of the South China University of Technology, had worked with a foreign firm in Dubai for six months following graduation and had just started a new job in Urumqi when the demonstrations erupted, stemming from anger by Uyghurs who claim they were discriminated against by Chinese authorities.
He had initially joined the July 5 protests, but stopped attending when the situation became violent, his mother said. He was picked up by police, along with his four friends, just over a week later while playing billiards.
But while his friends were gradually released over the next six months, Imammemet remained in custody with no word about his situation. Since then, Patigul has been searching for her son, but said that she has received scant information about his whereabouts and condition.
Additionally, she said, few people have been willing to listen to her story.
"For almost three years, I don't know where my son is—even whether he is alive or dead," Patigul said.
"The authorities in this region do not want to listen to me because the case is too difficult. The reporters in this region are too scared to hear my story because the case is too sensitive," she said.
Police officers now stand guard outside her home to dissuade her from taking her inquiries to the local authorities.
"One police officer stays in front of my door at all times to watch me. There are three—they change every four hours. They go with me when I do my shopping and they wait for me outside when I visit someone's house," she said.
"Their job is to prevent me from petitioning."
Fruitless search
Patigul said that during the first month of her son's detention, she did not approach the authorities about his situation because she knew that he had been taken by the state police and assumed that he would be released after an investigation.
"I never expected that he could disappear in a detention center or jail," she said.
But in the first week of September 2009, when she still had received no word of her son, she went to the Liudawan police department, where Imammemet was originally taken into custody.
An officer there gave her a piece of paper which said that he was being detained in the Midongchu Detention Center in Michuen county. She traveled to the center on 10 separate occasions, but officials there told her they had no record of Imammemet.
In January 2010, the Liudawan police department changed its statement and said they also had no record of her son.
Since then, Patigul said, she has not been given any information by officials, despite continuously visiting all levels of government from local authorities in Urumqi to the central government in Beijing.
She has only heard twice of her son from two of his former cellmates.
Former detainee Gheyret told Patigul that he had seen Imammemet at the end of July 2009 in the Midongchu Detention Center while police were taking pictures of the detainees.
The second witness, Abduraxman, also said he had seen her son before leaving the detention center on April 11, 2010.
"Gheyret told me that Abduraxman … was in the same cell with Imammemet. My two other sons visited him on April 11 [when he was released] and he revealed that my son had been tortured," Patigul said.
"He said, 'Yes I had been in the same cell with Imammemet. He was normal when he was brought back to the cell after the first and second interrogations, but after the third time, he did not come back to the cell for three days.'"
Abduraxman said that when Imammemet was returned to his cell he was unable to stand.
"He said that the first week, Imammemet was unwilling to eat and sometimes vomited. He said that he worried about his health and told the guards that if they didn't take care of him he could die."
The former cellmate said that soon after, sometime in mid-August 2009, Imammemet was taken to the hospital. But he never returned.
Life in limbo
Patigul, a widowed woman with four children, said that her family life has been in shambles since her son went missing.
She said her salary from needlepoint work had been cut because of her constant petitioning and that her second son had to pass up college because she could not afford to send him.
At one point, she even spent eight days in a detention facility after insulting a police officer who would not listen to her pleas.
"I would not have suffered so much if I knew my son was dead, because I would have been able to forget him or at least find some way to accept this fate" Patigul said.
"I never asked them to release my son. I never asked for justice either. I only asked them to tell me where my son is," she said.
"They say no such person is in detention or jail—how can that be? There is only one government in China. There are only the Chinese state police in Urumqi. How could my son go missing after being in police detention?"
And Patigul said she is not alone in missing a family member after the July 5 incident.
"I could name at least 30 families I have met in front of government offices while attempting to get information about my case," she said.
"There are a lot of people searching for a son or a husband."
Reported by Shohret Hoshur for RFA's Uyghur service. Translated by Shohret Hoshur. Written in English by Joshua Lipes.
Related Topics: China, Uighurs receive the latest by email: subscribe to the free center for islamic pluralism mailing list