For Indian Official Intervention Against Killing of Minorities in Burma (Myanmar)

Joint Muslim-Buddhist Appeal
by Muslim Students Organization of India, All India Buddhist Council, Bharat Bachao Andolan
CIP
July 17, 2012
http://www.islamicpluralism.org/2069/for-indian-official-intervention-against-killing
MUSLIM STUDENTS ORGANIZATION (MSO) OF INDIA
(Regd.)
Head Office: 4414/7, Ansari Road Darya Ganj New Delhi 2.
Email: [email protected] Contact- 9289374810,9950595768, 9784028998, --------------------------------------------------------------------------------------------------------------------------------------------------------
Ref.No………………… Date: 17th July 2012
To
1. Shri Manmohan Singh, Hon. Prime Minister, Government of India, New Delhi
2. Shri S.M Krishna, Hon. Foreign Minister, Government of India, New Delhi
3. Shri E. Ahmed, Minister of State for External Affairs, Government of India, New Delhi
Honorable Sirs,
We, the representatives of Civil Society groups, would like to draw your kind attention towards mass genocidal violence which has erupted in our neighboring country, Burma (Myanmar), which has forced hundreds of thousands of affected refugees to seek shelter in Bangladesh and India.
The Rohingya Muslim refugees are living in pathetic condition and are on the verge of starvation at Kanchan Kunj and Sarita Vihar areas of New Delhi.
There are continuous news reports of atrocities and killing of ethnic Rohingya Muslims in Myanmar which has caused a feeling of sadness amongst large sections of the Indian Muslim community. Many organizations have protested at various places across the country against this widespread killing by the Myanmar military junta. Common peace loving citizens of India are also worried about news of large scale genocidal killings of the Rohingya Muslim community.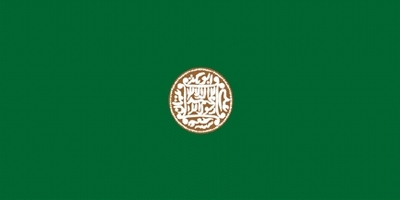 The Flag of the Rohingya Muslims of Burma (Myanmar).
This massacre is against the principles of justice, peace and humanity. The Indian government as a responsible neighbor and as a regional and growing international power, should act as a peacemaker and ask the Myanmar Government. to stop this violence against its minorities. This act will also enhance the prestige and image of our country in South Asia and in the international community. Thus it is our humble request that the Government of India appeal to the Myanmar government to look into the grievous matter with the urgency that it deserves and protect the life, liberty and property of helpless minorities.
These minorities should also be given their basic rights, which they are entitled to being citizens of Myanmar; but as yet, unfortunately, they are not even recognized as citizens in the land of their birth, and are stateless.
We, also request the Government of India to protect the rights of Myanmari refugees who are living in pathetic conditions in New Delhi.
Thank You
Yours Faithfully
Shahnawaz Warsi, General Secretary, Muslim Students Organization of India (MSO)
Kishore Jagtap, President, All India Buddhist Council
Feroze Mithiborwala, President, Bharat Bachao Andolan
receive the latest by email: subscribe to the free center for islamic pluralism mailing list