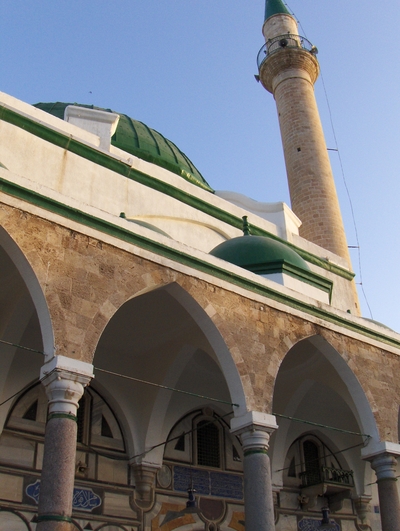 The 18th c. CE Al-Jazzar Pasha Sufi mosque, Akko (Acre) -- Photograph 2006 by Stephen Schwartz.
For decades, the mystical Sufis in Nazareth have celebrated Islam through music and poetry without considering themselves in danger.
But nowadays, local Salafis, who practice a more conservative and coercive Islam, bully and beat Sufi leaders to deter them from their practices, Muslim community leaders told Haaretz.
"We visit tombs of holy peoples and they say it is forbidden; we chant and they say it is forbidden to use instruments; I say there should be dialogue with Israelis and Jews because the prophet Muhammed received delegations of Jewish tribes," but Salafis [i.e. Wahhabis – CIP note] object, said Nazareth Sheikh Ghassan Menasra, 44, a leader of the Qadiri Sufi Order of the Holy Land [alternative English spelling Manasra – CIP note].
Menasra says he and two of his five sons have been beaten in Nazareth and Jerusalem and his wife, an Islamic educator for women, was pushed.
Shaken by threats and having tear gas thrown into his home, he spent two weeks in meditation to avoid the fate of Jerusalem Sheikh Abdul Aziz Bukhari, who suffered similar attacks and died of a heart attack in 2010 at age 61.
Such incidents may reflect a growing regional trend of clashes between progressive Muslims and their more fundamentalist brethren. Egyptian Salafis have razed Sufi shrines, Tunisian Salafis injured dozens in riots over work of art and political analysts blame Salafi Jihadis for the bloodshed in Syria.
But Salafis and Sufis are both tiny minorities here, with Salafi activity funded by countries like Saudi Arabia, Menasra says. According to research by Middle East expert professor Khaled Hroub of Cambridge University, the small Palestinian Salafi element includes violent radicals whose interpretation of Islam is linked to Saudi Wahhabism, but most are nonviolent moderates focused on conservative social and religious programs.
Sufis are famed as whirling dervishes, but the Nazareth Sufis do not practice this tradition. They observe Islamic law, but also include reverent prayers, chanting (zikr), instruments and poetry in their worship. They are often compared to Jewish Kabbalists. The greatest jihad of Islam, according to the Qadiri order that Menasra and his father Abdel-al Salaam head, is overcoming ego, hatred and violent speech and behavior.
Critics condemn them as "heretics" for their practices, which also include having women teach Islam.
They particularly attack them as "collaborators" for associating with Jews. Menasra is involved with numerous interfaith programs, joins rabbis for meetings with international political leaders and performs Sufi chants with Jewish musicians such as Yair Dalal. Menasra argues that interfaith cooperation was the Prophet Mohammad's way and later was the tradition of Muslim and Jewish mystics in Medieval Cairo, Baghdad, Damascus and Morocco. Interacting with other faiths also helps Arabs, he said.
"We need to talk [with Jews] about the problems of Arab rights in Israel and Palestinian rights," he said. "Muslims can also teach Jews the cultural codes of peacemaking in Islam – politics alone cannot build trust."
The threats started a decade ago, after 10 Nazareth Sufis reached out to other Muslims, teaching "moderate Islam" through op-eds and classes on Islamic text and tradition, led by Menasra, who holds a master's degree in Middle Eastern and Islamic studies, a bachelor's degree in Arabic literature, a teaching certificate in Islamic family law and ordination as a sheikh by the renowned Jerusalem Sheikh Baghdadi.
As they gained followers and began including Jewish communities, threats turned to violence.
Anat Lev-Or of Central Israel, a Jewish teacher of Sufi and Jewish philosophy, says two years ago she witnessed a mob beat Menasra's teenage son, while he shielded his younger brother.
Imam Mahmoud Abukhdeir, spiritual leader of an east Jerusalem mosque, condemned Salafi violence in Nazareth and Jerusalem.
"To many Muslims, the Sufi way is not acceptable, but in Islamic law, such violence is forbidden," he said. "Salafis are against many groups, not just Sufis. They beat everyone--they think they are the only real Muslims."
It is not clear how widespread the Sufi-Salafi conflict is in Israel, because Sufis say they would not report Salafi leaders to the police or Higher Arab Council for fear of retribution. Despite repeated inquiries, Haaretz was unable to locate a Salafi leader to respond. The Salafi movement in Israel is not centralized, but Itzchak Weismann, a professor and Sufi expert at Haifa University, says most Islamist movements subscribe to Salafi principles and consider Sufis "deviators from Islam."
But he noted, "Sufism is based on Islamic texts and tradition. Sufis are part of Islam since the beginning."
"We will not stop"
Scholars date Sufis in the Holy Land to eighth-century Ramle and Jerusalem, with centers developing later in Safed and Hebron. Jerusalem was always an important site of pilgrimage, and several dozen Sufi shrines and graves remain in Jerusalem and the West Bank.
Today in Israel there are a few hundred Sufi disciples and thousands of supporters who worship in their homes or houses of prayer, primarily in Jerusalem, Nazareth, Acre, Umm al-Fahm and Baqa al-Gharbiyye.
Sufism, with its many orders and varying customs, is not widespread in Israel because of the exile of Muslim leaders after the 1948 war, Weismann says.
"Since 1967, when communications resumed between Muslims in Israel with relatives in West Bank and Gaza, there was a renewal," he said.
In Nazareth, Sufis face not only the threat of extremists, but also difficult living conditions because of government prejudice against development in Arab neighborhoods, said Sufi teacher Khalid Abu Ras. Israel's largest Arab city, with nearly 74,000 residents – 69.5 percent of which are Muslim – is plagued by unemployment, overcrowding, lack of green spaces and, says Abu Ras, inadequate municipal services.
Despite struggles with poverty, threats and violence, the Sufis of Nazareth say that they will carry on as usual
On a recent evening, twenty family and community members gathered in the Menasra home to break the Ramadan fast. After dinner, the older son played classical Egyptian oud, including works from Umm Kulthum and Mohamed Abdel Wahab. The elder community members chanted traditional songs about the prophet Mohammad. An infant moved with his arms to the music and a grandfather beat an oversized tambourine.
The elder Menasra, wearing a traditional tunic and head covering, danced slowly into the inner circle, extending his arms to bless the guests.
Days later, on the Jewish day of mourning Tisha B'Av, several of Menasra's Jewish colleagues who were also fasting joined his family to break the fast.
"Our activity does not make us weaker -- it makes us strong," Menasra said.
There are three kinds of religious people, he explained, quoting Rabia al-Adawiya, a female Sufi saint: "Slaves who worship through fear, merchants who worship for profit and free people who worship through love – this is the way," he said. "The radicals think that they need to stop us in any way, but we will not stop."
Related Topics: Muslim-Jewish Relations, Sufism, Wahhabism receive the latest by email: subscribe to the free center for islamic pluralism mailing list