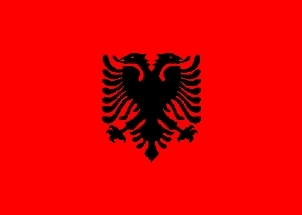 The flag of the Albanian nation.
The libraries of the University of San Francisco (USF), a Jesuit institution, this month completed digitizing a unique American periodical, the
Albanian Catholic Bulletin
, accessible
here
[see note below] to any interested readers. The
Bulletin
came out mainly in English with a small section in Albanian, reversing the usual practice of foreign-language immigrant media.
Published annually, the journal was created and maintained in California for 15 years by an ethnic Albanian exile, Gjon Sinishta, born in 1930 in the former Yugoslav region of Montenegro, today an independent country. His story sheds light on the Cold War, communism, and America's role in protecting religious freedom and sheltering worthy newcomers.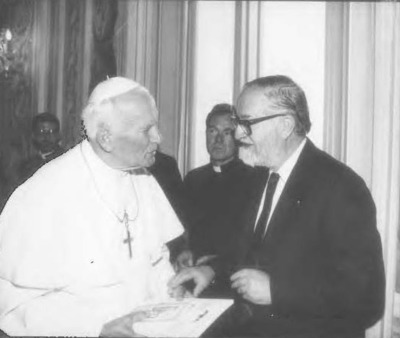 Pope John Paul II with Gjon Sinishta.
Sinishta escaped from Yugoslavia to Austria in 1965, and after a stay in Italy came to the United States. He was first schooled by the Jesuits to become a priest, at a distinguished seminary in the north Albanian city of Shkodra. But his novitiate, in Yugoslavia, was left incomplete when that country and Albania broke diplomatic relations. Yugoslavia's autocratic ruler, Josip Broz Tito, in 1948 turned against Soviet dictator Josef Stalin. Albania's mini-Stalin, Enver Hoxha, stayed loyal, at least temporarily, to Moscow.
Caught between his Albanian identity and his Yugoslav citizenship, and in the conflict between his Catholic conscience and the atheism of both Communist regimes, Sinishta refused to give up his cultural and spiritual heritage. Denied his vocation as a priest, he worked in Yugoslav communications as an Albanian-language announcer and journalist. He declined, however, as a faithful Catholic, to join the Communist party.
In 1956, Sinishta was arrested by the Yugoslav secret police and accused of "dangerous Albanian nationalism," anti-Communist propaganda, and espionage for America. He was sentenced, without presentation of evidence, to five years in jail. Released in 1961, he was permitted to work as an accountant in Croatia and Slovenia yet was arrested three more times "for being Albanian," before fleeing to Austria.
Once in America, Sinishta studied at the Catholic institutions of Colombiere College in Clarkston, Mich., and John Carroll University in Cleveland. Never ordained as a priest, he married and had a son. While pursuing his academic studies, he worked in the automobile factories in Detroit, long home to a substantial Albanian-American community.
Sinishta was active in sponsoring and otherwise aiding Albanian immigrants to America, but was most fervent about educating the world regarding the atrocities suffered among Albanians of all religions, and especially the Catholic clergy, under communism. Horrified by the persecution his people had undergone, in 1966 he founded the Albanian Catholic Information Center in Detroit. Sinishta produced his first publication, Sacrifice for Albania, a large-format multilingual report, in 1967.
The moment was appropriate. Enver Hoxha that year declared Albania the world's first atheist state, and officially suppressed all religious activity.
The Ottomans conquered Albania at the end of the 14th and beginning of the 15th centuries. The Albanians proclaimed their independence from Turkey in 1912. In Albania proper, Kosova, western Macedonia, Montenegro, south Serbia, and their immigrant communities in Turkey, Western Europe, the Arab East, and the U.S., Albanian religious adherents are majority Muslim, with about 35 percent of all Albanian believers following Sunni Islam and a relatively equal number affiliated with Bektashi Sufism, a liberal Shia Muslim tradition. Albanian Bektashis are the main group of indigenous Shias in Europe.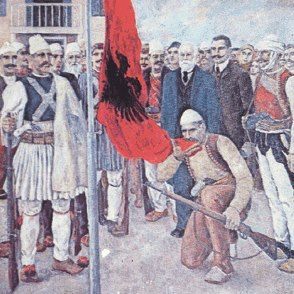 Raising of the Albanian independence flag, November 28, 1912.
The remaining 30 percent of Albanians are typically counted as 20 percent Orthodox Christians and 10 percent Roman Catholics, with the former concentrated in southern Albania and the latter in northern Albania and Kosova.
A tiny community of Jews also lived in Albania, and they as well as several thousand Jewish refugees from Nazism were protected by the Albanians during World War II. Albanians are extremely proud that even while their territory was occupied by the Nazis, not a single Jew was handed over to the Germans in Albania itself, and fewer than 35 Jews were deported by the Germans from Kosova, according to new research in the Albanian national archives. Judaism has revived in Albania, and a new synagogue opened in Tirana, the Albanian capital, at the end of 2010.
Albanians were, and to a considerable degree are still, distinctive for the mutual respect between Sunni Muslims, Bektashis, Orthodox Christians, Catholics, and Jews. Given that nobody else in the world speaks their language, Albanian interreligious cooperation is indispensable for national unity. Anti-Catholic agitation by Muslim radical interlopers in Kosova last year was remarkable for the condemnation it attracted from the public.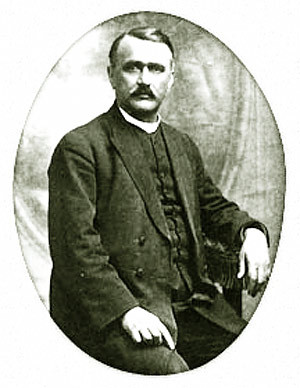 Fr. Gjergj Fishta, O.F.M.
Notwithstanding their minority position, Catholics have played a leading role in Albanian history and culture.
Mother Teresa
was an Albanian born in Macedonia, and in the 19th century Catholic intellectuals were prominent in advancing Albanian-language literacy. In 1908, a congress of Albanian religious and political figures led by the Franciscan friar Gjergj Fishta (1871-1940), one of Albania's leading national poets, and Midhat Frashëri (1880-1949), a Bektashi, adopted a Latin-based alphabet for their language. Catholics and Bektashis took the lead in printing newspapers, magazines, and books, both secular and religious, as their nation resisted the exclusive use of Turkish in schools, imposed by their Ottoman masters.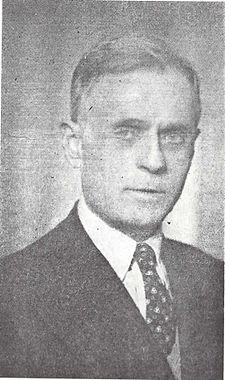 Midhat [alt. Mit'hat] Frashëri.
The service of the Catholic enlighteners to their compatriots was worse than irrelevant to Enver Hoxha's Communist cadres, who gained control of Albania in 1944. Catholic prestige was, predictably, a threat to the new regime. The "socialist transformation" of the country included a bloody and wide-ranging purge of its leading Catholic exponents, nearly all of them executed after show trials. The roster of "the Albanian martyrs" is a long and shocking one, including two generations of scholars, poets, and other authors.
When Gjon Sinishta founded the Albanian Catholic Information Center 20 years later, his goal was different from that found typically in such an institution. He received some financial help from church authorities, but dedicated much of his own time and money, as well as funds from private supporters, to the project. More than assisting the Albanian Catholic parishes in the United States, or supporting the missionary work of the church, Sinishta sustained an unwavering commitment to documenting the crimes inflicted by the Communists on all religious Albanians, whether Christian or Muslim.
In 1968 he moved from Michigan to California, to the University of Santa Clara, a Jesuit school, joining its administrative staff. But he did not cease collecting information about religious persecution in Albania. In 1976 he put out a 248-page volume, The Fulfilled Promise, composed of profiles, photographs, and testimony on the Hoxha regime's extermination of Catholic clergy, intellectuals, and ordinary believers—including young men and women.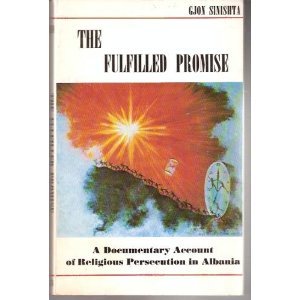 In 1980 he launched the Albanian Catholic Bulletin/Buletini Katolik Shqiptar. But, to emphasize, Sinishta was interested in revealing the truth to the whole world, and not simply to other Albanians. In 1989, the Albanian Catholic Bulletin's 10th issue was edited at USF, another Jesuit institution, where Sinishta had moved. There he served in humble tasks at San Francisco's grand and beautiful St. Ignatius Church, while reorganizing his effort, as the Albanian Catholic Institute.
The Albanian Catholic Bulletin had, in the meantime, become the most important resource on Albanian affairs in English. Its contents included everything having to do with Albania and Albanians, whether Christian, Muslim, Jewish, or dating from Roman times and earlier, in religion, literature, linguistic studies, and art. Its standards were high and its contributions of academic quality. I had the honor of writing for it beginning in 1990.
Given the extreme antireligious hostility of Albanian communism, Sinishta's work provided a significant record for commentators like Robert Royal, president of the Washington-based Faith and Reason Institute. Dr. Royal drew on Sinishta's Fulfilled Promise in his authoritative volume The Catholic Martyrs of the Twentieth Century, which described the Communist onslaught on the Albanian Catholics as "tantamount to obliterating Albanian culture."
Gjon Sinishta died in 1995. He lived to see the fall of communism in Albania in 1991, preceded by an event that filled him with hope: the first open Catholic mass in the country, led in 1990 by Dom Simon Jubani, a cleric imprisoned from 1967 to 1989 (and who died last year at 84). The mass took place after 5,000 communicants gathered at Jubani's home. Sinishta was overjoyed to see that religious ardor had not been extirpated by communism. He was also deeply concerned for the fate of Kosova, and would doubtless have celebrated its liberation by NATO forces in 1999.
Sinishta's name is widely known among Albanians today. He is the subject of a biographical study by Albanian author Matish Shestani. Sinishta's work is continued in Albania by another Catholic writer, Primo Shllaku, and more.
Thanks to the USF libraries, Sinishta's main work will now be preserved for all those concerned that the cruelties of communism not be forgotten. But above all, Gjon Sinishta and his work offer us a memorable example of America's history as a protector of religious freedom.
[Note: To access the Albanian Catholic Bulletin online at the USF libraries, go to http://digitalcollections.usfca.edu/cdm/landingpage/collection/p15129coll3. This landing page highlights a random selection of issues and also list the most recent ones, but doesn't show the complete list until you click the "Browse" on the top menu. You can also use this link to go straight to the Browse all page:
http://digitalcollections.usfca.edu/cdm/search/collection/p15129coll3.]
Related Topics: Albanian Muslims, Balkan Muslims, Bektashi Sufis, European Muslims, Kosovo, Macedonia, Montenegro, Muslim-Christian Relations, Muslim-Jewish Relations, Sephardic Judaism receive the latest by email: subscribe to the free center for islamic pluralism mailing list