Not Silent Any More!
by World Waseela Front
CIP
October 17, 2012
http://www.islamicpluralism.org/2114/not-silent-any-more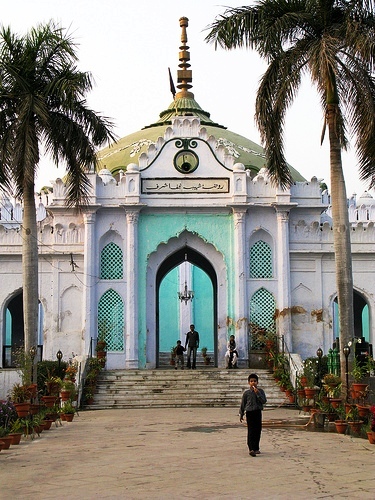 19th c. CE Shahnajaf Imambara, Lucknow.
First time since independence, patriotic Indian Sunni and Shia Muslims join hands to promote peace and harmony and to confront extreme Saudi-Wahhabi ideology.
The leading bodies of both Sunnis and Shias are jointly organizing a national meeting under the banner of the World Waseela Front in which prominent Islamic scholars are gathering to spread the message of peaceful co-existence, in an attempt to check the growth of hardline Saudi-Wahhabi ideology in the country on Thursday, October 18, 2012, at 2:00 p.m., at Shahnajaf Imambara, Lucknow.
The Sufi Sunni and Shia leaderships realize the need to come together at this hour, when the hardline Wahhabi ideology has made significant inroads in the country and is trying to replicate its success in countries like Egypt, Syria, Libya, Mali, Pakistan, Afghanistan and Bangladesh.
The movement aims to spread the message of Salam... Spreading peace while promoting development.
PRESS INTERACTION
The All India Ulema and Mashaikh Board & Majlis-e-Ulama-e-Hind would like to invite you for a press interaction about the Muslim political, social, economical & religious issues.
Thursday, October 18, 2012
Time: 5:00 PM
Location: SHAHNAJAF IMAMBARA, OPP. SAHARA SHOPPING MALL, LUCKNOW-226001, INDIA
Regards,
Syed Babar Ashraf Kichowchhwi
Secretary, All India Ulema and Mashaikh Board
Email: [email protected]
09451074110
RSVP
Shaukat Abidi
Co-ordinator, 'WORLD WASEELA FRONT'
Email: [email protected]
09335457894
Related Topics: Pakistan, Saudi Arabia, Shiism, Sufism, Wahhabism receive the latest by email: subscribe to the free center for islamic pluralism mailing list