We Are One

One Hundred Years of Albanian Independence
by Murat Muftari
Illyria [New York]
December 7, 2012
http://www.islamicpluralism.org/2152/we-are-one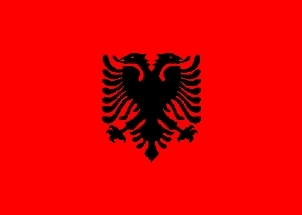 The flag of the Albanian nation.
Our Albanian nation, through many conflicts and suffering, has arrived at a milestone, that of the hundredth anniversary of Albanian independence. On this significant day, a century ago, Albanian leaders declared, "Albania, as of today, should be on her own, free and independent," and that "a commission is to be sent to Europe to defend Albanian interests among the Great Powers."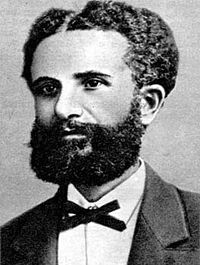 Abdyl Frashëri, 1839-1892.
The formation of the League of Prizren, in 1878, which brought together such courageous souls as Abdyl Frashëri and Ali Pasha Guçia, who helped give rise to an Albanian national consciousness; the Assembly of Vlorë, in 1912, led by the courageous acts of Ismail Qemali, who waved the Albanian National Flag at Vlorë and proposed Albania free and independent; the acts of
besa
and humanitarianism given to protect Jews in Albania during WWII; the acts of love and sympathy shown by Mother Teresa each and every day with her message on where we belong, "If we have no peace, it is because we have forgotten that we belong to each other."; and the fall of Communism in 1991, can all be viewed as courageous acts by Albanians – the same people who have made this hundred-year birthday a much deserved celebration.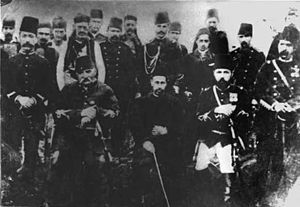 Ali Pasha Gucia, 1828–1885, with members of the Albanian League of Prizren, seated, first from left. Ali Pasha Gucia was martyred by Ottoman functionaries. He is a major protagonist of Lahuta e Malcís [The Mountain Lute] by Franciscan father Gjergj Fishta, 1871-1940, the epic poem of Albanian national resistance.
The determination shown by those bold acts over the last one hundred years allow a general theme to take shape. In celebrating this historic day and enjoying this special moment, "We Are One Hundred Years Old." I would like to highlight the importance of the first three words of the theme even greater, "We Are One." To persevere, through the next hundred years, in Albanian growth and prosperity, we must continue to resolve our differences for the greater good of the Albanian people and the globe and remember that "We Are One".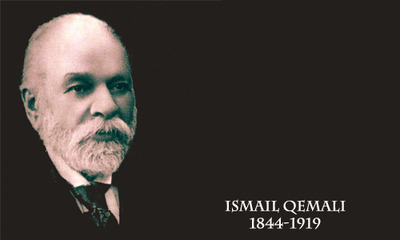 Against invading armies, incitement to religious-sectarian conflict, and division of the people between two dominant ideologies, we have survived because we are one. We are one nation, we are one people, and we are united by one language. Our unity and efforts for the welfare of the Albanian nation must attain new goals in the coming century of Albanianism. We must remember the sacrifices made by Albanian heroes and families through history. Those sacrifices were based on belief that we are one.

We Are One.
Albania must continue its transition as a nation, reinforcing the Albanian legacies we receive from those who preceded us. Men and women, who set aside their egos and put the nation and the Albanian people before self-interest. Albanian leadership in Albania, Kosova, Macedonia and beyond must evolve and view their achievements as positions of sacrifice rather than pretexts for exclusive privileges. Our people must demand transparency and democratic practice from our leaders. Our leaders must accept the challenge and set aside personal ambitions and differences, to create a culture of cooperation and collaboration. The society that may then blossom will allow Albania to complete its leap to success and respect on the global stage. Each and every Albanian must remember that we are one and that by remaining together and fostering synergies among ourselves and the partners that share in our values, we can achieve much more in the next one hundred years. Long live Albania and one hundred years more of a new and daring leadership for our people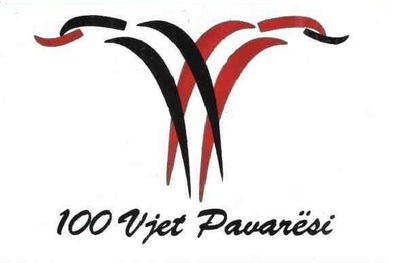 One Hundred Years of Albanian Independence.
Related Topics: Albanian Muslims, American Muslims, Balkan Muslims, Bektashi Sufis, European Muslims, Iraq, Macedonia, Montenegro, Sufism receive the latest by email: subscribe to the free center for islamic pluralism mailing list