Urge China to Immediately Release Information on Nurmemet Yasin's Condition
by The Uyghur American Association
Uyghur Human Rights Project and Uyghur American Association
January 2, 2013
http://www.islamicpluralism.org/2167/urge-china-to-immediately-release-information-on
<![endif]-->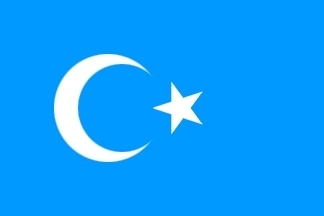 The flag of East Turkestan.
The Uyghur American Association (UAA) calls on China to immediately release information on Uyghur writer Nurmemet Yasin, who reportedly died over a year ago in a Chinese prison, according to Chinese legal scholar
Teng Biao on Twitter two days ago
. Yasin was arrested in 2004 for his fictional piece, "Wild Pigeon," about a young pigeon who commits suicide rather than live in captivity, which Chinese authorities claimed was a veiled attack on the government.
Radio Free Asia's Mandarin service reports
that Yasin's family denies his death and claims to have visited him recently, while Chinese authorities have not revealed any information as to his condition.
In a statement from Washington, DC today, UAA President Alim Seytoff said, "Nurmemet Yasin committed no crime and should never have been imprisoned by China's government. The sentencing of an innocent writer to ten years in prison for no other cause than his writing clearly highlights the lack of free expression or legal protection for Uyghurs in China. China should immediately inform the world of Nurmemet Yasin's condition and end the brutal practice of torture in its prison system. The rumors and speculation surrounding this tragedy demonstrate a critical lack of transparency in China's legal system and especially in the treatment of Uyghur prisoners."
Little information has been available about Yasin since he was imprisoned in 2005. Yasin was not allowed to receive visitors in prison, but in 2005 the UN Special Rapporteur on Torture met with him and confirmed his beatings in jail. The latest reports of his tragic death follow a number of similar rumors over the ensuing years. In 2007, Human Rights in China announced unconfirmed reports that Yasin had been tortured to death in prison and again in 2009, the International PEN Uyghur Centre announced similar reports.
Yasin was born in 1974, making him only 37 years old at the alleged time of death. He was a prolific, award-winning writer of short stories, essays and poetry, including three poetry volumes: First Love, Crying From the Heart, and Come on Children. In 2004, the Kashgar Literature Journal published "Wild Pigeon," which was widely circulated and recommended for an award by a major Uyghur literary website, and authorities subsequently sentenced Yasin to 10 years in prison. At the time of his detention, authorities also seized Yasin's personal computer, which contained more than 1,600 poems, short stories and an uncompleted novel. "Wild Pigeon" has been translated into English by Radio Free Asia.
Uyghur writers have been systematically persecuted by China's government in recent years. After ethnic unrest broke out in the East Turkestan capital city Urumqi on July 5, 2009, Chinese authorities have undertaken a campaign to imprison Uyghur writers, journalists, bloggers and webmasters. UAA has documented over a dozen such imprisonments and estimates the number to be even higher in light of China's tight information control.
Related Topics: Central Asia, China, Kazakhstan, Kyrgyzia, Sufism, Turkish Islam, Uighurs receive the latest by email: subscribe to the free center for islamic pluralism mailing list