A loss of one of the great sons of East Africa, Daee' ill Allah

As-Sayyid Al-Habib Ustadh Muhammad Bin Shariff Saeed bin Abdallah al-Beidh
by Irfan Al-Alawi
CIP
January 10, 2013
http://www.islamicpluralism.org/2172/a-loss-of-one-of-the-great-sons-of-east-africa
As-Sayyid Al-Habib Ustadh Muhammad Bin Shariff Saeed bin Abdallah al-Beidh.
One of the great Daee's of Ahlu Sunnah wal Jama'a, Al-ustadh Muhammad bin Shariff Saeed bin Abdallah al-Beidh,
May Allah benefit us through him,
from his efforts and works, Left this temporary world on the 23
rd
of Safar 1434 A.H. [5 January 2013 CE].
He was born in Lamu, Riyaadha, Kenya, on a Friday, Safar 19/1361 A.H. [March 8, 1942 CE]. He was raised by his two parents and grew up with praiseworthy traits. He attended madrassa al Nnajahi and also Riyadha Lamu. He was keen in searching for knowledge and put great efforts into attending madrassa and sitting down with the scholars of Lamu in that time. He started teaching at the age of 14 in madrassa al Nnajahi, serving from 1375-1382. In that short time, he fostered many intellectual students.
He then moved to Mambrui after he got permission from his father, where he became the first principal and teacher at madrassa al Nnuri in Mambrui. From his efforts he was able to produce knowledgeable, wise teachers who then dispersed all around East Africa.
He was responsible for overseeing 100 madrassas and he built around 60 mosques and madrassas in different parts of East Africa. Supervising these mosques and madrassas was his responsibility. He dedicated all his life to teaching and Da'wa, without depending on any individual or organization. There is no place in East Africa (Kenya, Uganda, Tanzania and Somalia) that he did reached and carry out his Da'wa. He journeyed to Yemen, Hejaz, India, the Emirates and Sudan.
He followed in the footsteps of his grandfather Prophet Muhammad (Peace and blessings be upon him and his family) and his ancestral masters of the Ba'Alawi Sufi tariqa. He built his own institute in Mambrui known as Al-Ghanna al Islamiyyah. He built this institute after he sought permission from his teacher, the famous Qutb As-Sayyid al-Habib Ahmad Mashhur bin Taha Al-Haddad (May Allah have mercy upon him). This institute graduated many learned scholars and continues to do so.
Every year he had the habit of visiting certain areas and making specific tours. Among these were:
1. Visiting the villages in the month of Safar, along with the cities of Tanzania and the regions of Mwanza and Bukoba.
2. He journeyed in the months of Rabi' al Awal and Rabi' al Thani to attending Mawlid celebrating the birth of Prophet Muhammad, and to carry out Da'wa everyday or after every two days, in different areas without rest. He established more than 100 Mawlid gatherings in different areas.
3. He journeyed in the month of Rajab to Uganda to visit the Muslims. and he travelled all the way to the Congo and Sudan.
4. His circuit in the month of Ramadan took him to many areas in Kenya, Tanzania and Zanzibar. This was one of his biggest undertakings for Da'wa. He never slept at home in the month of Ramadan, except for two or three nights, and he prayed the Eid prayer wherever he was.
5. He went to Lamu to attend different halqa (gatherings of celebration), and to give out presents, as gifts to the students who graduated from the different madrassas in Lamu.
In short, his journeys were many for the purpose of Da'wa. He was a scholar accepted not only in East Africa but throughout the Middle East. He reached the status level of his grandfathers, the upholders of Islam and the leaders of the Ba'Alawi Tariqa. He was a speaker loved by all and he was caring and affectionate. Even though at times the communities faced fitna, corruption, and other troubles he never once went back or ceased standing up for what is right and justice.
May Allah have mercy on him and allow us to benefit through his works. May Allah sanctify his secrets, make his grave a garden from one of the gardens of Jannah, and allow for him to be in the company of his grandfather, your most beloved Al Mustafa (Peace and blessings be upon him and his family). May Allah allow us to walk in his footsteps. Ameen.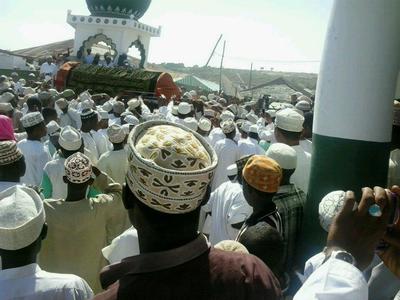 Janaza of As-Sayyid Al-Habib Ustadh Muhammad al-Beidh.
Related Topics: Irfan Al-Alawi, Sufism receive the latest by email: subscribe to the free center for islamic pluralism mailing list