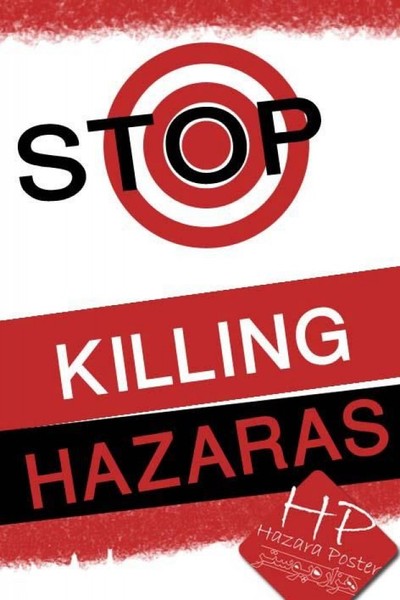 [CIP Note: Because of the recurrent tragic events involving Shia Muslims, this article replaces the annual Sulltan Nevruz message sent out by our organization. Sulltan Nevruz is celebrated by Iranian, Turkic, Kurdish, Balkan and related communities of Muslims as a New Year observance, and by Sufis as the birthdate of Imam Ali Ibn Abi Talib, r.a. Sulltan Nevruz will fall, according to location, on differing dates from 8 to 10 Jumada Al-Awwal, 1434 Hijri, or 20 to 22 March, 2013 by the common calendar, this year.]
Who are the Hazaras and why are they marked for annihilation in Pakistan? Two frightful terror bombings, taking 185 lives and wounding hundreds more, were reported from the city of Quetta, near the border with Afghanistan, and the capital of Pakistan's Baluchistan province, in the first two months of 2013. They were followed by a similar massacre in Karachi, Pakistan's main port, in March. Prominent Hazara individuals have been assassinated in Karachi and Lahore. And the ordeal of the Hazaras is hardly new.
The Hazaras stand out among Muslims that are oppressed by other Muslims. Counting 4.5 to 7.5 million spread across Iran, Afghanistan, and Pakistan, they are mostly Shia believers. They have been targeted for extermination in Afghanistan, by the Taliban, and in Pakistan, by Taliban-allied Sunni fanatics. Like spiritual Sufis, they also suffer official discrimination by the Iranian Shia regime.
In 1998, Iranian forces killed more than 630 refugees, mainly Hazaras, in the Safed Sang detention center in northeast Iran. The 2009 Afghan film Neighbor, portraying that crime, was blocked from general distribution in Afghanistan because of Iranian pressure. Nevertheless, the propaganda networks of the Tehran clerical dictatorship exploit the dreadful condition of the Hazaras in Pakistan to promote an ostensible agenda of international Shia unity.
Highland peasants and livestock herders, Hazaras speak Persian although they are of northern Central Asian origin, and their Mongolian features make them an easy object of aggression. Local Hazaras in Iran, along with Hazara refugees from the Taliban, are hated as a reminder of the Mongol subjugation of the region in the 13th century.
On January 10, terrorists killed more than 90 people in a majority-Hazara neighborhood of Quetta. An additional 170 were injured. Late in the evening, a billiard parlor frequented by Hazaras was hit by two suicide bombers. The second blast at the billiard parlor was aimed at police, rescue personnel, and journalists, killing some of them. That day of horror involved three attacks in Quetta. Earlier that day, an explosion directed at a government vehicle by Baluch separatists killed 12.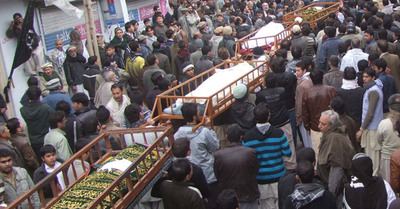 Hazara demonstration with unburied caskets, Quetta, January 12, 2013.
Mourning the January bloodbath, the Hazaras refused to bury their dead—eventually
totalling
96—within the period, usually no longer than 24 hours, required when possible in Islam. They left the corpses in their funeral caskets, on the streets, for three days. The Hazaras
described
this action as a challenge to Pakistani army chief Gen. Ashfaq Kayani, demanding security for all citizens.
The victims were interred after Islamabad agreed to suspend the civilian administration in Baluchistan. The province's chief minister, Nawab Aslam Raisani, was out of power only two months, with his coalition restored to authority on March 14, anticipating elections when the current term of the Baluchistan Assembly is scheduled to expire on April 5.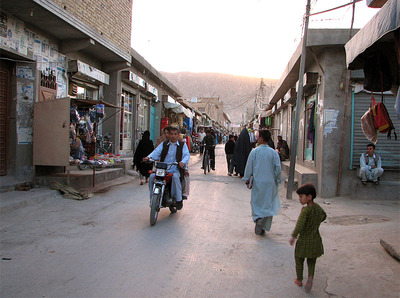 Hazara Town, Quetta, Pakistan.
During Raisani's hiatus, a second spectacular terror operation struck Quetta's Hazara Town market on February 16, killing 89 people and injuring 200. Once more, the Hazaras
delayed
burial of their murdered compatriots. Led by women—Hazaras emphasize female involvement in public affairs—about 4,000 Hazaras blocked traffic, repeating their appeal for protection by the government. That demonstration continued for four days, after which the dead were laid to rest in a mass
funeral
. In the second instance of burial boycott, the Hazaras demanded that Pakistan effect a "targeted operation" against the Sunni Muslim extremists that have slaughtered them.
In the two outbursts of anti-Shia bloodshed in Quetta, responsibility was claimed by Lashkar-e-Jhangvi (LeJ), a movement of anti-Shia zealots aligned with al Qaeda, the Taliban, and jihadist elements in the Pakistani army and ISI intelligence agency. Islamabad negotiated an end to the Hazara protests. The government, however, did not send the army to protect them.
According to the Pakistani newspaper Dawn, "few believe that dozens of [LeJ] men rounded up after the bomb attacks will ever be brought to justice." LeJ is blamed for a third episode of mass murder on March 3 in Abbas Town, a neighborhood of Karachi with a large Shia contingent. On that occasion, 48 people were killed and 135 injured.
Quetta, with a district population of about a million, includes about 70,000 Hazaras, concentrated in Hazara Town. Quetta is best known to the world as the site of the "Quetta Shura" or headquarters of the Afghan Taliban. Many Hazaras living in Quetta are refugees from Taliban persecution. But like their oppressors, they moved to Quetta to be close to Afghanistan.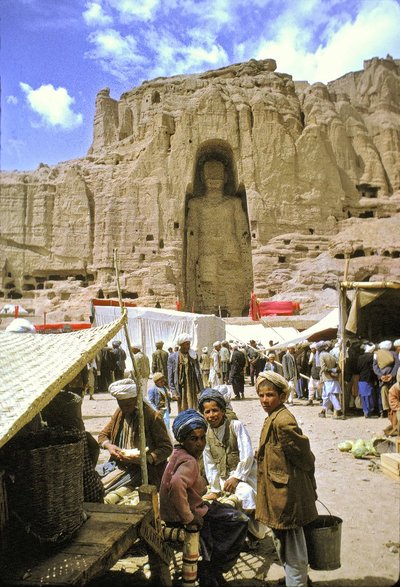 Hazara people at the Bamiyan Buddha site, 2010.
Thousands of Hazaras were driven by the Taliban from the Afghan region of Bamiyan—where the Taliban and al Qaeda in 2001 blew up the ancient Buddha statues. The ultra-dogmatic Sunni ideology of the Taliban imbued them with unrestrained hatred of Shia Muslims, whom the Taliban consider apostates from Islam. But the Hazaras had also inflicted a severe defeat on the radicals in May 1997, nine months following the Taliban invasion of Afghanistan. The Taliban skirmished with Hazaras in the far northwest of the country but were trounced by the Hazaras, who had fought against the Russian and Afghan Communists and had retained their weapons.
Fifteen months later, in August 1998, as described by Thomas Barfield in his 2010 volume Afghanistan: A Cultural and Political History, the Taliban drove through north Afghanistan and killed all the Hazaras they could find, forcing Hazaras to flee to Pakistan and Iran.
For the Hazaras, however, Pakistan, as a failing state under jihadist influence, has proven as dangerous a place as Taliban-ruled Afghanistan and "friendly" Iran. LeJ claims to have exterminated 1,000 Hazaras in the past five years. It committed more than 50 homicidal raids against Shia Muslims in Karachi in 2012.
On February 20, 2013, reflecting the public outrage of the Hazaras, Islamabad announced it would arrest the entire leadership of LeJ. On February 22, LeJ head Malik Muhammad Ishaq was detained at his home in the Punjab town of Rahim Yar Khan, east of Baluchistan—for a month. Pakistani interior minister Rehman Malik accused the Punjab state government bluntly of protecting LeJ. On March 4, Malik demanded, "I ask the Punjab government if it is not supporting and patronizing Lashkar-e-Jhangvi, why these terrorists are not carrying out terrorist activities in the Punjab despite having their headquarters there. Had the Punjab government initiated action against the LeJ, over 90 percent of terrorist acts could have been prevented. . . . The Punjab government is reluctant to take action against them."
Notwithstanding Iranian manipulation of their plight, the Hazaras do not have the militant reputation visible among Shias in Iran, Syria, and Lebanon. They have been peaceful except when faced with direct aggression. In modern times, their affliction began with the 19th-century conquest of their part of Afghanistan, the Hazarajat, by the then-ruler of Afghanistan, Abdul Rehman Khan, a theocratically-inclined Pashtun Sunni (like the Taliban). Their torment continued into the present day at the hands of the Russian and Afghan Communists and the Taliban. Enmity toward the Hazaras is often political as well as religious. The Hazaras are despised by the Afghan Taliban both because they resisted Abdul Rehman Khan more than 100 years ago and because of their Shiism.
The Hazaras fought the Communists and have threatened to form a militia to defend themselves against LeJ in Pakistan. But their chances in organized combat now appear small. Urban Pakistan, where the refugee Hazaras are found typically, is not mountainous Afghanistan. On February 28, Syed Zaman, head of the Hazara Scouts—affiliated, perhaps incongruously, with the worldwide Scouting movement— stated that in Baluchistan, "We have around 200 young men who perform security duties on specific occasions."
Fiaz Ahmed Sunbal, head of the local police in Quetta, rejected "private policing" but said officers would "were planning to close entrances to Hazara Town, and would recruit 200 young Hazaras to patrol their own areas." Hazara Scouts president Ghulam Haider condemned the closing of roads, as it would isolate the Hazaras—protecting them, we might say, by interning them. Hazaras are already excluded from certain areas of Quetta.
It is doubtful that even without support for LeJ inside the Pakistani political, military, and intelligence establishment, the ferocious anti-Shia campaign of LeJ and other groups like it can be quelled by Hazara scout patrols.
Lashkar-e-Jhangvi means "Jhangvi's Army" and is named for an infamous radical agitator, Haq Nawaz Jhangvi, who also founded another bloodthirsty anti-Shia terror group, Sipah-e-Sahaba (the so-called "Knights of the Prophet's Companions"). Both factions are aligned with the Taliban in Afghanistan and Pakistan, and all are inspired by the fundamentalist Deobandi sect of Islam. LeJ was officially designated an international terrorist group by the U.S. government in 2003, and is allegedly prohibited in Pakistan, yet it pursues its lethal agenda in Pakistan and Afghanistan with obvious impunity.
Finally, the Hazaras have no real friends, and can expect no substantial help from anybody. Australia has admitted them liberally as refugees, and some have gone to Mongolia to study. Otherwise, outside their own community, they are mostly unmourned victims of virulent Islamist sectarianism.
Related Topics: Central Asia, Deobandism, Iran, Pakistan, Shiism, Terrorism receive the latest by email: subscribe to the free center for islamic pluralism mailing list