CIP Greetings to People of the Book

Passover 5773 and Easter 2013
by Stephen Schwartz
CIP
March 26, 2013
http://www.islamicpluralism.org/2213/cip-greetings-to-people-of-the-book
The Center for Islamic Pluralism, in the tradition of moderate, conventional, and spiritual Islam, extends greetings to the People of the Book – Jews and Christians – on their sacred holidays.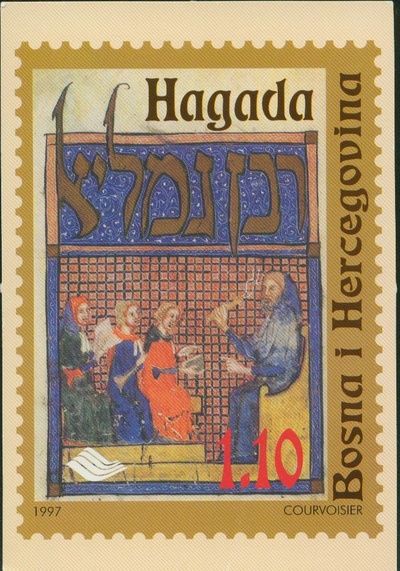 Postage stamp issued by the Republic of Bosnia-Hercegovina honoring the Sarajevo Haggadah, a book read by Jews during Passover. The Sarajevo Haggadah was created, probably in the northwest of the Iberian kingdom of Aragon (on the French border), before the expulsion of the Jews from Aragon, Catalonia, the Balearic Islands and Provence in the 14th and 15th centuries CE. It was found in Bosnia-Hercegovina at the end of the 19th century and has been protected there since.
The Jewish Passover for the Hebrew year 5773 began at nightfall on Monday, March 25, 2013, according to the common calendar.
The Christian Easter commemoration will take place on Sunday, March 31, according to the western tradition, and on Sunday, May 5, in the Orthodox churches.
The Sacred Heart of Jesus Catholic Cathedral, 19th c. CE, Sarajevo -- Photograph 2011 Via Wikimedia Commons.
CIP wishes fulfillment and spiritual renewal to Jewish and Christian believers on these occasions and urges all Muslims to offer similar salutations to their Abrahamic neighbors.
Stephen Suleyman Schwartz
Executive Director
Center for Islamic Pluralism
Related Topics: Muslim-Christian Relations, Muslim-Jewish Relations receive the latest by email: subscribe to the free center for islamic pluralism mailing list