Rahmetli Senad Mičijević, 1960-2013
by Saeid Abedpour
CIP
March 28, 2013
http://www.islamicpluralism.org/2214/rahmetli-senad-micijevic-1960-2013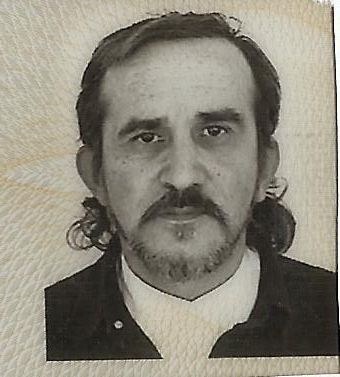 Rahmetli Senad Mičijević, 1960-2013. Fatiha.
Senad Mičijević, an outstanding representative of Bosnian Sufism, died aged 52 on 21 March 2013, after a long illness, in Mostar, Hercegovina. He was a Sufi devotee, author and historian. His books mostly concerned the cultural and spiritual heritage of Bosnia-Hercegovina.
At age 14, after a dream vision, he met Sheikh Fejzullah efendija Hadžibajrić and asked him for an interpretation of it. Hadžibajrić, Sheikh of the Hadži-Sinan tekija [meeting house] in Sarajevo, sent him to another other Sheikh, Beha efendija Hadžimejlić, at the top of a mountain in the village of Zivčići. Zivčići is the location of the first Naqshbandi tekija in Bosnia, founded in 1799 by Husejin Baba Zukić. The dream led Senad to find his spiritual path, and he became, for 30 years, the disciple and student of Sheikh Beha. Sheikh Beha Efendi, in the last moments of his life, told Senad, "To whom shall I bestow the Tariqat? I gave it to him." Sheikh Beha then died.
Senad did not name Sheikh Beha's successor. Perhaps Senad became the Sheikh but he kept it hidden. That was his character. He wanted to act as a historian and not to be famous as a Sheikh.
In the last twenty years, beginning in the 1990s, writing on the historical and religious legacy of Bosnia-Hercegovina was Senad's main focus. He believed the return to long-term peace and spirituality was not possible without open dialogue with others and struggle against radical and extremist ideologies. Thus the religious institutions refused to support him and even left him in isolation. During and after the Bosnian war of 1992-95, Senad took an important role in criticizing the infiltration of Wahhabism.
Before September 11, 2001, when Muslim religious leaders denied the role of Wahhabism in Bosnia, Senad documented the destruction of the cultural and religious heritage of Bosnia by Wahhabis. The ideological influence of Wahhabism was evident in the official Islamic Community of Bosnia-Hercegovina but nobody wanted to address it.
Senad, as a Sufi, also opposed fraudulent Sufi "sheikhs." Because of his attitude, many false "sheikhs" began to combat him. They questioned his legitimacy and launched a campaign against him.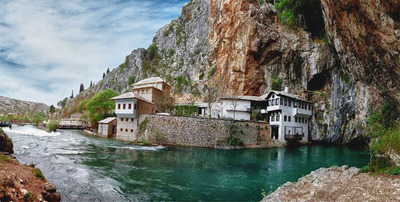 Sari Saltuk Bektashi Sufi tekija, 16th c. CE, Blagaj, Bosnia-Hercegovina.
The works of Senad Mičijević include his book about the Sufi tekija at Blagaj in Hercegovina, published in Mostar by Slovo in 2004, which was of basic importance for reconstruction of the monument. The tekija of Blagaj is among the most important Balkan Sufi buildings, originating in the 14
th
century CE. It is one of the places believed to house the tomb of the famous 13
th
century Sufi, Sari Saltuk.
In 2004, Senad also published an important book with Slovo about the tekija at Zivčići. He compiled a very interesting book, Bosanski etnološki rječnik (Bosnian Ethological Dictionary), the first in the country, published in 2009 in Mostar by the Federalno ministarstvo obrazovanja i nauke (Federal Ministry of Education and Science.) His writings on Sufi activity and its cultural heritage in southeastern Europe, and especially about the Bektashi tariqat, are important and should soon be published.
His dženaza was held in Mostar on 23 March 2013 – 11 Jumada Al-Awwal 1434.
Allah Allah Ejvallah.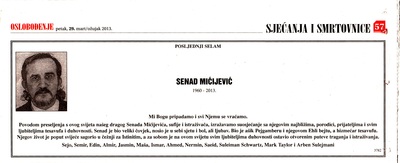 Death notice, Oslobodjenje (Sarajevo), 28 March 2013.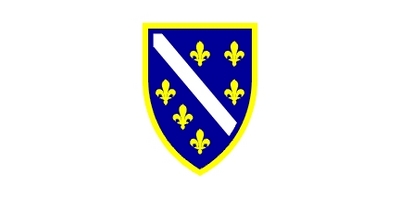 The flag of the Republic of Bosnia-Hercegovina.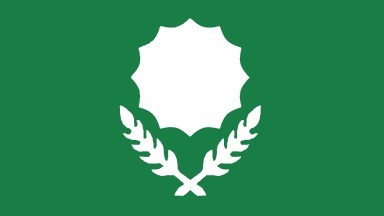 The flag of the Bektashi Sufi order – Illustration Via Flags of the World.
Related Topics: Albanian Muslims, Balkan Muslims, Bektashi Sufis, Bosnian Muslims, Kosovo, Macedonia, Montenegro, Sufism, Wahhabism receive the latest by email: subscribe to the free center for islamic pluralism mailing list