We should weep for the caring lovers, because the death of truth should be mourned.
In the years when the friendship and fascination of certain officials of the Islamic Community of Bosnia-Hercegovina for petrodollars greatly aided the spread of Wahhabi ideas, criticism by Senad Mičijević, and later by Rešid Hafizović and Mustafa efendija Spahić, was branded as dangerous and treated as a threat to the unity of the local Muslims.
The image of your memory does not disappear
Searching for you, where will you be, my soul?
(Sa'adi Shirazi)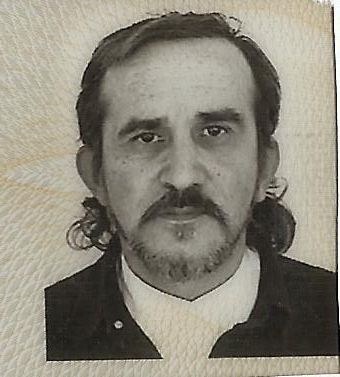 Rahmetli Senad Mičijević, 1960-2013. Fatiha.
Senad Mičijević, Sufi and writer, a dedicated researcher in cultural history, left this life and surrendered his soul to his Creator, on Thursday, 21 March, surrounded by his most loyal friends, in Mostar, Hercegovina, after a serious illness. He departed at that moment into eternity, after three months bedridden, in his modest but worldly home. Harsh illness did not rob Senad of his wisdom and awareness even in his last moments. Senad understood death and waited long for the fateful hour deeded to him by Almighty God. On his deathbed, however, he did not speak of death. His words were filled with life. He talked and talked about different historical, cultural, culturological, religious, and Sufi topics. Only not about politics. To that he paid no attention. He considered political matters so worthless and meaningless that to deal with them was a kind of neglect of one's relations with the Lord of Worlds. He worried about his writings and books. They were Senad's children. He was preparing publication of a study of Bektashism, as well as a volume on leading Albanian personalities, and an academic master's thesis. For him life was meant for accomplishment of valuable things and their inheritance by others. In addition, Senad measured life according to whether it hurt the hearts of others. He did not complain about the time and world in which he lived. I marveled at a man who was excluded so completely by society, living on its edge, but with such a pure heart, which had no room for anger, for reprimanding a person or a whole community because of its situation. He was free of gossip, envy, or particular admiration for individuals. He was truly an ascetic and friend of God. For weeks he would not light the stove in his kitchen, but would live on bread, coffee, and cigarettes. He was calm and organized. He was patient. Mostly, he remained silent. Holy Prophet Muhammad
sallallahualeyhisalem
said, "Silence is an ornament for the wise and a cloak for the ignorant." In the
Nahjul Balagha (Peak of Eloquence)
, Hazrat Ali says, "When the mind is more developed and mature, it speaks little." The silence of Senad was evidence of his deep thoughtfulness. He talked sparingly, and, more importantly, never incoherently, or just to say something.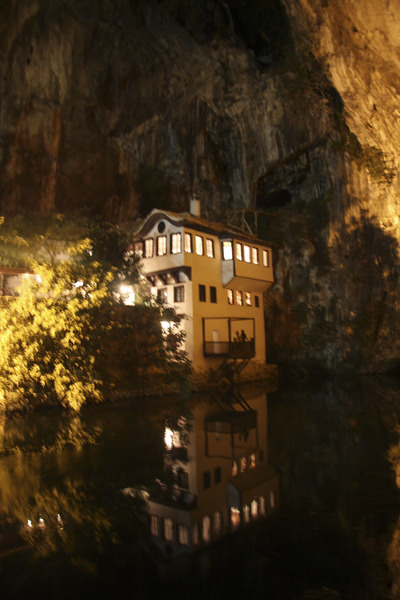 Sari Saltuk Bektashi Sufi tekija, 16th c. CE, Blagaj, Bosnia-Hercegovina -- Photograph 2009 Via Wikimedia Commons.
The late Senad, after the Bosnian war, failed to gain employment at any of dozens of cultural, educational and scientific organizations and institutions. Society simply does not appreciate such people, who do not belong to any party, interest group, or influential family coterie or gang. It did not matter that he was one of the cultural and intellectual pillars of Mostar. His monograph on Blagaj and the Blagaj tekija (2004), like that regarding the tekija at Živčići (issued undated), are valuable works of historical research. Alone and without the support of a single establishment or institutions, he compiled the
Bosnian Ethnological Dictionary
, one of the most important works on the cultural history of Bosnia-Hercegovina. He greatly contributed to public knowledge about the Sufis of Albania and Kosova in dozens of articles he published in various scientific journals.
The 18th c. CE tekija at Zivčići, Bosnia-Hercegovina.
At fourteen years old, looking for an interpretation of one of his dreams, he entered the path of spiritual obedience as a
murid
of shaykh Beha efendija Hadžimejlić in Živčići. And in the last months of his life Senad was still the loving seeker after the genuine home of all beings, the Territory of the Void.
Irfan
and
tasawwuf
are states of being and permanent improvement. In his spiritual journey of perfection Senad began, as a boy, by freeing his heart's bird from its cage, to find his
Simorgh
and spiritual fulfillment. It was thus, at 14, seeking the meaning of his dream, that he first went to shaykh Fejzullah efendija Hadžibajrić. The shaykh asked if he wanted a
zahiri
(outer/exterior) or a
batini
(inner/esoteric) interpretation, to which the youth had no answer, not knowing what to say to the shaykh. Shaykh Fejzullah then sent him to shaykh Beha efendija Hadžimejlić, with who Senad stayed three days, and whom he served regularly for the next 30 years.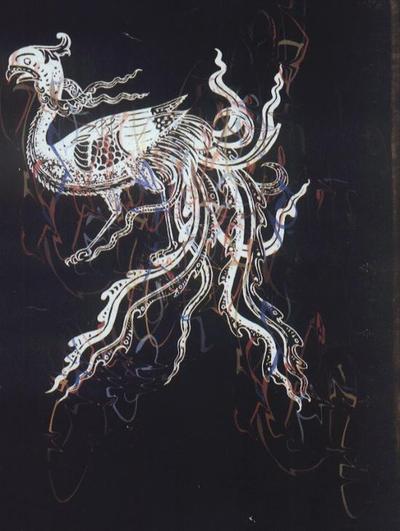 The Simorgh, a Central Asian spiritual bird.
When he became sick, Senad hid his pain. If you asked about his condition he would always answer, "
Alhamdulillah
" (All praise belongs to God). He was polite and humble. His last visitors did not disturb him with lamentations and regrets about his condition. He did not discuss his pain and suffering. He was truly patient. His loyal and sincere friends in those difficult days stayed with him. Masha, Semir and Sejo circled him like moths, providing continuous spiritual service to him.
Mevlana Jalal'ud'din Rumi wrote a ghazal that fits the story of the late Senad:
I am a servant of the moonlight, speaking only of her
And to me, do not speak, except of beauty and delight
Do not speak to me about suffering, speak only of the treasure
If there's anything you do not know, do not complain, as you have not been told
Last night was crazy and my love came to me and said:
I have come to you, but do not shout, nor tear your clothes
I said to her something else of which I am now fearful
And a second time she said, be silent and do not speak
I'll remind you of something, whispered in your ear, quietly, secretly
And you just nod your head and agree, but do not speak.
Doctor Mustafa Čamran, a martyr and Sufi, in one of his texts says: "God Almighty will reward a man according to the extent of suffering and pain he endured in God's path and value every human being according to the pain and suffering they underwent. Look at the great men of God, how they suffered more than others, and passed through trials and tribulations. Look at the greatness of Hazrat Ali; he is surrounded by pain, his entire being is filled with it. Or, look at Hazrat Husayn. He sank in the bloody sea of pain and torment, in a tragedy without equal. Or look at Zainab, Husayn's sister, and how she suffered after his martyrdom. Suffering wakens the heart of man, and moving his soul, kills in man his pride and self-loving greed, eliminates forgetfulness and neglect, and directs the attention of man to his being."
Senad's suffering and pain were an inevitable part of his overall destiny, but he never complained about them and tried always to dwell on beautiful and useful things, even in the last days of his earthly life as he was crushed by a malignant disease. His final words on Earth expressed his thanks to God Almighty: Alhamdulillah.
Many people attended Senad's funeral, to consign this great man to a better world. Among them was the Mufti of Mostar, Seid efendija Smajkić. The Mufti declared in his opening remarks that the passing of Senad represented an immense loss for the local cultural community. He added, "Senad, since early childhood, from his completion of Islamic primary school, showed great interest in questions of faith. Throughout his life he was dedicated to investigating and writing about our cultural history and faith."
In a society in which political and ethical stagnation since the Bosnian war has reached its climax (or rather its lowest point), in a society where silence and "not rocking the boat" are considered signs of political maturity and honesty, and open opposition to lies and hypocrisy as evidence of immaturity and naivete, Senad was among the first after the war to point out the destructive nature of Wahhabism in Bosnia-Hercegovina. In an interview with the magazine Dani, published in its issue of October 1, 1999, he said: "In Bosnia we see their (Wahhabi) creation of their own infrastructure of mosques, advocating and implementing the ideology of a cult, with the intention of one day forming a separate religious community. Followers of the cult are mainly recruited from asocial families. Quite often these are people with strong complexes who tend through some sort of bondage to advertise their originality and distinctiveness. Just look what they did to the Hajj, as an Islamic obligation."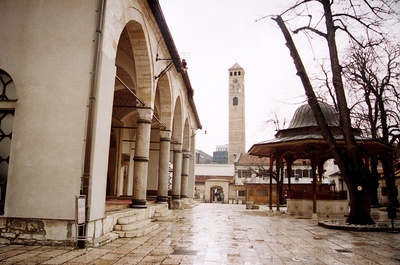 Courtyard of the 16th c. CE Gazi Husrevbeg mosque, Sarajevo, in a recent photograph.
He spoke about the destruction of the traditional architectural style of mosques in the region, on the pretext of the need for their prompt replacement after the war. The exquisite decorations of some mosques, the most obvious example being those at the Gazi Husrevbeg mosque in Sarajevo, were simply "whitewashed" to appear more like what the Wahhabis desired. Later, however, the complete restoration of the Gazi Husrevbeg mosque was accomplished although it required much time and cost.
Criticizing the activities of the Saudi High Commission for Relief to Bosnia-Hercegovina, Senad warned, "The director of the Saudi High Commission directs the reconstruction of our destroyed mosques. Their attitude toward our artistic heritage is one of vandalism. How can painting over an arabesque be considered a condition for rebuilding a mosque? With a few cans of Jupol paint they destroy actually a whole tradition of Islamic ornamentation that was present in all of our mosques. Look in the mosque: you will be shocked."
In the years when the friendship and fascination of certain officials of the Islamic Community of Bosnia-Hercegovina for petrodollars greatly aided the spread of Wahhabi ideas, criticism by Senad Mičijević, and later by Rešid Hafizović and Mustafa efendija Spahić, was branded as dangerous and treated as a threat to the unity of the local Muslims. Books like those of Stephen Sulejman Schwartz (English The Two Faces of Islam 2002, Bosnian Dva Lica Islama 2005), which criticized the visible history of Wahhabism, were condemned as heretical and treacherous, while at the same time the rulers of some Arab countries in the Persian Gulf were praised as purported awliya (friends of God).
Thus, at a time when the majority of Muslim intellectuals kept quiet in their conformism, Senad Mičijević without hesitation spoke of the dangerous spread of Wahhabism in the region. He cautioned not only against the danger of Wahhabism, but also the danger of the pseudo-Sufism of self-proclaimed shaykhs and ignorant dervishes. Just as, criticizing dishonest Sufis, Hafez Shirazi, the great Sufi poet, wrote:
White-haired grandparents do not know the secrets of love,
Not even Alexander the Great's secrets encompassed the truth in the mirror.
Anyone sitting proudly next to a throne, with his hat cocked,
Knows nothing of rulership, of the coronation to come.
With thousands professing wisdom and a light, thin glory,
Each head shaved, do you know who is the true dervish?
You do not speak like an orphan, you dream of silver coins;
We know, dear slave of your cares, it's known how all the servants work.
As a free Sufi, Senad could not observe silently deviations in tasawwuf. False Sufi shaykhs he considered the greatest danger to tasawwuf because of their destructive effect on the principles of tasawwuf. If people have no confidence in the foundations of tasawwuf, Sufis have no claim to excellence among humanity. If they are only involved in tasawwuf for commerce and politics, then tasawwuf will no longer play a constructive role in the lives and religion of the people. Sufi institutions in such cases turn into mere political and commercial enterprises. Here is what the late Senad said about such Sufis: "Every cleric who resists the arbitrary demands of the official Islamic Community proclaims he is a shaykh. As soon as he comes close to the Islamic Community, he assumes the position of a dervish. But not as a dervish; rather, immediately as a shaykh. They are easy to identify. Their lectures are limited to clerical terms. As soon as you ask them something about the domain of the tariqat, they divert you skillfully to a rhetorical citation of Shariah. Taking care of their own insecurities, these false shaykhs, who are little swindlers, exploit young dervishes economically. One of these fake shaykhs made a shaykh's taj (hat) with twelve ridges. He marched in mass demonstrations and presented himself as a shaykh although he was not even aware of the tariqat whose taj he had placed on his head. Others gave interviews naming him as a new messiah and declaring that in Bosnia, thanks to his prayers and ideas, peace and harmony reigned."
Not unexpectedly, many rumors and accusations circulated against Senad. Some were disseminated by religious figures, and even by dervishes. They attacked him although he had nothing, not even a radio. Critical thinking and critical voices in a society accustomed to silence and "not rocking the boat" are dangerous. Senad disturbed the peaceful sleep of the lovers of money and power. He did not fit in a single group, and he was free from birth; he never sought to preserve relationships and friendships by remaining silent in the face of lies and hypocrisy.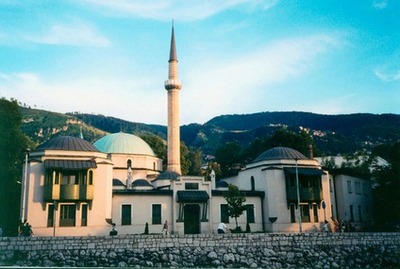 The 15th c. CE Careva (Imperial or Sultan's) Mosque, Sarajevo.
Senad Mičijević, Rešid Hafizović, Mustafa efendija Spahić and dozens of other critics in religious, social and political life are faced with sharp attacks, in the manner of a local political and social culture where free thinking and speaking the truth were once considered threats to public order and safety. Recall the late Hajji Hafiz Hadžimulić. Under communist rule he dared criticize, from the
minbar
of the Careva (Imperial or Sultan's) Mosque, the writings of the officially-approved Derviš Sušić. The first person to respond urgently to the Hadžimulić statement was neither a member of the Secret Police nor of any committee of the Communist political structure, but the by-then president of the Islamic Community, Dr. Ahmed Smajlović. Beginning with the hafiz, Smajlović removed from office the imams of the Imperial Mosque, and as is well known, for a long time nobody spoke to him.
Mansur Hallaj, a martyr of true spirituality, after the doctors of law of his time pronounced a death sentence against him, said the verdict reflected the history of spirituality. Farid'ud'din Attar of Nishapur in his famous collection, Tadhkara tul-Awliya (Memorials of Saints) transmits Mansur's words, spoken in the last moments of his life in this world. Hallaj was asked then what he saw, and he replied: "You will see today, you will see tomorrow, and then the next day." And on that day they killed him, the next day they burned his body, and the day after that they thew his ashes away. Yes, this is love. This is spiritual devotion. To love means to burn and aspire to become ash. This is the path that we see among the greats of human history, such as Socrates, Hallaj, or Suhrawardi. Truth must burn. Against lies, deception, and hypocrisy one cannot fight with laziness and deceit. It is necessary that before the Holy Throne of God Ismail be offered for sacrifice.
In a society where, as Ali Shariati writes, the presumed dead martyrs are alive and the living are dead; in a society of improperly formed values; ​​in a society where the lords of culture and religion spend time traveling without purpose and parading their self-importance, with their energy spent on a cheap confusion, culture and religion; in a society in which the conscious, conscientious and truly caring people must be shamed for telling the truth and must be silent and suffer for a crust of bread; in a society of wolves in sheep's clothing, where the addicts of money and power preach morality, calling for struggle against poverty, corruption and anarchy; in a society which never calls to faith, and never less respected its doctrines; in that society, thus, we should weep for the caring lovers, because the death of truth should be mourned. We must be concerned for the fate of the true knowers of religion, Sufis and intellectuals; and we must ask how long truth wull be hidden because of money, power, and hypocrisy.
Who today in Bosnia-Hercegovina can fill the places of true ulema and Sufi shaykhs? How can we not be worried about the large gaps created by the deaths of Beha efendija, Shaykh Zakir, hafiz Hadžimulić, Shaykh Mesud Hadžimejlić, Senad Mičijević and others? This society does not value, and does not respect the lovers, who truly care for each other and for the community.
Should we, therefore, now wail and shed tears for Senad, or weep over the state of a society whose spiritual champions depart this world in silence and solitude, as they lived?
[The published text of this article may be found in the Bosnian language here (page 1 of the original): http://www.islamicpluralism.org/documents/2216.jpg and here (page 2): http://www.islamicpluralism.org/documents/2217.jpg.
Objavio tekst ovog članka može se naći na bosanskom jeziku ovdje (stranica 1 od izvornika): http://www.islamicpluralism.org/documents/2216.jpg i ovdje (str. 2):http://www.islamicpluralism.org/documents/2217.jpg.]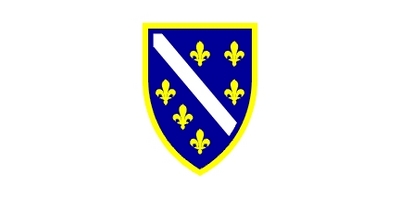 The flag of the Republic of Bosnia-Hercegovina.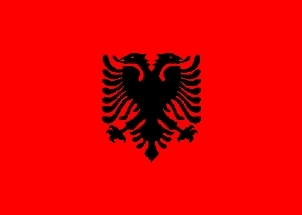 The flag of the Albanian nation.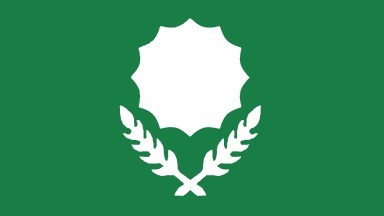 The flag of the Bektashi Sufi order – Illustration Via Flags of the World.
Related Topics: Albanian Muslims, Balkan Muslims, Bektashi Sufis, Bosnian Muslims, European Muslims, Kosovo, Macedonia, Montenegro, Sufism, Wahhabism receive the latest by email: subscribe to the free center for islamic pluralism mailing list