Indian Sufis announce agenda for annual meeting

June 30, 2013 in Faizabad, Uttar Pradesh
by Syed Babar Ashraf
All India Ulema and Mashaikh Board
June 20, 2013
http://www.islamicpluralism.org/2250/indian-sufis-announce-agenda-for-annual-meeting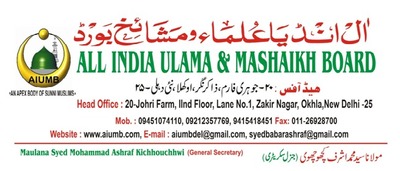 New Delhi, 20 June 2013
Saudi/Wahhabi institutions and individuals are threatening the internal security of India by radicalizing Muslim youth. The agenda of the 8th Annual General Meeting of the All India Ulama and Mashaikh Board will discuss such threats to the nation. The Annual General Meeting is scheduled for 30 June in Rudauli, Faizabad District, Uttar Pradesh.
Khanqah Hazrat Shaikhul Alam will host this one day meeting, to be attended by heads of Khanqahs, Dargahs and Astanas spread all over India. Along with Sajjadgan, Gaddi Nashin and Mashaikh other Muslim clerics and intellectuals as well as central and state office holders of AIUMB will attend.
Indian Muslims are deprived of their rightful place in the socio-political arena and are represented by a group of people funded and guided by an alien power, promoting extremism under the patronage of government. It is essential to correct things and make the Muslim voice heard in the Indian policy-making process.
While Saudi/Wahhabi institutions and individuals endanger the security of the land, this meeting will discuss the matter in detail, to ensure that the Indian Muslims come back into the mainstream and that elements propagating extremism are isolated.
The agenda also includes review of the rise in extremism of all kinds in the country after the 26 November 2008 Mumbai attacks, and means to stop this menace.
This Annual General Meeting will discuss, among other things, Indian Muslim representation in the Central Waqf Council, State Waqf Boards, Hajj Committee of India, State Hajj Committees and other Muslim bodies, plus other government institutions requiring Muslim representation, and if such is found inadequate, what measures may be taken to assure that Indian Muslims are fully accommodated in these structures.
The agenda of the meeting includes a review of the projects announced, funds released and actions taken for the welfare of minorities during nine years of United Progressive Alliance Government, and if Muslims have not benefited adequately from these activities what may be done to obtain their due share in government welfare programs.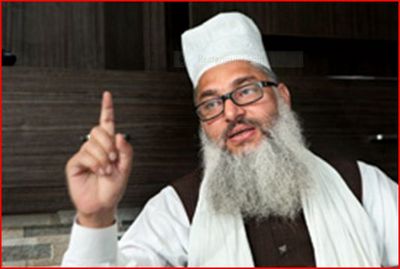 Maulana Syed Mohammad Ashraf Kichowchhwi.
National Secretary of the Board Syed Babar Ashraf will present the Annual Report. The office bearers including the General Secretary Hazrat Maulana Syed Mohammad Ashraf Kichowchhwi will present the correspondence with the government and the representations given to the Union and several state governments about the sorry state of the community.
It may be mentioned that the All India Ulema and Mashaikh Board was established eight years ago to propagate peace, tolerance, amity and pacifism among the members of the community as per Sufi practices and to strengthen the composite culture of India, which has been greatly shaped by the teaching of Sufi saints from all over the country.
The Board has prioritized establishment of quality Modern Education Centers in all the areas of Muslim concentration.
Related Topics: Sufism, Wahhabism receive the latest by email: subscribe to the free center for islamic pluralism mailing list