Ramadan Mubarak, Ramadan Karim A.H. 1434

Letter from Kerala, India
by Noorudheen Mustafa
CIP
July 8, 2013
http://www.islamicpluralism.org/2256/ramadan-mubarak-ramadan-karim-ah-1434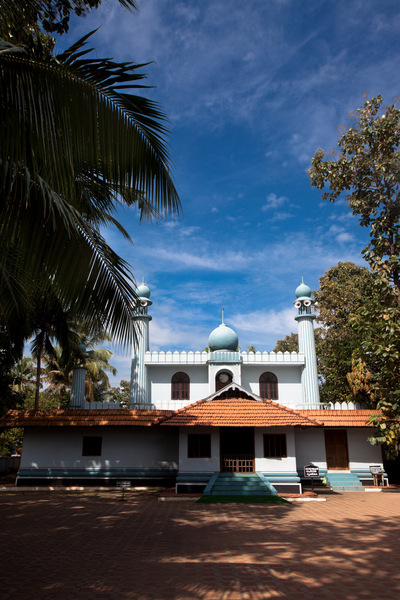 The 7th c. CE Cheraman Juma Masjid in Methara, Kodungallur Taluk, Kerala. The mosque is believed to be the first constructed in India -- Photograph 2013 Via Wikimedia Commons.
The days of holy Ramadan inspire a high level of spiritual joy in Kerala. The cosmic rhythms of the heart's deep interior are explored in the fasting month. In accordance with the traditional Islam in the land, the Muslim community seeks to reaffirm its specific code of living and ethical functions in fulfilling our humanitarian obligations. A wide range of endowments are activated with the goal of balancing socio-economic tensions in the whole community, an aim to which most Muslim leaders are committed.
Rather than money, the poor will receive donations of food, clothing, medicine, etc. All join in this massive constellation of charity by gifts, large and small. That is why every Ramadan in Kerala is characterized by a paramount common fulfillment. Every downtrodden person will share in the elevation derived from the period of fasting. This exemplary outlook was influenced by the Arab diaspora to Kerala which commenced in the seventh century CE. Hospitality and charity are the preeminent factors for the days of Ramadan in Kerala.
Kerala is a land that generated vast Islamic knowledge during the pre-colonial, colonial, and post-colonial ages. This has become a tool for influencing the restless claims to New Age ethics in modernity. The tradition of Muslim study in Kerala has long roots, tracing through the multiple civilizations that contributed to the golden age of Islam, and which reach back to the works of prophet Muhammad (PBUH) and his disciples. Traditional seekers of knowledge and ulemas live in different parts of India, cultivating core beliefs about religious thought. During Ramadan these groups return to their homelands and set out on special Ramadan journeys to different parts of world. Most people complete Ramadan days in small villages which no longer possess the resources for Islamic development.
In these villages, small and large scale sermon campaigns are carried out. After five daily prayers, all join together in the masajid and the ulema or Islamic students will offer short sermons on differing topics in Islamic teaching. Local people – farmers, students, highly-qualified professionals, business people, women, children -- all take advantage of this opportunity to learn more about Islam and the Muslim world.
Some scholars set up special Ramadan educational institutes for the systematic teaching of Sufi principles, the life of the Prophet, traditional requirements, and religious practice. Millions gather in special observations by the Sufi congregations. All shrines, masajid, and other holy centres are filled with believers during every Ramadan.
Following the sacred texts, Keralites strive to purify their minds, bodies, and souls, removing all trace of unworthy behavior. The benefits of fasting during Ramadan affects not only the Muslims but pluralistic society. Mass fast-breaking iftar sessions draw many people from different parts of our diverse population. Finally, the people of Kerala wait hopefully for Ramadan and treat it with care as a special guest each year.
Related Topics: Muslim-Christian Relations, Sufism receive the latest by email: subscribe to the free center for islamic pluralism mailing list