One Year After -- Radical Islamists, violent and dangerous

First published 27 August 2012
by Imer Mushkolaj
MAPO [Tirana]
August 29, 2013
http://www.islamicpluralism.org/2277/one-year-after-radical-islamists-violent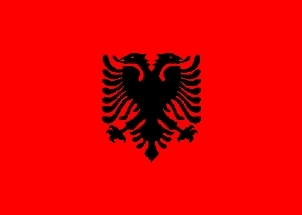 The flag of the Albanian nation.
[CIP Note: This article was published in the Albanian lands one year ago but is of extreme relevance to the election for the position of reis-ul-ulema in Kosova. For that reason we are reposting and resending it to our correspondent list.]
It was sad again recently to read a survey on the risk to Kosova of Islamic radicalism. Not so much because those who follow this path will use any method to convince as many people as possible to join them, but rather because the authorities are dealing with it quite frequently, to say the least, by leaving the radicals to operate freely. Organizations identified as supporting terrorists for years finance the construction of mosques in Kosova and other projects. Mostly hidden behind such titles as "humanitarian" and "cultural," and facing no obstacles, they pursue their radical agendas. Since the 1998-99 liberation war, Kosova has become an oasis of multiple "humanitarians" – not exclusively Muslim, that do not have service to humanity as their primary purpose. Nobody takes them seriously, but they take us seriously.
Poor people have accepted their help as a sign of good will, not easily understanding that they may be exploited for other purposes. The recent years have seen terrible scenes, with little girls wearing headscarves. We heard the excuse that they choose to cover themselves! We have seen the violent actions of radical Islamists who came to show us allegedly "true" Islam.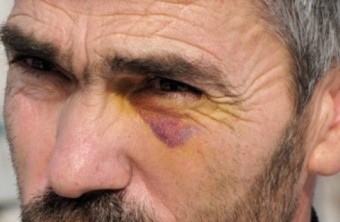 Mullah Osman ef. Musliu of Drenas, Kosova, after assault by Wahhabis in 2009 -- Photograph by Fisnik Dobreci, Express, Prishtina, Kosova.
They have beaten imams who do not accept their interpretation of religion, and we hear their sermons calling for war against "disbelievers." They continue to fight all who think differently from them and who do not accept the new way of life. They want to Arabize Kosova, remove it from the practice of traditional Islam, and import a spirit and lifestyle that was never previously seen in the country. They have attacked imams who kept insisting on refined religious values​​, which are the legacy of our ancestors. And everything is done ​with the tacit support of the Islamic Community of Kosova, an institution that seems to have been captured by radicals.
Cases of violence against imams who practice traditional Islam, but also protests demanding the construction of a megamosque in Prishtina and admission of students in headscarves to state schools should alarm all of us, primarily in the official institutions, and particularly the dangers posed by those who do not choose on their own the tools or means to achieve their goals .
Friday sermons are filled with intolerance, rage and resentment towards other religions, and appeals to violence against all who are different from the radicals. They justify the murder of innocents "in the name of Islam," hate America and everything American, write poems to and otherwise celebrate Osama bin Laden. They speak of Islam as a religion of peace and tolerance, but are intolerant and racist. They are dangerous and violent.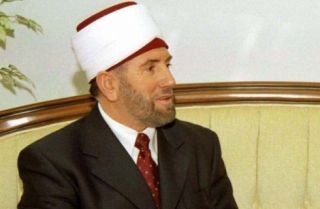 H.E. Rexhep Boja.
"Albanians have been Muslim for more than 500 years and do not need foreigners (Arabs) to show us the best way to practice Islam." This statement by Rexhep Boja, former leader of the Islamic Community of Kosova (ICK/BIK) and the person who tried to withstand the pressure of radical missionaries on the BIK, says a lot about the religious identity of the majority of Kosovars.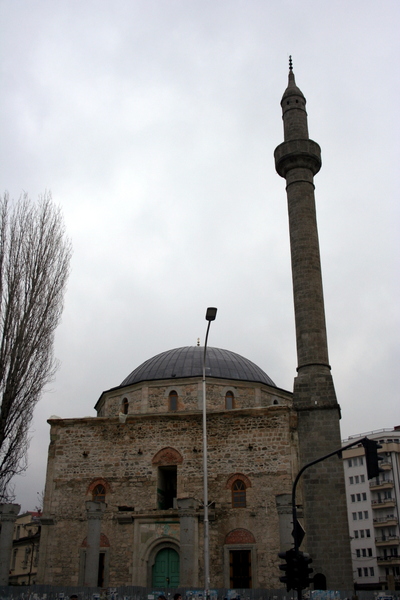 The 14th c, CE Stone Mosque or Kosova Mosque, Prishtina -- Photograph 2013 Via Wikimedia Commons.
Kosova Muslims are generally heirs of Ottoman Islam, but the missionaries, who sought to remove Boja from the BIK, are trying to turn Albanian national identity into a religious identity. Although not officially and publicly possessing a radical and violent agenda, day and night they spread their extremist views and recruit secretly young people who support them.

We Are One.
Boja's place in the BIK was taken by Naim Tërnava who some imams accused of supporting radical groups and Islamist extremists. Stephen Sylejman Schwartz, director of the Center for Islamic Pluralism based in Washington, has described Tërnava as a Wahhabi leader in Kosova. According to Schwartz, the Sunni Islam of the Kosovars is a conventional and moderate force joined to spiritual Sufism among the believers. But this moderate Islam is fought by the radicals. And they will continue their activity as long as they are allowed to do so.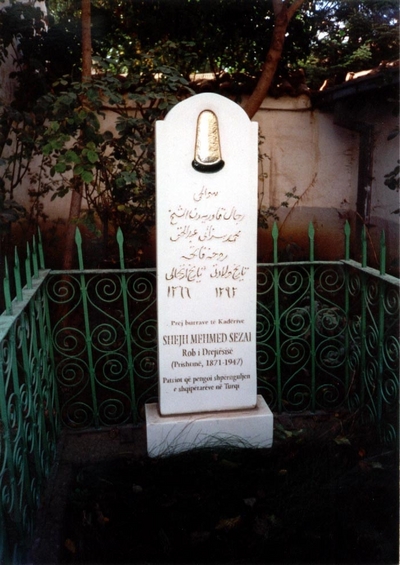 Grave of rahmetli Qadiri Sufi sheh Mehmed Sezaj, who fought against Yugoslav expulsion of Kosovar Albanians to Turkey, Prishtina, Kosova – Photograph 2000 by Stephen Schwartz.
I do not want to believe that their activities are not monitored or supervised by anyone in Kosova. Also, I do not believe that Kosova's leaders are unaware of the risk they represent for the country. Fighting Islamist radicals should be a priority for the authorities and society. There is no greater patriotism than to obstruct those who are trying to impose their religious identity on a country. Violent and dangerous.
Note: An Albanian-language text of this article is accessible at http://www.islamicpluralism.org/2276/nje-vit-pas.
Shënim: Teksti në gjuhën shqipe i këtij neni është i arritshëm në http://www.islamicpluralism.org/2276/nje-vit-pas.
Related Topics: Albanian Muslims, Balkan Muslims, European Muslims, Kosovo, Macedonia, Montenegro, Muslim-Christian Relations, Wahhabism, WahhabiWatch receive the latest by email: subscribe to the free center for islamic pluralism mailing list