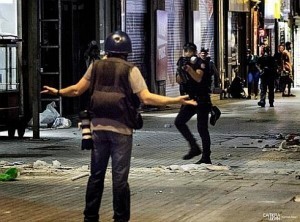 Taksim Square, Istanbul, September 10, 2013: The honorable journalist Ahmet Şık threatened at close range by a police gas launcher. Please remember our brother Ahmet in your duas.
Mass protests against police abuses have resumed in the Turkish city of Istanbul, as well as in Ankara, the national capital, and in Antakya province on the Syrian border.
The latest country-wide demonstrations began after the death on September 10 of Ahmet Atakan, a male aged 22, in Antakya.
Atakan was an Alevi Muslim, belonging to a Turkish and Kurdish heterodox sect that fuses Shia Islam, metaphysical Sufism, and pre-Islamic Central Asian shamanism. Alevis make up about 20 million people, or a quarter of Turkey's population of 80 million, along with approximately two million Alevis in the Turkish diaspora in Western Europe.
Atakan died when he was struck by a police gas canister, according to opposition sources, or, in official accounts, fell from a building. The tragedy occurred during a march of about 150 young people against road construction that would uproot trees, damaging the environment on the grounds of the Middle Eastern Technical University in Ankara. Alevis in Ankara also expressed discontent at official plans to construct a multi-use "cultural center" including a Sunni mosque and – as Alevis do not pray in mosques – an Alevi cemevi, or "ritual house."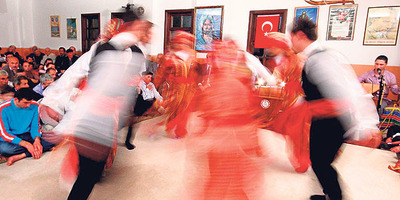 Alevi Muslim ritual in a cemevi, 2009.
After Atakan's death, thousands of people chanting his name gathered in Istanbul, Ankara, and Antakya. Although the demonstrators were peaceful, they were assaulted by police. Mobilizations in response to repression have continued daily.
In Istanbul, on İstiklal Caddesi, or Independence Avenue, a central shopping and café boulevard, police have repeatedly fired countless tear-gas rounds, pepper spray, and plastic missiles at bystanders and protestors, who replied with fireworks.
The latest turmoil has been interpreted as a renewed push against authoritarian tendencies in the "light-Islamist" government of Prime Minister Recep Tayyip Erdoğan and his Justice and Development Party, known by its Turkish initials as the "AKP."
During the latest upheaval, police used water cannon and tear gas against marchers in the Kadiköy neighborhood on the Asian side of the Bosporus, the strait dividing Istanbul. But skirmishes between angry citizens and police were observed across the city.
On September 16, according to the liberal Arab television network Al Arabiya, a public concert had been held in the Kadiköy district under the slogan, "Justice, Freedom and Peace." The concert was sponsored by the Taksim Solidarity Movement, commemorating the civic challenge to Erdoğan's power in June, while displaying portraits of six murdered demonstrators, and of one police officer who was killed at the time. The victims, including the latest, Ahmet Atakan, were Abdullah Cömert (22), Ali İsmail Korkmaz (19), Ethem Sarısülük (26), Mehmet Ayvalitaş (20) and Medeni Yıldırım (18). The police officer, Mustafa Sarı, fell to his death from a bridge while chasing demonstrators in the town of Adana.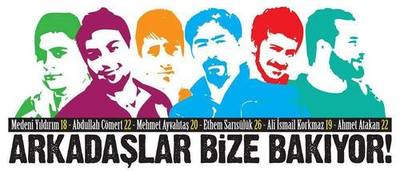 The martyred demonstrators. The Turkish slogan reads "Our friends are watching." Please recite Fatiha and read Surah Ya Sin for the dead youths.
At the concert, the audience was surrounded by police, and all participants were required to undergo body searches. The Kadiköy event ended with a dozen arrests, as police pursued members of the crowd into the side-streets.
Poorly-informed foreign media and AKP politicians have tried to "internationalize" the latest Turkish ferment. Some have claimed that Alevi Muslims came into the streets in support of the "Alawite" dictatorship of Bashar Al-Assad in neighboring Syria. Yet the libelous claim that the Turkish-Kurdish Alevis and Syrian "Alawites" are similar or allied has been refuted decisively by serious scholars.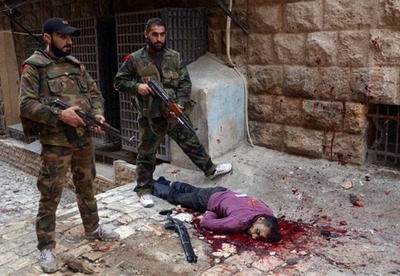 Syria, May 2013: Al-Assad's uniformed terrorists stand over the body of an alleged rebel slain in Aleppo. Please recite Fatiha and read Surah Ya Sin for the sincere and moderate Syrians fighting desperately for civil society. As-Suriyya! Al-Hurriyya!
For his part, Erdoğan, based on charges against the Turkish police, has accused the European Union of a campaign against Turkey. The Turkish Minister for Relations with the EU, Egemen Bağiş, has dismissed these concerns as "everyday problems." Bağiş insists, "Turkey is on the way into the EU – this is our clear aim."
Professor Cengiz Aktar of Bahçeşehir University in Istanbul has warned that, because of the anti-Erdoğan protests last June and the brutal reaction of the police to them, Turkey and the EU are now more at odds than ever. Delay by Germany and other major EU countries in negotiating Turkish accession to the EU may be interpreted by an element of Turkish opinion as punishing the Turkish democracy movement and civil society out of disgust with the AKP. The underlying reason for Europe's coolness toward Turkish accession is clearly anxiety over a demographic shift that, with Turkish entry, would make the EU a majority-Muslim body. But Erdoğan's behavior has aggravated the sense of alienation.
According to Professor Aktar, the Turkish democracy movement upholds environmental protection, free expression, and a liberal society. Its message, he says, is clear: "We are like you. We are Europeans."
But the crisis in relations with Europe may be blamed equally on Turkey, which had gravitated away from the EU during the AKP reign, and turned, instead, to Islamist politics in the style of the Muslim Brotherhood. Since the June clashes, a deep split in Turkish society is visible: Both secular Turks and religious Muslim AKP voters see their lifestyles threatened and their freedoms stolen.
Erdoğan and the AKP have become increasingly more autocratic, and the minority that opposes him is a major irritant even when its goal was merely to protect one small city green area, Gezi Park, in Istanbul. That set off the June "uprising." But it was only a symptom. At its base, the Turkish confrontation involves social, political, and cultural differences that cannot be concealed by the AKP, which, in recent years, engages in constant propaganda about its successful economic performance.
Meanwhile, the Islamist movement of Fethullah Gülen has distanced itself from Erdoğan's ambitions, which may erode or even atomize Islamist politics in Turkey. Above all, as long as its people, whether secular or religiously conservative, cannot enjoy peace and freedom in their own country, Turkey has no future in the European Union. Censorship of the media, arbitrary application of judicial power, and excessive police action – all characteristics of Erdoğan's incumbency – are purely and simply incompatible with European values.
If Turkey changes its laws and their use in a decisive manner, relations with Europe may improve. An impartial legal system, tolerance of dissent, and free expression must be made stable and respected. More AKP electoral victories – with a new presidential balloting scheduled for 2014 – will not serve to conceal the dissatisfaction of the Turkish populace.
Related Topics: Alevism, Central Asia, Dutch Muslims, European Muslims, German Muslims, Kurdish Islam, Shiism, Sufism, Turkish Islam receive the latest by email: subscribe to the free center for islamic pluralism mailing list