The Uyghur Human Rights Project launches new Chinese language website
by The Uyghur American Association
Uyghur Human Rights Project and Uyghur American Association
October 9, 2013
http://www.islamicpluralism.org/2305/the-uyghur-human-rights-project-launches-new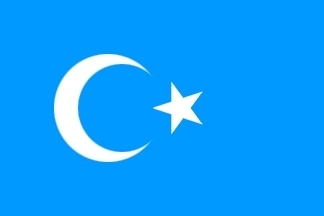 The flag of East Turkestan.
The Uyghur Human Rights Project (UHRP) is proud to unveil its new website in the Chinese language, which it hopes will build bridges between the Uyghur and Chinese communities as they strive to bring democratic reform to China. UHRP believes a Chinese language website will help to draw connections between the struggle for Uyghur human rights and broader Chinese democracy activism.
"The UHRP-Chinese website is an important development in the Uyghur movement for freedom, democracy and human rights," said UHRP director Alim Seytoff in a statement from Washington, DC. "It is a first-of-its-kind initiative to bring together research, original writing and news on the human rights issues that directly affect the Uyghur and Chinese people. UHRP hopes that through educating the Chinese public on the plight of the Uyghur, we will be able to counteract the demonizing effects of Chinese government propaganda and seek meaningful solutions to the East Turkestan issue."
Regarding UHRP's new Chinese language website, Chang Chiu, Program Officer for Asia
at the National Endowment for Democracy said:"The National Endowment for Democracy is pleased to congratulate and support the launch of the Uyghur Human Rights Project's new Chinese language website. The Uyghur Human Rights Project is making an important effort to make its materials available to a Chinese language audience. This website will help to promote greater understanding in China of the unacceptable human rights conditions faced by the Uyghur people."
Chinese democracy and human rights activists also extended their support to UHRP's initiative to engage the Mandarin speaking community.
Yu Dahai, publisher of Beijing Spring magazine, commented:"Congratulations to the Uyghur Human Rights Project on the launch of your Chinese website! I believe this website will not only improve the human rights situation of the Uyghurs, but will also make an outstanding contribution to promote understanding and friendship between Uyghurs and Han Chinese."
Hu Ping, prominent writer and democracy activist, added:"Congratulations to the Uyghur Human Rights Project on your new Chinese language website—it will enable more Chinese to hear your voice."
The new Chinese language website focuses on the human rights research produced by UHRP, and will provide readers with the latest news affecting Uyghurs in East Turkestan. The site not only features UHRP's press releases on recent developments in East Turkestan, but also its comprehensive reports on Uyghur political, economic, social and cultural rights. In addition, the site links to UHRP's blog, through which UHRP plans to present commentary on Uyghur-related issues from Chinese, Uyghur and Western contributors, in addition to staff members. Users will also find a section entitled "UHRP in the News," featuring the writings and activities of UHRP staff.
Subscribers to the English language mailing list can subscribe to the Chinese language mailing list here: http://chinese.uhrp.org/newsletter.
UHRP's new Chinese outreach coordinator, Zubayra Shamseden is also available to discuss UHRP's work in Mandarin and to listen to any suggestions or comments.
The Uyghur American Association founded the Uyghur Human Rights Project (UHRP) in 2004 with a supporting grant from the National Endowment for Democracy (NED). UHRP's mission is to promote human rights and democracy for the Uyghur people, and to raise awareness of human rights abuses that occur in East Turkestan.
Related Topics: Central Asia, China, Kazakhstan, Kyrgyzia, Turkish Islam, Uighurs, Uzbekistan receive the latest by email: subscribe to the free center for islamic pluralism mailing list