Eid Al-Adha – Kurban Bayram Greetings A.H. 1434
by Stephen Suleyman Schwartz
CIP
October 15, 2013
http://www.islamicpluralism.org/2310/eid-al-adha-kurban-bayram-greetings-ah-1434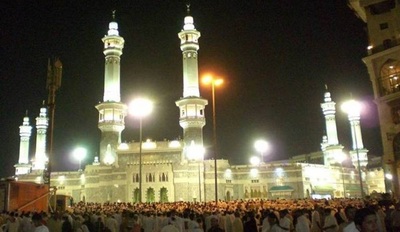 Makkah Al-Mukarramah.
The Center for Islamic Pluralism, an international network of Muslim scholars, clerics, authors, journalists, Sufi shaykhs, and other believers, active in 32 Muslim-majority countries and Muslim-minority communities, extends warm greetings to all Muslims on the occasion of Eid Al-Adha for the hijri year 1434.
Also known as Kurban Bayram, or the "Feast of Sacrifice," Eid Al-Adha commemorates the act of Ibrahim/Abraham, peace be upon him, the common father of monotheists, in accepting the commandment of Almighty Allah, Lord of the Worlds, to slay his son Ismail.
Allah, whose mercy and compassionate are infinite, intervened to prevent Ibrahim from killing his son and provided a ram for slaughter in his place. This interaction between Allah Almighty and Ibrahim/Abraham has been interpreted by some non-Muslim commentators as expressing the break of the monotheist, "Abrahamic" believers with prior religions founded on human sacrifice.
With the coming of Eid Al-Adha the annual hajj pilgrimage will have been fulfilled, an occasion on which we pray for the highest spiritual rewards for the hujjaj, notwithstanding difficulties caused by excessively ambitious Saudi Arabian construction plans in the beloved, holy city of Mecca.
We see in Eid Al-Adha above all the signs of human solidarity, denial of doubt, and renunciation of extreme personal zeal. The God who preserved the son of Ibrahim/Abraham cannot offer counsel or comfort to heartless terrorists and dictators currently interfering with our faith, which is Islam, and committing crimes that disgrace us as Muslims. Allah almighty will prevail; and the victims of radical violence, wherever they are found, will prevail by Allah's will. The shrines and other heritage of Mecca, Medina, and similar places where extremist vandalism and heedless commercialism now dictate devastation of our Islamic legacy will be rescued and restored, insha'allah.
Eid mubarek!
Bajram šerif mubarek olsun!
Gëzuar kurban bajramin!
Related Topics: African-American Muslims, Albanian Muslims, American Muslims, Balkan Muslims, Bosnian Muslims, British Muslims, Canadian Muslims, Central Asia, Chechnya, Dutch Muslims, European Muslims, French Muslims, German Muslims, Indonesia, Iran, Iraq, Kazakhstan, Kosovo, Kurdish Islam, Kyrgyzia, Macedonia, Malaysia, Moldova, Montenegro, Pakistan, Russia, Saudi Arabia, Shiism, Singapore, Terrorism, Turkish Islam, Uighurs, Uzbekistan receive the latest by email: subscribe to the free center for islamic pluralism mailing list