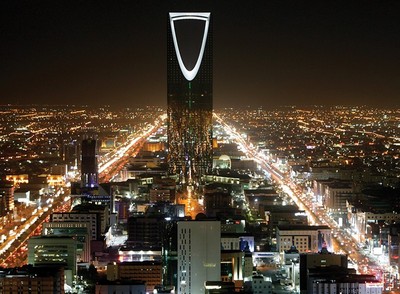 Riyadh.
On Saturday, October 26, news broadcasts around the world presented images that, innocuous in any other country, were revolutionary for the kingdom of Saudi Arabia. Responding to an online petition titled "oct26driving.com," at least 60 female subjects of the desert monarchy drove cars on the country's streets and highways. Saudi Arabia is the only country in the world that forbids women driving.
Many participants in the demonstration video-recorded their experiences and uploaded them to YouTube. Two days before, on October 24, an obscure Saudi Interior Ministry spokesman, General Mansur al-Turki, warned that the country's ban on women driving would be enforced, that women defying it faced arrest, and that all such demonstrations were prohibited.
Perhaps the most remarkable aspect of the protest was, therefore, that it took place without significant repression, regardless of official threats. CNN reported that "authorities stopped five women who were spotted driving" in Riyadh. A city police representative said that the women were not taken to jail but "were kept in their vehicles" waiting for a "male guardian" or "mehram." The latter is a family member with legal control over Saudi women's personal activities, including permission to work, study in a foreign country, possess a bank account, marry or divorce, or receive medical treatment. The five Riyadh women were compelled to sign pledges not to drive again, then released to their "guardians."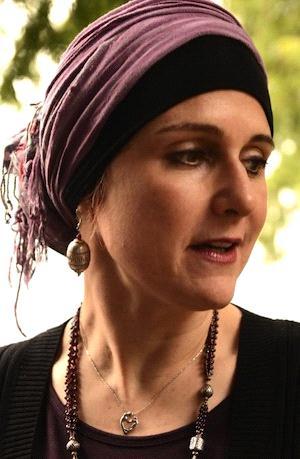 The honorable Muslimah Samia Al-Moslimany.
The same CNN account said two women drivers in Jeddah had been briefly detained at a police station, as well as a photographer, Samia Al-Moslimany. They too had to wait for their "guardians" to fetch them. Agence France-Press, citing official Saudi police sources, stated that six were stopped by police in Riyadh, plus six in the oil-rich Eastern Province, and two elsewhere, for a total of 16 women obstructed in their wish to drive. Some received fines of 300 Saudi riyals ($80) as well as having to be picked up by their "guardians."
Perpetuation of "male guardianship" over Saudi women illustrates the inconsistent nature of social change in Saudi Arabia. Reform was initiated, with considerable popular backing, by King Abdullah after he ascended the throne in 2005. Ameliorative measures mandated by the ruler have been derided by some critics of the regime as minor in substance, however surprising their announcement, including introduction of women's participation in the limited Saudi electoral system and reorganization of the judicial apparatus.
Still, in contrast with the long-standing image of a benighted Saudi Arabia, Samia Al-Moslimany remarked of her arrest on October 26 in Jeddah, "We were treated with respect and treated so professionally. . . . They spoke to us very kindly." More promisingly, another woman, Mai Al-Swayan, an economic researcher in Riyadh, posted a video of driving to buy groceries. She said, "I drove on the highway and was noticed by a couple of cars but they were fine with it." Other Saudi women drivers agreed that they had encountered little reaction.
As pointed out by numerous observers, the prohibition on women driving in Saudi Arabia is not established in law but in custom, imposed by the ultra-fundamentalist Wahhabi sect, which claims authority over Sunni Muslims, and remains the Saudi state religious institution. In 2011, 80,000 Saudi women were estimated to own cars and trucks, but the government has refused to issue drivers' licenses for them. Some women have driven while disguised as men. Participants in the October 26 "test drive" had obtained drivers' licenses abroad, including in the United States.
The bar on women driving is known to be ignored frequently in rural Saudi Arabia, where women in motor vehicles have escaped the scrutiny of the so-called "religious police"—officially, the Commission for the Promotion of Virtue and Prevention of Vice. In the past they were also referred to as "mutawiyin" or "volunteers," but King Abdullah's reforms removed the voluntary, unpaid Wahhabi fanatics from their ranks.
Ambiguities facing Saudi women seeking to drive reflect the uneven and unpredictable character of the royal reform program. The massive King Abdullah University of Science and Technology (KAUST) opened near Jeddah in 2009, with the right of women to drive on the campus, mixed-gender classes, no requirement for women to wear the face veil, or niqab—another obnoxious symbol of Saudi backwardness—and instruction exclusively in English.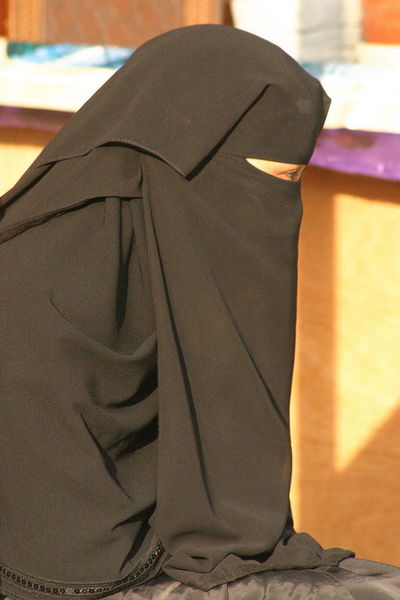 Saudi woman -- Photograph 2010 Via Wikimedia Commons.
But in a video interview by USA Today, Tamador Alyami, a Saudi woman blogger, who was among those posting a clip showing her driving her car, said the authorities "are giving us confusing messages. There is nothing clear about it, no clear law, no clear punishments, so the message is not clear."
The Saudi contradiction was underscored by the video of Alyami driving, disseminated by the "October 26 Driving Campaign," in which the young woman operated her automobile while wearing the black, full-body covering or abaya, and a niqab hiding her face. Even if Saudi women are allowed behind the wheel of a vehicle, they may still be kept behind the barriers of Wahhabi-mandated mode of dress.
The online petition for women's driving rights was signed by 16,000 people but was then hacked by a defender of Wahhabi hegemony and painted with red lightning bolts indicating, presumably, divine punishment. Tthe bid to end discrimination against women motorists was also condemned by obtuse Wahhabi clerics.
For example, sheikh Saleh Al-Luhaidan, among the hardest-line Wahhabi intransigents, made himself, his country, and his religion look ridiculous by declaring that women should not drive because of risk to their ovaries and pelvis. Prior Wahhabi objections to women driving have included encouragement of sexual promiscuity and even prostitution.
In anticipation of the women's driving protest, about 150 Wahhabi religious figures assembled before the Saudi royal palace on Tuesday, October 22, criticizing the women's effort. The complaints of the Wahhabis included the nonsensical charge by Nasser Al-Omari, one of the most voluble Saudi radical agitators, that the designation of a Western date for the women's touring event, rather than its Islamic equivalent (which would have been Dhu l-Hijjah 21, 1434), revealed the hand of the West in the movement.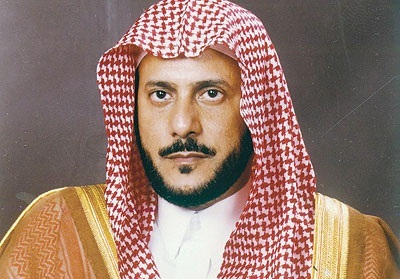 Abdul Latif Abdul Aziz Al-Sheikh.
Nevertheless, another and more powerful cleric, sheikh Abdul Latif Abdul Aziz Al-Sheikh, appointed by King Abdullah as the new head of the "religious police" with a specific duty to end its abuses, said in September that there is no basis in Islamic law to deny women the right to drive.
Humor was introduced into the controversy when a Saudi entertainer, Hisham Fageeh, posted a video of him and his friends performing a parody version—"No Woman No Drive"—of Bob Marley's "No Woman No Cry." The song ridiculed Wahhabi strictures, especially, the claim of Al-Luhaidan that driving would harm a woman's reproductive capacity.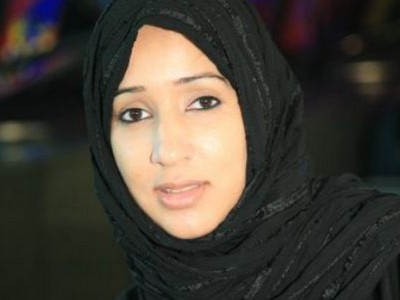 The honorable Muslimah Manal Al-Sharif.
The struggle of Saudi women for use of motor vehicles on their own has been dramatized most extensively by the activism of Manal Al-Sharif. She created an organization, Saudi Women to Drive, operated a car in the eastern oil center of Dhahran, and posted a video of the activity in 2011. She was recorded then by Wajeha Huwaider, one of the first prominent Saudi women to demand an end to gender discrimination.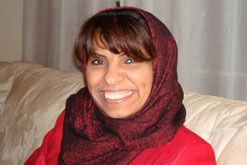 The honorable Muslimah Wajeha Huwaider.
Al-Sharif was arrested in 2011 and held for 10 days, but released after signing a promise not to repeat her "offense" or to speak with media. Nevertheless, the courageous Al-Sharif continued her advocacy, notably in a 2012 interview with the London Independent. She was preceded several days before her motoring excursion, in 2011, by Najla Hariri, apparently the first Saudi woman in recent times to drive openly around Jeddah.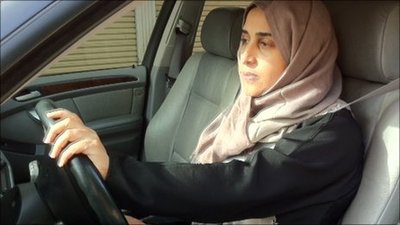 The honorable Muslimah Najla Hariri.
In 1990, 47 Saudi women were arrested while demonstrating for equal rights by driving their vehicles. Some 100 women participated in the 2011 campaign. The venture that captured global attention over the weekend of October 26 was impelled in some part by women appointed in January, by King Abdullah, to the Shura Council, the non-elected Saudi "legislature" that was previously all-male.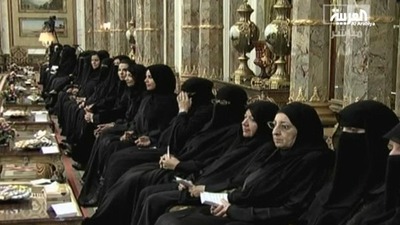 The first meeting of the Saudi Shura Council with participation of women. Photograph from Al-Arabiya.
In a session of the Shura Council on October 8, according to Reuters, one of the female council members, Latifa Al-Shaalan, "stood and proposed that the Shura Council's transportation committee should include a recommendation that the Transport Ministry make preparations to allow women to drive." She was supported by two more members, Haya Al-Mani and Muna Al-Mashit. The women framed their argument cleverly, pointing out that the wide-scale hiring of male foreign workers as drivers violates the Wahhabi taboo on social encounters between unmarried or otherwise unrelated men and women.
Another of the new female council members, Hanan Al-Ahmadi, described the suggestion as having arisen spontaneously during a colloquy about the functioning of the Saudi transport ministry. Al-Ahmadi said, "Men and women members were discussing the obstacle of women's transportation and how it's a burden for women working with families and the lack of other options like public transport."
The transport committee of the Shura Council will now deliberate whether to recommend the proposal to the Transport Ministry. If it is rejected, the ban may be brought up separately in the council, Al-Ahmadi said.
A quick trip by car to pick up groceries: from such modest beginnings, other societies have seen the emergence of great and positive changes. Some naysayers may scorn the low number of 60 participating women drivers as insignificant and reflecting intimidation. We can only hope that Saudi women will succeed in gaining all rights recognized as universal, and will help lead the kingdom toward a more complete and successful normalization.
Related Topics: British Muslims, European Muslims, Irfan Al-Alawi, Saudi Arabia, Wahhabism, WahhabiWatch receive the latest by email: subscribe to the free center for islamic pluralism mailing list