Controversial video sparks call for a day of tolerance
by Klaudija Lutovska
Southeast European Times [Bitola/Manastiri, Macedonia]
November 8, 2013
http://www.islamicpluralism.org/2317/controversial-video-sparks-call-for-a-day
The Macedonian Academy of Arts and Sciences is calling for a day of tolerance next week following an uproar over a two-year-old video that shows an Gostivar imam advocating for a boycott of Macedonian businesses and products.
The proposed Tolerance Day on November 15th would allow religious leaders to engage in dialogue and offer recommendations that could serve as broad societal guidelines for inter-ethnic and inter-religious coexistence.
"Tolerance of others is the basic postulate of a democratic rule of law. Tolerance is also an essential part of the transformation process through which the Macedonia multi-ethnic and pluralist society passes, but for which the various forms of hate speech and acts are a real anachronism," said Vlado Kambovski, president of the academy.
The event is being organised after a video of a 2011 sermon by Gostivar imam Zekirija Rushani was made public in the Macedonian media.
"Do not buy in their stores because tomorrow they will use your money to kill you. They like you only if you are like them. Only then they will say you are good," Rushani said in the video.
Rushani later said the passage was taken out of context, but the video galvanised many to respond to what has been termed nationalistic hate speech.
Kambovski said the academy's effort seeks to undercut all acts that seek to discriminate, infuse intolerance, even hatred among ethnic, national or other groups.
"We should not seek court solutions and that way even more imbue intolerance, but to see ways how to overcome it. That is the rational thing to do, but at the same time we should have additional guarantees or activities that will ensure such events will not be repeated," Kambovski said.
The meetings and activities on Tolerance Day will send a strong message, said Aleksandar Cvetkovski of the Association for Citizen Tolerance and Communication in Bitola.
"The most powerful message Tolerance Day will send is the call to unity and finding ways to overcome provocations and tensions, which are in no way part of the co-existence in Macedonia, but are infused by individuals and groups that profit from them," Cvetkovski told SETimes.
Adding religious intolerance to existing ethnic tensions is dangerous and can additionally escalate, according to Stephen Suleyman Schwartz of the Centre for Islamic Pluralism, which has branches in 20 countries.
"The Macedonian government has included the Albanians in the institutions. Religious activists should work to minimise confrontations and to help the reconciliation between the two sides," he said.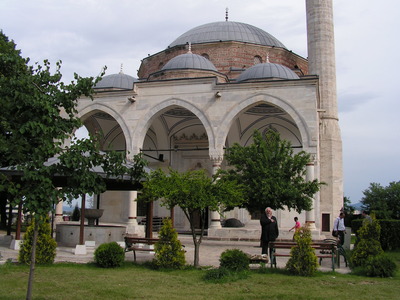 Schwartz at one of the finest Balkan Islamic monuments, the 15th c. CE Mustafa Pasha Mosque, Skopje/Shkupi, Macedonia, 2013. Photograph by Daut Dauti.
Another blogger, Balkanizam, said religious tolerance is needed more than ever.
"An inter-religious and civilisational dialogue and sessions on religion and difference [is] an alarming need," the blogger said.
Related Topics: Albanian Muslims, Balkan Muslims, European Muslims, Macedonia, Muslim-Christian Relations receive the latest by email: subscribe to the free center for islamic pluralism mailing list