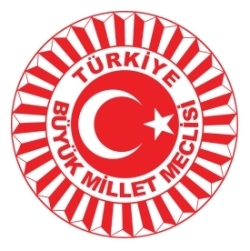 Seal of the Turkish Parliament [Grand National Assembly.]
On October 31, as
reported
by Agence France-Presse, under the headline "Turkey women MPs break taboo to wear headscarves in parliament," Turkish Islamist Prime Minister Recep Tayyip Erdoğan celebrated the entry of four female deputies in a session of the Turkish Parliament (officially titled the Grand National Assembly) wearing Muslim headscarves. The four women represent Erdoğan's Justice and Development Party, known as AKP.
The ban on the headscarf in government service, a pillar of the secular Turkish Republic, was, as the French news service noted, lifted by Erdoğan's administration in September 2013.
Erdoğan, however, then provoked a new controversy in Turkey, overshadowing the headscarf issue, by his criticism of university students' living arrangements. According to Orhan Kemal Cengiz, a contributor to the Washington-based, Middle East-focused news portal Al-Monitor, in a lengthy chronicle titled "Erdoğan's 'Morality Police' Assume Duty," posted on November 6, Erdoğan declared to members of AKP, "Students, boys and girls, are living together in the same homes because the dorms are insufficient. This is incompatible with our conservative democrat[ic] nature." Erdoğan's observations were leaked from a closed party meeting he summoned on the weekend of November 3-4 in Kızılcahamam, near Ankara, the nation's capital.
At the same gathering, as published by Göksel Bozkurt, writing in Turkey's leading daily, Hürriyet, of November 7, under the headline "Ruling party deputies also question Erdoğan's motives behind 'student house' move," Erdoğan said the AKP government has shut down mixed-gender accommodations in 75 percent of state-run student dormitories.
Erdoğan's initiative was put forward as a reaction to inadequate student housing at universities in the southwestern Turkish province of Denizli. "I've seen this in Denizli. I've instructed the governor. Whatever is necessary will be done," Erdoğan informed those attending the private AKP event, as also published on Al-Monitor.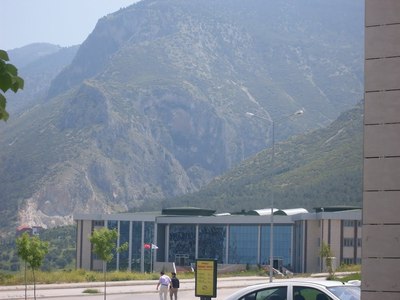 Pamukkale University, Denizli, Turkey.
The AKP chief's latest venture into Islamic fundamentalist morality policing caused a confused flurry in Turkish politics.
Al-Monitor contributor Cengiz reported as well that condemnation by Erdoğan of university students' mixed-gender residential habits was dismissed on November 4 by AKP deputy prime minister Bülent Arınç, an AKP co-founder with Erdoğan, as well as by Erdoğan's leading adviser, Yalçın Akdoğan, as a "fabrication."
But Erdoğan declared publicly to his followers on November 5, the next day, that the remarks were authentic. He averred, as detailed in the same Al-Monitor account, "I'm not a person to deny what I have said. We have failed to meet the demand for dorms in some places, which has led to problems concerning accommodation in [private] homes. Our security forces are receiving intelligence about those places, our governors are taking action. Why is this a reason to be annoyed? Those flats are being reported by neighbors in the same buildings. It is unknown what is going on there. All kinds of messy things are happening. Parents are crying out, 'Where is the state?' We have to show where the state is."
He continued, "The governors already have authority, and we want them to be more active on the issue. If need be, we could also pass a legislative arrangement."
Agence France-Presse stated on November 8, in an unsigned wire report reposted in the Saudi Arabian English-language Arab News, and titled "Erdoğan in a tight spot over move against mixed-sex dorms," that Erdoğan told the AKP additionally, "We will not allow girls and boys to live together in state-owned student residences. The values I hold on to do not allow such a thing. Anything can happen when it is mixed. We have received complaints from families who asked us to intervene and it is our duty to intervene."
Other AKP deputies appeared critical of Erdoğan's comments. Parliamentary speaker Cemil Çiçek, a major AKP figure, questioned the legality of Erdoğan's moral admonition. On November 5, as cited in Göksel Bozkurt's previously-noted Hürriyet article, Çiçek said, "There is one thing that I know. In a state governed by the rule of law, if an action is not forbidden, then it is free… If rules and [legislation] in force are not sufficiently meeting matters that are regarded as problematic, then related legal arrangements are done. If have we agreed on that, the rest is a political assessment."
Speaking to Hürriyet on November 6, and also included by Bozkurt in his column on November 7, AKP deputy for Ankara Zelkif Kazdal emphasized, "There is something called the 'inviolability of the domicile,' which humanity created 1,000 years ago. For any [state] body… to intervene in a domicile, there should be a crime. If there is no crime, complaint or order from a prosecutor or a judge, nobody can intervene in a domicile."
Bozkurt recounted similarly how AKP deputy İdris Bal, from Kutahya in western Turkey, asked a group of reporters at the Parliament, "Is the next step intervening in the lives of couples who live together without getting married? Will we also intervene if a university student couple continues living together after they graduate?"
By contrast, Turkish interior minister Muammer Güler was quoted by Hürriyet in an unsigned local news agency article, on November 6, headed "Mixed-student apartments home to terrorist and illegal organizations, interior minister says," telling a press conference in Ankara, "We are considering the issue from the viewpoint of a fight against terrorism. Particularly apartments, student residences and lodging houses where university students are living are places that terror groups and other illegal groups are seeing as a resource for gaining support and finding new members."
Further, AKP deputy prime minister Bekir Bozdağ, included as well in Göksel Bozkurt's summary in Hürriyet on November 7, suggested that prevention of unmarried male and female students living together is a constitutional duty, and argued that the prime minister has the right to make changes affecting practices he dislikes.
Bozdağ cited Article 58 of the Turkish Constitution, mandating protection of youth, in support of Erdoğan. Al-Monitor's Cengiz, however, quoted Article 20 of the Constitution: "Everyone has the right to demand respect for his/her private and family life. Privacy of private or family life shall not be violated." Hürriyet 's writer Bozkurt pointed also to Article 21 of the same Constitution, which assures inviolability of the domicile.
Deputy prime minister Arınç, having denied that Erdoğan had spoken out against mixed-gender student housing, was displeased with Erdoğan's subsequent admission of it. Before an audience at the Carnegie Endowment in Washington on November 22, as reported in Hürriyet the same day under the headline "Rift with PM over co-ed student housing settled, Deputy PM Arınç says," Arınç declared that he had complained to the Turkish public television network TRT on November 8, "I shouldn't be neglected. The prime minister is normally careful about this." Arınç repeated previous statements that he intends to retire from political life after the 2015 Turkish general elections.
Erdoğan was discontented with Arınç's reproach. On November 12, AKP parliamentary deputies met in Ankara, without Arınç present. Erdoğan told them, according to the veteran Turkish political columnist Semih İdiz, writing on Al-Monitor of November 15, "I believe all my friends will act responsibly and refrain from pleasing the enemy." İdiz's opinion column was titled "The Gül Alternative" and offered the possibility that friction within AKP will cause Turkish president Abdullah Gül to replace Erdoğan as party leader. Gül was, like Erdoğan and Arınç, an AKP co-founder.
But Gül, like Arınç, has stood at odds with Erdoğan. As described in a June 5, 2013 article on the Gatestone Institute site, "Turkey Rises Against Islamist Rule," Gül adopted a more conciliatory attitude than Erdoğan to the turbulent Gezi Park demonstrations against AKP policies – which Erdoğan denounced as the work of "looters" associated with terrorists, while threatening action by the national intelligence services against "internal and external enemies." At Gezi Park and in student dorms, as in the questionable "Ergenekon" persecution of Turkish military officers and media, the "terrorist" label seems to be the first recourse of Erdoğan when faced with uncomfortable questions. According to an unsigned commentary in the June 20, 2013 edition of the Turkish daily Zaman, titled "Arınç denies resignation rumors as speculation rises," Arınç repudiated claims that he intended to quit Erdoğan's cabinet over the Gezi Park crisis but was dissuaded by president Gül.
A week and a half passed when in the November 22 Hürriyet report noted above, Arınç spoke at the Carnegie Endowment in Washington with a pledge that he and Erdoğan had resolved their differences on the question of mixed-gender student living. Arınç said, "I made a demand in a very sincere way through a TV channel. [Erdoğan] met my demand... I am now pursuing my functions." Arınç observed that given his long political involvement with Erdoğan, differences on issues like that of mixed-gender university housing were natural.
After so many of his AKP colleagues spoke up against his rhetoric on student morals, Erdoğan fell silent.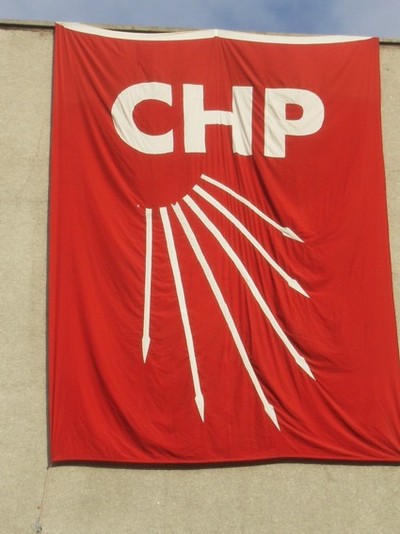 Flag of the Republican People's Party of Turkey, or CHP.
Regarding mixed-gender student housing at the universities, the main Turkish secular opposition Republican People's Party, or CHP, called on Erdoğan to specify in greater detail the intent of his admonition. As published in an unsigned news story by Agence France-Presse on November 4, and reposted by the Saudi-owned, Dubai-based Al-Arabiya broadcast network, with the heading, "Erdoğan favoring single-sex dorms stirs debate in Turkey," a CHP representative, Umut Oran, replied sharply to the Erdoğan leak. Oran demanded to know, "Do you mean... that you also intend to monitor how students dress, like Iran's morality police do? Isn't this an attack on private life?" In Parliament, Oran affirmed, "Students are grown-up enough to make decisions about their lives."
Speaking before the CHP parliamentary group on November 5, the party's leader, Kemal Kılıçdaroğlu, expressed concern that Erdoğan's "real intention is to abolish mixed-sex education." Kılıçdaroğlu's address to CHP deputies, as reported in Hürriyet in an unsigned article the same day, titled "Turkish PM aims to end mixed sex education: Main opposition leader," dealt mainly with the status of women in Turkey. Kılıçdaroğlu warned that "violence against women increased 1,400 percent over the past 10 years" of AKP governance, and did not hesitate to call Erdoğan "the dictator."
Kılıçdaroğlu contended in the same discourse that Erdoğan and the AKP seek to "decrease women's participation in social life. They have revoked women's rights step by step. Women should liberate themselves from a mentality that aims to lock them in the house."
According to the Agence France-Presse article reposted in Arab News and noted above, CHP spokesman Haluk Koç said candidly on November 6, "In a democracy, the state cannot play the voyeur. Stick to your own business."
In his survey of the uproar on Al-Monitor, Cengiz described "a special [AKP] effort recently to separate the dorms for male and female university students. The Youth and Sports Ministry has launched a drive to make sure that male and female dorms are not located on the same campus."
Cengiz added that after Erdoğan expressed disapproval of co-educational university living, the governor of Adana in southern Turkey announced that the prime minister's opinion was equivalent to an order for him. In the western province of Isparta, a high school was reported in Hürriyet to have imposed gender segregation of boys and girls at lunch.
Erdoğan's posture might encourage discrimination against secular Turks, Cengiz cautioned, with self-appointed morals patrols in neighborhoods and apartment complexes encouraged to interfere with unmarried couples sharing a residence. Cengiz wrote that some building managers appeared to be acting as "religious police." He cited a notice placed on a building in Istanbul after Erdoğan's exhortation, and reproduced in the daily Radikal on November 5: "Some people in this building are staying together, boys and girls. This is inappropriate for the building and the apartment block. When you see such people, report them to the police."
Related Topics: Alevism, European Muslims, German Muslims, Kurdish Islam, Muslim Brotherhood, Turkish Islam receive the latest by email: subscribe to the free center for islamic pluralism mailing list