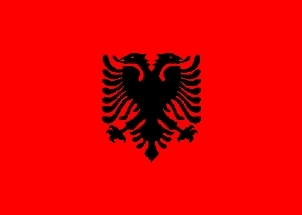 The flag of the Albanian nation.
Prishtina
Monday, February 17, was observed as Presidents' Day in the U.S., but for me the best place to then see the Stars and Stripes waving in the breeze was in Kosova, which celebrated the sixth anniversary of the Balkan republic's ultimate independence. Naturally, many American flags and even a few representing Britain appeared alongside those symbolic of Albanian identity.
The weather was auspiciously warm as I left the Hotel Lyon in the Velania neighborhood, near the grave of Ibrahim Rugova, where I joined a stream of pilgrims and recited Fatiha, the Muslim prayer for the dead, on behalf of an American Jewish rabbi who honors Rugova as an apostle of non-violence. I looked up and saw a red-and-black sky-riding kite above Prishtina. I proceeded down the hill to the center of town, with the Qyqavica peaks visible on the horizon, and listened to the patriotic compositions of Xhemil Saliu, one of my favorite musicians from the Kosova Liberation War, whose works I have carried with me since 1999.
Saliu's tunes, including Zani i Qyqavicës [Voice of Qyqavica] and Jemi Vllezër Jemi Motra [We Are Brothers We Are Sisters], offer notable expressions of the Kosovar spirit of resistance, but combine traditional instruments with electrified techniques in an edgy, high-intensity genre pertinent to a modern people in struggle. Zani i Qyqavicës invokes heroes of the Albanian national movement through the decades, including Qerime Shotë Galica and her companion Azem Bejta, Ahmet Delia and Oso Kuka, Shaban Palluzha and Adem Jashari.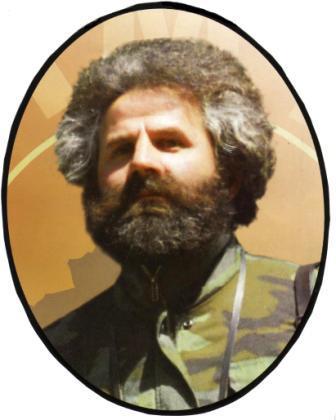 Adem Jashari, commander of the Kosova Liberation Army.
Jemi Vllezër Jemi Motra embodied the aspiration of Kosovars for their republic, with its appropriate national institutions and emblems. Two Kosovar men smiled when they saw my red-and-black Kosova scarf, and, to them, I paraphrased a line from the song, declaring, "Kosova gjitjhmonë është e juaja" ["Kosova always will be yours"] and one answered, "gjithmonë, gjithmonë" [always, always].
As I walked on I recalled the events that had led me to that moment, beginning in the 1970s: news of mass protests by Albanians in a place of which I had never before heard, and which I searched out on a military air navigation map; years later, Serbian police repression through "political differentiation;" expulsion of Kosovars from jobs, schools, and health care; revocation of Kosovar autonomy; the first declaration of Kosovar independence in 1990 and publication of its Constitution, bearing an image of the Statue of Liberty on its printed cover; my creation of "Friends of Kosova" in San Francisco, under the tutelage of exiled Albanian Catholic leader Gjon Sinishta; the emergence of Ushtria Çlirimtare e Kosovës [UÇK – the Kosova Liberation Army], the Serbian atrocities at Reçak, Prekaz, Rahovec (where UÇK fought with inspiring courage), Theranda, and Korenica; NATO intervention in 1999, and proclamation of sovereignty in 2008.
Gjon Sinishta with Holy Father Pope John Paul II.
Those who know me personally will not be surprised to learn that by the time I reached the bottom of the hill I was crying. As I have said many times, Kosova is not my country, but without Kosova, I would be nothing. Albanians often thank Americans for assisting them in their epic of self-defense against powerful and greedy enemies, but I thank Albanians, because were it not for Kosova, I would have lived out my life as a mediocre journalist, writing about trivial events forgotten within a day. Kosova and the Albanians gave me something to live and work for, an ideal of solidarity.
I arrived at Mother Teresa Boulevard to find barricades up and a vast crowd waiting for the parade commemorating independence to begin. I purchased various items, including a white felt plis – my fourth since 1991; stickers with the UÇK shield; and a cloth red-and-black flag with the Albanian double-headed eagle.
Soon I was invited to sit down and talk by an elderly gentleman, Selatin (Ilaz) Fazliu, who, it turned out, was a veteran member of Balli Kombëtar [National Front], the anti-Communist movement dating from the second world war. I told him an amusing story – how a decade ago I was sent by the U.S. government to visit the Muslims in Croatia, and in the mosque of Zagreb, sat with Aziz Alili, the distinguished Macedonian-Albanian Qur'an reciter popular as one of the "Four Huffaz" (plural of hafiz), whose voices are heard throughout the Muslim Balkans.
A Muslim Bosniak at the meeting, regurgitating Titoite propaganda, referred to the "Ballist fascists," and I turned to Aziz Alili, asking him in Bosnian if Balli Kombëtar was "fascist." He paused for a moment, and then said, "no." To that, the Slav Muslims present had no reply.
I pointed out to Selatin Fazliu, the Balli Kombëtar militant in Prishtina, that in my own country, Presidents' Day was being celebrated, and quoted the words of Abraham Lincoln's Second Inaugural Address, which I consider applicable to the Kosova Liberation War no less than to the American Civil War: "every drop of blood drawn with the lash shall be paid by another drawn with the sword, as was said three thousand years ago, so still it must be said 'the judgments of the Lord are true and righteous altogether.' "
The parade of Kosovar military and law-enforcement units began – including women soldiers and police armed and marching in the ranks of their male peers – as my thoughts returned to an event three days before. On February 14, the Minister of Culture, Youth and Sport of Kosova, Memli Krasniqi, and the Minister of Culture of Albania, Mirela Kumbaro-Furxhi, inaugurated a show at the Kosova National Gallery of Art in Prishtina, comprising 250 photographs, never displayed previously, from the archive in Shkodra of the "Marubi dynasty." This collection began with the work of the Italian revolutionary and emigrant Pietro Marubi (1834-1903), a follower of Giuseppe Garibaldi who came from Piacenza to then Ottoman-ruled Albania in the middle of the 19th century.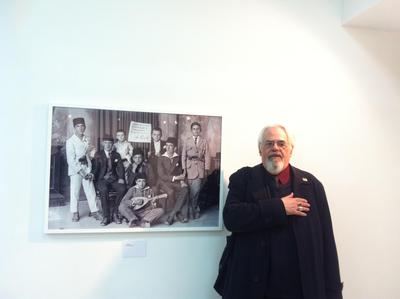 The author at the Marubi show in Prishtina, 2014. Photograph by Visar Duriqi. The banner reads [in English] "May God Bless our Kosova Society."
Dedicated to recording faithfully Albanian life as it was then experienced, Pietro Marubi and his successors, Kel Marubi, Gegë Marubi, Mati Kodheli Marubi, Kol Idromeno, Shan Pici, Dedë Jakova, Pjetër Raboshta, and Angjelin Nënshati, produced an astonishing total of 500,000 images. They included many of the pictures best known to Albanians, including notable illustrations of the national poet Gjergj Fishta, the Kosovar combatant Isa Boletini, and the anti-Serb fighters Azem Bejta and Shotë Galica.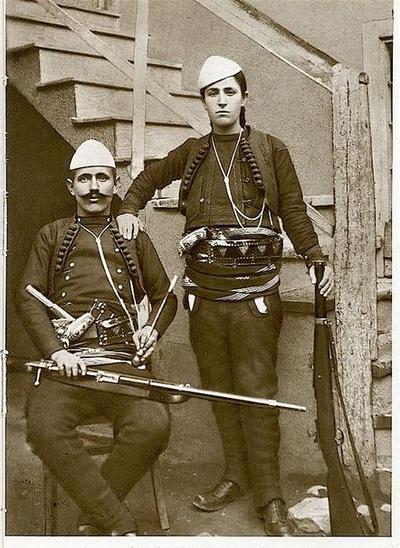 Azem Bejta and Shotë Galica. Photograph by Kel Marubi.
I had seen a Marubi show in Tirana, coinciding with the centennial of national independence in 2012, but was moved deeply to find in the new exposition in Prishtina some outstanding representations of the Albanian spirit. Several volumes of Marubi works have been issued, as well as a CD with 500 pictures.
The Prishtina show inaugurated a cycle of official events coordinated by Kosova and Albania to mark the sixth anniversary of Kosova's proclamation of independence and the foundation of a common cultural calendar. Minister Krasniqi described the Marubi heritage as "a multifaceted story of the Albanian nation, presenting artistic values ​​as well as styles of life across the generations."
Minister Kumbaro-Furxhi affirmed that Kosova and Albania are taking new steps in cultural cooperation.
I would add that we need a Marubi show in the great museums of Western Europe and the U.S. The works of the "Marubi dynasty" are unique in the cultural annals of the Balkans.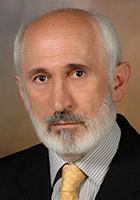 Agim Vinca.
In the audience at the Prishtina Marubi show, one presence stood out for me – the austere, bearded face of the poet Agim Vinca, who has just been awarded the Azem Shkreli National Literary Prize for a Life Work. I have read and appreciated Vinca's poetry since I was introduced to it by Gjon Sinishta almost a quarter century ago. One of my favorites from his work, as translated by the distinguished Albanologist Robert Elsie, reads:
Biography of the root
Who knows when you were born,
In what age, in what place?
Who knows when you sprouted,
On what hill, in what dale?
No one can measure your age,
In years, in seasons.
The teams,
The experts
Search in vain.
You are like life itself.
Your branches,
Twigs,
Buds grow.
Your trunk thickens like a sauce,
You refine the flavor
Without worrying about theories, origins,
Expertise, diagnoses…
A strong root. Stubborn.
Ancient. Young.
Homeland.
Fine it is, having listened once more to the songs of Xhemil Saliu, to stand in the sun of Prishtina beneath Albanian and American banners, those of two nations united by love of liberty, in the company of a proud and worthy veteran of Balli Kombëtar, meditating on the works of Marubi and Vinca, knowing that without all this I am nothing.
Long live Kosova! Long live the Albanian nation! Long live the friendship of Americans and Albanians! As a man I passed by said to me, "gjithmonë, gjithmonë" [always, always].

We Are One.
Related Topics: Albanian Muslims, Balkan Muslims, European Muslims, Kosovo, Macedonia, Montenegro, Muslim-Christian Relations receive the latest by email: subscribe to the free center for islamic pluralism mailing list