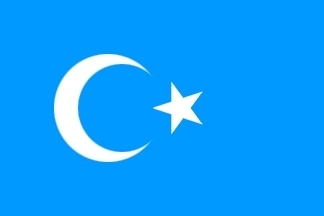 The flag of East Turkestan.
The Uyghur Human Rights Project (UHRP) expresses alarm upon hearing that Uyghur economist Ilham Tohti has been formally arrested and charged with "separatism." UHRP believes the charge reflects not only a zero tolerance policy to Uyghur dissent, but also the growing intractability of China towards international criticism of its ethnic policies. UHRP challenges the Chinese government to present compelling evidence to prove its charges against Mr. Tohti and to respect its own laws.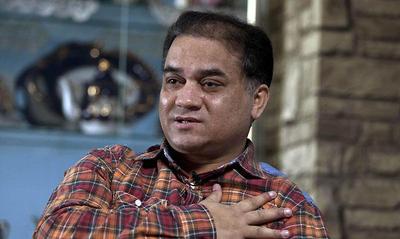 Our brother Ilham Tohti. Please remember him in your duas.
."It doesn't matter who you are, no one in China is safe from the government," said UHRP Director, Alim Seytoff in a statement from Washington, DC. "Outspoken or silent, pro-government or anti-government, moderate or extreme, it is of no concern to the Chinese Communist Party. If you displease the leadership in China for any reason, you'll quickly find yourself in trouble. The government, through its police force, will not hesitate to trump up charges in order for the courts it controls to rubber stamp guilt and a harsh sentence. The case of Ilham Tohti shows there is no space for constructive Uyghur dissent in China."
Reports from Reuters and AP dated February 25, 2014 described how Mr. Tohti's wife, Guzelnur was notified of her husband's formal arrest via a warrant she received Tuesday. She also obtained confirmation that Mr. Tohti was being held in a detention center in East Turkestan (also known as Xinjiang Uyghur Autonomous Region). This was the first notice Guzelnur has received as to her husband's whereabouts since he was detained at their Beijing home on January 15, 2009. Prior to today, she had also not received any notification of the reason for his detention.
According to Article 64 of China's Criminal Procedure Law:
"Within 24 hours after a person has been detained, his family or the unit to which he belongs shall be notified of the reasons for detention and the place of custody, except in circumstances where such notification would hinder the investigation or there is no way of notifying them. [UHRP bold]"
UHRP believes the two mitigating circumstances cited by Article 64 of the Criminal Procedure Law do not apply in Mr. Tohti's case, as Guzelnur's whereabouts was clearly known to the authorities and given Mr. Tohti was already in police custody far from his home in Beijing, no hindrance to the investigation is immediately detectable.
Furthermore, Article 96 of the Criminal Procedure Law states:
"The appointed lawyer shall have the right to find out from the investigation organ about the crime suspected of, and may meet with the criminal suspect in custody to enquire about the case."
Despite such guarantees under Chinese law, a Radio Free Asia (RFA) article dated January 30, 2014 described how Mr. Tohti's lawyer, Li Fangping had traveled to East Turkestan's regional capital of Urumchi in order to confirm Mr. Tohti's whereabouts. Despite the trip, he returned to Beijing with no indication of where Mr. Tohti was being held. Mr. Li was also refused meetings with authorities in Beijing according to a second RFA article published on February 18, 2014. Mr. Li told the New York Times: "The way this is being handled completely violates the law…They are trying to create an atmosphere of terror, and my guess is the authorities will try him in the court of public opinion."
Prior to the issuing of formal charges, a desultory January 18, 2014 op-ed in the Chinese state run Global Times accused Mr. Tohti of links to the "West," delivering "aggressive lectures" and being the "brains" behind Uyghur terrorists. The op-ed was followed by a statement from the Urumchi Public Security Bureau on its Weibo account alleging Tohti "made use of his capacity as a teacher to recruit, lure and threaten some people to form a ring and join hands with key people from the East Turkestan Independence Movement to plan and organise people to go abroad to take part in separatist activities [and]…was involved in splitting the country."
Since Mr. Tohti was detained on January 15, 2014, a number of government entities and NGOs have expressed concern for his welfare.
US State Department spokeswoman, Jen Psaki said in a statement:
"We call on Chinese authorities to immediately account for the whereabouts of Mr. Tohti and his students and guarantee Mr. Tohti and his students the protections and freedoms to which they are entitled under China's international human rights commitments, including the freedom of expression."
European Union ambassador to China, Markus Ederer told reporters in a briefing held in Beijing on January 17, 2014:
"I have called on the authorities to treat him in line with Chinese legislation, to substantiate the charges...to inform the family of his whereabouts. If these charges cannot be substantiated, release him."
In addition, Chinese citizens began an online petition calling for Mr. Tohti's immediate release. Despite international pressure and concern from within China, Chinese authorities have held firm to a hard line on dissenting Uyghur voices.
Mr. Tohti, who worked as a professor at the Minzu University of China in Beijing, has often questioned the efficacy of Chinese government policies targeting Uyghurs citing worsening economic, social and cultural conditions in East Turkestan. He is also known for operating the Uighurbiz website, shutdown since his detention, which offers information on Uyghur social issues in Mandarin Chinese and has been hosted overseas after unrest in Urumchi in 2009.
The pattern of detention directed at Uyghurs with outspoken views on social issues is also demonstrated in the case of Abduweli Ayup, who advocated strengthening the use of the Uyghur language in East Turkestan and opened Uyghur-language schools to that effect. Abduweli Ayup was detained in 2013 for "allegedly illegally collecting donations" for his school and his current condition and whereabouts are unknown.
* * * * *
The Uyghur American Association (UAA) works to promote the preservation and flourishing of a rich, humanistic and diverse Uyghur culture, and to support the right of the Uyghur people to use peaceful, democratic means to determine their own political future.
The UAA has undertaken the Uyghur Human Rights Project (UHRP) for the purpose of promoting improved human rights conditions for Uyghurs and other indigenous groups in East Turkestan, on the premise that the assurance of basic human rights will facilitate the realization of the community's democratic aspirations.
Related Topics: China, Uighurs receive the latest by email: subscribe to the free center for islamic pluralism mailing list