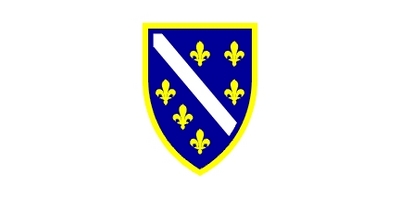 The flag of the Republic of Bosnia-Hercegovina.
Travelling from Sarajevo, the capital of Bosnia-Hercegovina, to Mostar, a city almost midway toward Dubrovnik on the Adriatic Coast, one drives through a stunningly-beautiful landscape of mountains, forests, and rivers. On a recent trip, however, I observed a surprising sight: four gas stations owned by
Gazprom
, the Russian energy giant.
The flag of Ukraine. Every Muslim should stand up against Russian imperialism.
Gazprom is an obvious target for global sanctions in response to Vladimir Putin's land-grab in Crimea, but the extent of its operations is little-known in the West. Many people think Gazprom is only involved in the export of natural gas to Europe—a major strategic operation for both sellers and consumers—but a subsidiary,
Gazprom-Neft
, maintains a retail fuel business comprising 1,670 gas stations in Russia, other former Soviet "republics," Bosnia-Hercegovina, Serbia, Romania, and Bulgaria. Of them, 40 serve Bosnia-Hercegovina, where the Muslim population is hardly sympathetic to Russian imperialism. But such is the way of business in the Balkans.
Gas stations in the Balkans have characteristics setting them apart from those in most other countries. They are typically commercial centers, beyond the usual minimart found in a gas station. According to Gazprom's web publicity, its facilities in Bosnia-Hercegovina include "a shop, restaurant, and a café. Customers can also use wireless internet, a carwash and a children's playground."
Gazprom's reach has provoked concern elsewhere. At the beginning of March, Gazprom announced that it may raise its prices on shipment of gas to Ukraine. In Germany, Gazprom is concluding an asset swap with BASF, its long-term local partner, to enlarge its share in Wingas, a gas storage and distribution enterprise. According to the London Financial Times of March 27, Gazprom will assume 100 percent control of Wingas, in return for which BASF will gain access to gas fields in western Siberia.
Gazprom has special influence in Germany thanks in no small part to its employment of Social Democratic ex-chancellor Gerhard Schroeder as chairman of Nordstream, a Gazprom subsidiary operating a pipeline to the Baltic states. Schroeder has been questioned in Germany for his close association with Putin and Schroeder's defense of the Russian overlord in the Crimean annexation.
As reported by Reuters, Schroeder "has criticized moves to impose sanctions and eject Russia from the G8, and has even backed a Kremlin argument comparing the annexation of Ukraine's Crimea region to NATO's intervention in Serbia's Kosovo province in 1999—which he himself helped lead as the German chancellor of the day.
"'We sent our airplanes to Serbia and together with NATO dropped bombs on a sovereign state without having a U.N. Security Council resolution,' Schroeder said. 'So that's why I'm cautious about wagging my finger at anyone.'" With his finger in the Russian energy pie, Schroeder might indeed be wary of wagging it.
Gazprom is not alone as a Russian energy giant with Western customers. Lukoil, which describes itself as "the largest Russian oil business group with sales of over US$139 billion and net income of over US$11 billion," operates gas stations in numerous locations in New Jersey, New York, Connecticut and Pennsylvania.
As reported in 2012 in the North Jersey News, Lukoil dealers in New Jersey and Pennsylvania protested when the Russian firm raised its wholesale prices by five to 10 cents per gallon for independent dealers, while adding a premium of 25 to 30 cents per gallon depending on location.
The Lukoil price controversy in the northeast U.S. remains unsettled. As Gazprom pursues contracts with the Germans, Lukoil is negotiating with French energy giant Total for exploitation of shale oil deposits in Russia, described by the Financial Times on March 28. The Bazhenov shale oil formation in West Siberia is estimated by the U.S. Energy Department to be the biggest in the world.
Neither Gazprom nor Lukoil has been directly targeted by U.S. post-Crimea sanctions on Russia. Gennady Timchenko, a founder of commodity firm Gunvor, which is involved in energy trading, and the brothers Arkady and Boris Rotenberg, participants in Gazprom dealings, are included in the list of Russian officials, members of the Putin inner circle, and one economic entity—Bank Rossiya, the private purse of the Moscow elite—sanctioned by the U.S. Treasury on March 20, 2014.
Back in the Balkans, another major Russian financial institution, Sberbank, established in 1841—that is, under tsarist rule—made its appearance recently on the streets of Sarajevo. Sberbank, a lending institution, entered the market in the so-called Federation of Bosnia-Hercegovina, which includes Bosnian Muslims and Croats, by purchasing the local arm of Volksbank, an Austrian enterprise. Sberbank functions in Ukraine, as well as Slovenia, Croatia, the partitioned Serbian zone of Bosnia-Herzegovina dubbed the "Republic of Serbs" or "Republika Srpska," Serbia proper, the Czech Republic, Slovakia, and Hungary. Sberbank operations outside central Europe and Ukraine are found in Switzerland, Turkey, Belarus, and Kazakhstan—the latter pair inveigled into Putin's "Eurasian Economic Union," which seeks affiliation by Armenia, Tajikistan and Kyrgyzia, but which Ukraine, originally designated as a probable member, has not joined.
Sberbank said it will not abandon Ukraine in the aftermath of Putin's Crimean occupation, although its branches shut down during violent demonstrations in Kiev, and its ambitions remain broad. On March 27, the Financial Times announced that Sberbank Europe, from Vienna, would close a deal on a credit line of 350 million euros through its Austrian subsidiary, supported by British banks HSBC and Barclays, U.S.-owned Citi and Bank of America, Japan-based Mizuho, Italian banker UniCredit, and the German groups Deutsche Bank and Commerzbank.
UniCredit has a Russian subsidiary, and extensive operations in the Balkans. Since the breakup of Yugoslavia, Austrian, German, and Italian financial enterprises have led the way in colonizing local markets, following the path of the Habsburg and fascist-era empires that sought domination in the region. The Austrian bank Raiffeisen, based in the cooperative movement, has extensive holdings in ex-Communist lands. It entered Russia in 1989 and in 2004 opened a "Non-State Pension Fund" serving Russian customers. The Financial Times, in a report from Zurich in Switzerland on March 28, described Russia as Raiffeisen's "most profitable market."
Raiffeisen, however, is jittery about Ukraine. The same Financial Times article of March 28 disclosed Raiffeisen's warning that "due to the recent developments in Ukraine, the outlook for the Ukrainian, as well as Russian economy is marked by significant downside risks," with an additional note stating "recent moves by the Ukrainian central bank to tighten currency controls would also hurt." Raiffeisen had tried to divest itself of a Ukrainian subsidiary, Raiffeisen Bank Aval, which is the fifth largest Ukrainian bank in lending.
But the sale of Raiffeisen Bank Aval has been postponed because of the Ukrainian upheaval. Raiffeisen said its investment in Ukraine totaled slightly more than five billion euros at the end of February, plus 399 million euros in Ukrainian state bonds.
Along with energy and banking, wheat exports may be vulnerable to Russia's adventurist policy in Crimea. The Financial Times declared dramatically on March 26, "Fear has taken hold of the wheat market. Prices have soared on the back of an investor buying spree spurred by the unfolding crisis in Ukraine."
The FT predicted, "exports of Ukrainian wheat to Europe could increase sharply, which in turn would reduce demand for Russian wheat. Moscow in turn may seek to offer preferential terms for its wheat to secure customers as well as political ties. Such a change in trade flows could distort regional prices."
European business leaders have balked at significant sanctions on Putin's Russia. The examples above are a few indicators of the reach of Moscow's post-Soviet economic expansion westward. But, overall, Russian investments abroad present a rich field for further restrictive measures, including boycotts and other non-governmental campaigns.
Sen. John McCain had it right when, in a Bloomberg interview on March 28, he condemned the "tepid . . . response by the Europeans [because of] incredibl[y] strong economic ties between Germany and these other countries," and supported pressure for "at least suspension of [American] business, something . . . that would be a punishment" of, in his accurate words, the Russian "kleptocracy and autocracy."
Related Topics: Albanian Muslims, Balkan Muslims, Bosnian Muslims, Central Asia, Chechnya, European Muslims, Kazakhstan, Kosovo, Kurdish Islam, Kyrgyzia, Macedonia, Moldova, Montenegro, Russia, Uzbekistan receive the latest by email: subscribe to the free center for islamic pluralism mailing list