CIP Endorses Condemnation of Chinese Extrajudicial Killing of Uyghur Youth Abdulbasit Ablimit
by The Uyghur American Association
Uyghur Human Rights Project and Uyghur American Association
April 14, 2014
http://www.islamicpluralism.org/2372/cip-endorses-condemns-extrajudicial-killing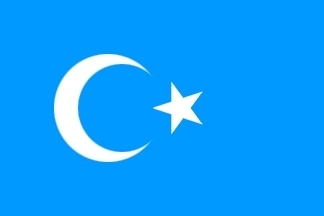 The flag of East Turkestan.
[Note: The Center for Islamic Pluralism endorses this statement by the Uyghur Human Rights Project.]
The Uyghur American Association (UAA) condemns the extrajudicial killing of 17-year-old Uyghur student Abdulbasit Ablimit by police in Kelpin county, Aksu prefecture. Ablimit was shot alongside two companions after an apparent traffic violation, and police allegedly beat and detained relatives of the victims and local Uyghurs who protested the killing. UAA calls on the international community to remain vigilant to China's unlawful killing of Uyghurs, which has increased alarmingly in the past year.
Uyghur American Association President Alim Seytoff said in a statement from Munich, Germany: "The unlawful killing of Abdulbasit Ablimit is not an isolated tragedy. As Ablimit's family mourns his death, authorities have answered their call for justice with a merciless response. A clear pattern has emerged in East Turkestan in which Uyghurs are unlawfully killed by state agents with impunity, and anyone who questions this state brutality is punished. That a young man would lose his life over a traffic violation demonstrates the appallingly little regard China holds for the lives of its Uyghur citizens."
Ablimit, a 17-year-old Uyghur high school student, was riding a motorcycle with two Uyghur companions on Saturday night. He had allegedly run a red light when he was shot from behind and killed by police, Radio Free Asia reported. In addition, Ablimit's two companions were also shot and detained, local residents told RFA.
Seeking an explanation for the killing, the families of Ablimit and his companions marched from Qum'eriq village in Yurchi township to the county office carrying Ablimit's body. A crowd of over 400 protestors gathered to march, an eyewitness told RFA. Security forces blocked the protestors, then when the crowd changed course towards Yurchi township, security forces brutally dispersed the demonstration, beating and detaining a dozen Uyghurs.
Chinese authorities quickly moved to quell information about the incident. World Uyghur Congress spokesperson Dilshat Reshit told the Taiwan-based CNA newswire that local authorities have instituted martial law in the area, and are closely monitoring mobile phones and online communications. As of Monday, Chinese state media had not reported on these events. A video of the protest which appears to be shot on a mobile phone was posted on Boxun, and more information on the incident is scarce.
The past year has witnessed a sharp increase in extrajudicial killings conducted by Chinese security forces. The World Uyghur Congress has organized a conference on extrajudicial killings from April 13-16, 2014 in Munich, Germany. A live feed from the conference can be seen online here.
Among the killings in the past year were deadly incidents in Seriqbuya (April 2013), Yengi Awat (April 2013), Yengisar (May 2013), Awat County (June 2013), Lukchun (June 2013), Hanerik (June 2013), Atush (June 2013), Akyol (August 2013), Yilkiqi (August 2013), Urumchi (September 2013), Yarkand County (September 2013), Seriqbuya (November 2013), Kashgar (December 2013), Yarkant (December 2013), and Uchturpan (January 2014) which have left a number of unanswered questions over the Chinese authorities' role in the killings of scores of Uyghurs. Accusations that Chinese security forces deployed excessive force and conducted extrajudicial killings have not been adequately addressed.
* * * * *
The Uyghur American Association (UAA) works to promote the preservation and flourishing of a rich, humanistic and diverse Uyghur culture, and to support the right of the Uyghur people to use peaceful, democratic means to determine their own political future.
The UAA has undertaken the Uyghur Human Rights Project (UHRP) for the purpose of promoting improved human rights conditions for Uyghurs and other indigenous groups in East Turkestan, on the premise that the assurance of basic human rights will facilitate the realization of the community's democratic aspirations.
Related Topics: Central Asia, China, Kazakhstan, Kyrgyzia, Turkish Islam, Uighurs, Uzbekistan receive the latest by email: subscribe to the free center for islamic pluralism mailing list