During the Jewish and Christian holidays of Passover and Easter, it is well to think back on histories of inter-communal goodwill between these two Peoples of the Book and Muslims. One outstanding example involves the rich heritage of Sephardic Jewish life in the former Turkish empire, including the Balkans.
Some weeks ago, I traveled to Chicago to address parents affiliated with a multifaith private school, which serves Jewish and Catholic pupils, about Islam and its influence on Jewish and Catholic mysticism. The night before my talk to the parents, I was the guest of a kind, Bangladeshi Muslim couple living in the suburbs. There, I was introduced to Faith Laux, a seventh-grade teacher of Spanish at Carleton Washburn School in Winnetka, Ill.
Faith Laux and I spoke, after dinner, about the Spanish Jewish (Sephardic) language still found in the Balkans. She was surprised when I told her that spoken Judeo-Spanish (known as Ladino when it used in the Jewish liturgy) is comprehensible to any speaker of Spanish today. Many myths circulate about Judeo-Spanish. It is often described as a dying language, but I believe this is incorrect, since it is part of the great and wide Spanish linguistic sea, which counts more than 400 million speakers around the globe.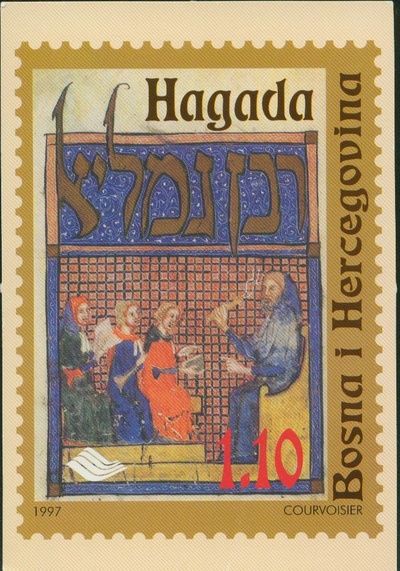 Postage stamp issued by the Republic of Bosnia-Hercegovina honoring the ca. 14th c. CE Sarajevo Haggadah. The manuscript was brought to the Balkans from the Iberian kingdom of Aragón and is considered a symbol of Bosnian interfaith cooperation.
In my experience, Spanish is a conservative language. It has not changed greatly either in its written or spoken forms since the Renaissance, although it has spawned local dialects, such as that in Mexico, for "conventional" Spanish, or in the Balkans and Turkey, for Judeo-Spanish.
Evidence of slow change among Spanish speakers includes the persistent popularity of great literary works by Spanish authors of the Golden Age, including Cervantes and Don Quixote, from the 17th century.
In poetry, millions of Spanish readers still enjoy the writings of the mystical Saint John of the Cross and the baroque Luis de Góngora, who composed their works in the 16th century.
The Judeo-Spanish of the Sephardic Jews is equally conservative. For example, a Sephardic Jew from Bosnia-Hercegovina who went to Spain as a diplomat during the Bosnian War of 1992-95 was able to converse easily with high officials in Madrid. Another of the myths about Judeo-Spanish is that it represents an archaic form of Spanish; but it is no more so than Spanish in general.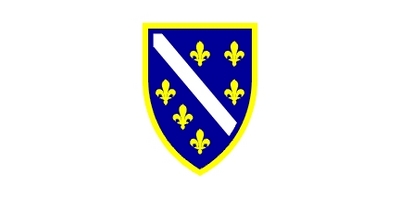 The flag of the Republic of Bosnia-Hercegovina.
Mrs. Laux invited me to address her seventh-grade Spanish classes, on Sephardic Jewish literature, and, the next day, I did so. I was first somewhat perturbed by a "No Guns" sticker on the door of the school, but was told that such measures are uniform in Illinois with adoption of the 2013 Firearm Concealed Carry Act. I was surprised and pleased to find that the students were remarkably proficient in Spanish, although most are not of Hispanic background.
Their instructor told me:"In our school district we empower students to become proficient speakers of French and Spanish. We want them to be able to communicate with each other and in the outside world with greater and greater ease. The methodology we use is Teaching with Comprehensible Input (TCI) and Teaching Proficiency through Reading and Storytelling (TPRS).
"The method works in three steps: in step one, the new vocabulary structures to be learned are taught using a combination of translation, gestures, and personalized questions; in step two, those structures are used in a spoken class story; and finally, in step three, these same structures are used in a class reading."
Mrs. Laux recalled, "I attended a one day workshop with TCI expert Carol Gaab five years ago. I was so inspired that I returned to my students in Evanston and told them to close their books and put them in the back of the room; we were going to try something new. My students spoke so much Spanish those first days that I knew my teaching would never be the same. And it hasn't been. I am now the World Language Program Facilitator in Winnetka, helping our whole department shift to this way of teaching. It's a beautiful thing to walk into a language classroom and hear so much authentic communication happening in the here and now. We not only are preparing our students for a future trip or standardized test, we are empowering them to communicate about things that matter to them right now.
We began a discussion with the students by asking where Spanish is spoken. Pupils mentioned Spain, Mexico, Latin America, and the U.S. -- including Chicago -- but were surprised to hear that Spanish is spoken in Morocco, Bosnia-Hercegovina, Turkey, and Israel. I described the passage to Morocco, the Balkans, and Turkey of Spanish and Portuguese Jews expelled from the Iberian Peninsula in 1492, the same year Columbus undertook his voyage to the New World. I then sang a Sephardic song, "En la mar hay una torre" ("In the sea there is a tower") which is so popular as to be known as a Sephardic national anthem. Its poetry and clear Spanish were easily understood by the seventh grade students.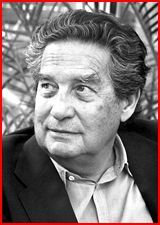 Octavio Paz, 1914-98.
The song was included in a 1994 article of mine on this topic, titled Yo Soy Una Rosa (I Am A Rose), published by the Mexican magazine Vuelta, which was edited by the Nobel Prize-winning poet Octavio Paz. I gave a copy of the article to Mrs. Laux. In an unexpected coincidence, at a Princeton University conference on the history of Communism a week later, I met Professor Rubén Gallo, who had translated my article into Spanish in Mexico 20 years ago. In a world growing smaller, the survival of distinctive lyrical traditions and of interreligious civility -- harmonies based on harmony -- is worth a continued effort at preservation.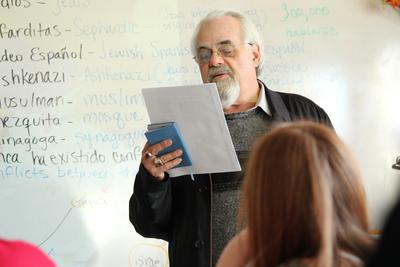 The author reading from the mentioned Vuelta article at Carleton Washburn School in Winnetka, Ill. Photograph by Faith Laux.
I was impressed by the attainments of the Chicago students and I believe they, too, were affected by learning something new. It was a good day in a Chicago public school. My thanks to the seventh graders of Winnetka and their dedicated teacher. They gave me hope in the future of our country and our children, and of mutual respect between religious believers.
Related Topics: Albanian Muslims, Balkan Muslims, Bosnian Muslims, Kosovo, Macedonia, Muslim-Jewish Relations, Sephardic Judaism, Turkish Islam receive the latest by email: subscribe to the free center for islamic pluralism mailing list