Noorud'din Nimatullah Veli, 1330-1431 CE, may his mystery be sanctified, progenitor of Nimatullahi Sufism.
April 17, 2014, has come to be known among Iranian dissidents as "Black Thursday." On that day, at least 100 Iranian riot police, members of the Revolutionary Guard Corps, soldiers, and officers of the Ministry of Intelligence and National Security joined prison guards in raiding Ward 350 of Tehran's infamous Evin House of Detention. Numerous political prisoners and heterodox Muslims from the Gonabadi-Nimatullahi Sufi order are held at Evin.
Inmates of Ward 350 were assaulted brutally, with many injured seriously and their possessions destroyed, according to the Gonabadi-Nimatullahi website Majzooban Noor (The Alluring Light). Another Iranian opposition website, Kaleme, said the outburst by security personnel occurred during "an unprecedentedly long and aggressive inspection, [as] the prisoners protested."
The Sufi source posted a letter on April 25 by Evin detainee Emad Bahavar, chairman of the youth branch of the Iranian Freedom Movement and a supporter of the unsuccessful 2009 opposition presidential candidate, Mir Hossein Mousavi. Bahavar was arrested during the Green Movement that year. In 2010 Bahavar was sentenced by a revolutionary court to 10 years in jail.
Bahavar recounted how he realized the April 17 onslaught at Evin, in which he would be targeted, was underway. He wrote that he "didn't know what was going on. . . . I could only hear voices . . . getting louder by the moment. I went towards the entrance of the ward to see what [was] going on."
He described a baton-wielding swarm of heavy-set guards, some of them "body builders, wearing tight jeans and sneakers." Bahavar demanded to know why the guards were clubbing the prisoners, but, he said, his question was treated as if he had asked, "Why don't you hit me?" Bahavar and others were kicked, slapped, and left insensible by blows from truncheons.
Some Iranian soldiers seem to have refused to join in bashing the prisoners. According to Bahavar, an order was given that "soldiers who do not want to participate in the beating" should stay out of the way.
Bahavar was handcuffed, in a group of about 30, although they were bleeding and some had trouble walking. All were blindfolded, then forced to stand facing a wall, where they were beaten on the back. Many were moaning loudly.
The guards pushed the group to walk to a police vehicle, between two files of guards that resumed beating and kicking them. Bahavar, however, was released from the van. He was taken to the prison clinic, where he saw incarcerated Gonabadi Sufi attorney Omid Behroozi, whose hand had been sliced open, leaving Behroozi covered with blood.
Bahavar wrote of Black Thursday, "When [current president] Hassan Rouhani came [to power], we said that if the suffering of the people is reduced and conditions become better, then, we would also close our eyes to everything we suffered. Some of the mourning mothers [of those killed during the Green Movement] also said they were ready to forgive. The bloody events of April 17 showed that the hatred in the hearts [of the Iranian leaders] transcends the love and forgiveness of the Greens."
The election of Rouhani was followed almost immediately last year by a similar attack at Evin. On July 19, 2013, little more than a month after his victory at the polls, 150 guards carried out an early-morning rampage through Ward 350. Sleeping prisoners were awakened and body-searched, after which their personal effects and facilities in the cells were vandalized.
The pretext for that foray against the Evin captives was a letter by 44 of them against the transfer of Dr. Ali Nazeri, a dentist who is a Green Movement, human rights, and environmental activist, to solitary confinement in the southeast Iranian town of Zabol, near the Afghan border. Dr. Nazeri's health is poor and he was taken out of Evin on a stretcher, according to the International Organization to Preserve Human Rights in Iran (IOPHRI), which cooperates with the Gonabadi Sufis.
Families of the April 17 Evin casualties assembled in front of Rouhani's office on April 22, chanting slogans demanding an end to abuses by the authorities. A similar demonstration was held at the Iranian Parliament. The Evin prisoners' relatives denounced a statement by Iranian justice minister Mostafa Pour Mohammadi, who said that during an "inspection" at Evin, prisoners suffered "some slight soreness and injuries, and preliminary reports indicate that it involved no more than one or two people."
According to Radio Free Europe/Radio Liberty, Iranian national prisons director Gholamhossein Esmaili denied that any mistreatment occurred in the Black Thursday raid and echoed Mohammadi, calling the alleged harassment of prisoners a "routine inspection." In an April 21 interview on Iranian state television, Esmaili claimed guards had found mobile phones in the cells, used supposedly to coordinate with "anti-revolutionary media" outside Iran. Esmaili's comments caused a further uproar. Ahmad Reza Haeri, the brother of Saeed Haeri, a human rights activist held in Ward 350, told the International Campaign for Human Rights in Iran that the families of the prisoners planned to file an official complaint with the supervisory board of the state media, Islamic Republic of Iran Broadcasting (IRIB), accusing it of untruthful reporting.
On April 23, the Iranian government announced that Esmaili would be replaced as head of the prison system by Ali Asghar Jahangir. Esmaili was promoted to run the judicial system for Tehran province. Jahangir is a former advisor of Ayatollah Sadegh Larijani, the top figure in the Iranian judicial system, who named Jahangir to succeed Esmaili. On the same day he appointed Jahangir, Larijani insisted no offense against prisoners had taken place in the latest Evin episode.
Larijani declared, "no violations have occurred. . . . [S]editious elements have used this completely legal procedure [prisoner inspection] to . . . revive their seditious ambitions by orchestrating people inside with enemies outside the country." He warned that prosecutors would investigate purported "publication of falsehoods and disruption of national security" involving procedures at Evin. But as noted, the families of the Evin prisoners charge that it's the authorities who are publishing falsehoods.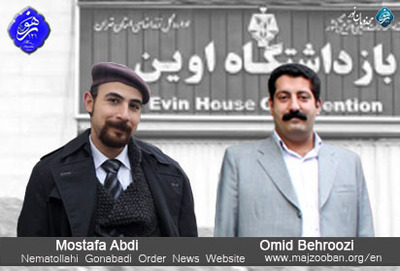 Our heroic brothers Mostafa Abdi and Omid Behroozi. Please remember them in your duas,
Omid Behroozi, the Gonabadi Sufi lawyer injured in the April 17 violence, was taken to Taleghani Hospital outside the prison, but was returned to Evin where he was blindfolded and chained to his bed in the prison infirmary, according to the Sufis. Another Gonabadi adherent, Mostafa Abdi, was moved to solitary confinement with 28 more individuals seized during the raid.
In a letter to Rouhani, 421 civil society and political activists appealed to him to establish "a special truth commission to investigate the April 17 incidents in Evin."
Meanwhile 19 prisoners who had been moved from Evin to Rajai-Shahr prison in the city of Karaj west of Tehran, including Gonabadi Sufi Reza Entesari and sociologist Saeed Madani, have begun a hunger strike in solidarity with the recent victims in Evin.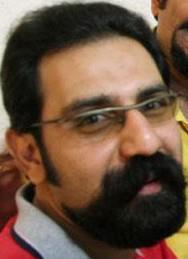 Our brother Reza Entesari. Please remember him in your duas.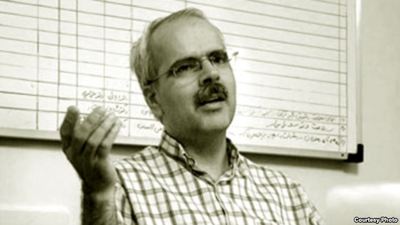 Saeed Madani. Please remember him in your duas.
Entesari, Madani, and five more of the group locked up in Rajai-Shahr addressed a statement to the "noble people of Iran." They warned, "The abuse of political prisoners by judicial authorities has become acceptable and criminal actions by security personnel in the prisons are routine. . . . The judicial authorities have become increasingly harsh and rigid in their dealings with prisoners of conscience and political prisoners. . . . Black Thursday opened up fresh wounds for the democracy-loving and freedom-seeking people of Iran. . . . No judiciary, administrative or security official has shown any type of responsible behavior. They have refused to accept accountability for these actions by fabricating deceptive lies in the official media."
The other five signatories from Rajai-Shahr deserve to be known: Jafar Shahin Eghdami, Massoud Bastani, Saeed Razavi Faghih, Mehdi Mahmoudian, and Mostafa Neeli.
Rouhani's government increases its repressive actions even as the Obama administration and other Western governments try to convince themselves that Rouhani represents reform and that a diplomatic opening to the Tehran tyranny is possible and justifiable. The torments inflicted repeatedly in the Evin House of Detention show that the essence of the regime has not changed.
Related Topics: Iran, Shiism, Sufism receive the latest by email: subscribe to the free center for islamic pluralism mailing list