Anti-radical Muslims must break their silence to oppose the revived for building a Tablighi Jamaat [TJ] mega-mosque in the West Ham neighbourhood of London. Mobilisation against the mega-mosque should include Muslims of all interpretations who are moderate, traditional, conventional and even conservative, in all locations where TJ is active. TJ cadres are mainly present in South Asia, the United Kingdom, Western Europe, Southeast Asia, and North America.
The mega-mosque proposal had been perceived as ruled out of consideration after Newham Council, which governs the borough in which West Ham is located, rejected the application for its construction in December 2012. The previous year, Newham Council had heard and turned down a petition for placement of a mosque at the site.
Nevertheless, the mega-mosque supporters were later granted a temporary right to occupy the property for two years, according to the local Newham Recorder. During that period, about 3,000 congregants used the location as a mosque. That permission has now expired.
Newham Council's Strategic Development Committee in 2012 found that the TJ mosque concept was too grandiose and would generate too much local traffic. The TJ mega-mosque promoters called for a structure that would accommodate 9,000 people at prayer, and, as detailed by the Newham Recorder, "a segregated space for nearly 2,000 women, a library, dining hall, visitors' centre, and eight flats for imams and guests, along with tennis courts, football pitches, a garden, and a riverside walk along Abbey Creek."
Also in 2012, Newham Council pointed out that the former chemical plant on the land where the mega-mosque was to be located is "heavily" polluted, an issue that has not been addressed by the proponents of the scheme, who call themselves the Anjuman-E-Islahul-Muslimeen Trust and the Riverine Trust.
In May 2014, however, as reported in the Newham Recorder, the unanimous disapproval of the mega-mosque by Newham Council in 2012 was scheduled for review by the Planning Inspectorate for England and Wales, an arm of the UK central government. A determination will then be made by Eric Pickles, Secretary of State for Communities and Local Government in the current Conservative cabinet of David Cameron, as to whether the mega-mosque will be allowed to proceed.
For anti-radical Muslims, the most important issue in countering the mega-mosque is its patronage by Tablighi Jamaat – as shown by the attempt to name the complex the "Masjid-i-Ilyas" or "Ilyas Mosque" after Muhammad Ilyas Kandhlavi (1885-1944), who was born in Uttar Pradesh, north India. TJ was created as a preaching movement based on the radical doctrines of the Deobandi sect, in which Kandhlavi studied. Deobandism is known mainly as the Islamic interpretation that inspires the Taliban in Pakistan and Afghanistan, as well as terrorist groups attacking spiritual Sufis, Shia Muslims, and others whom the Deobandis have declared to be apostates.
The London mega-mosque has been labelled variously as the Markaz or Central Mosque and the Abbey Mills Mosque, but no effort has been made to disguise its TJ affiliation.
Opposition to the TJ mega-mosque in West Ham has been led by a Christian former West Ham councillor, Alan Craig. Mr. Craig directs a protest campaign, MegaMosqueNoThanks. Mr. Craig's group expects that Secretary Pickles will hand down a decision on the mega-mosque in autumn of this year.
British Muslims have stood up in the past against the TJ mega-mosque in West Ham. MegaMosqueNoThanks points out that 2,500 Muslims in Newham signed a petition against the TJ project.
One Muslim woman who denounced the TJ plan previously, Tehmina Kazi, founder of British Muslims for Secular Democracy, gave striking testimony against TJ in the 2011 hearings on the mega-mosque plan. She declared then, "TJ discourages integration into British society, especially of female members, since they essentially do not communicate with non-Muslims ... Instead, female members... are kept secluded and the values surrounding this seclusion are transmitted to their children."
Tehmina Kazi was scheduled to give testimony in the Planning Commission this month but a withdrawal of her participation was sent to the Commission on June 3, the day it began its deliberations. Tehmina Kazi has been "reassured" that TJ will improve its posture toward women, Mr. Craig said. But expecting such a change from a multimillion-member fundamentalist movement based in South Asia is absurd. The current mosque still has not admitted women
Deobandis, the progenitors of TJ, have been fighting for control of the British Muslim community. In a total of about three million British Muslims, according to UK census figures released in 2011, almost two million, or near 70%, are of South Asian origin. Among the British Asian Muslims, Deobandis are mainly opposed by Barelvis, a Sufi-oriented sect that stresses obedience to the laws and customs of non-Muslim countries to which Islamic believers may emigrate -- a long-standing Islamic principle.
TJ has made clear that its interest in the West Ham mega-mosque is not that of serving local Muslims' spiritual needs, but of creating a Western European base.
The Cambridge-based firm NRAP Architects has submitted a design for the mega-mosque that is closer to British norms in appearance, but is still extremely large and invasive, as seen in images posted by Mr. Craig.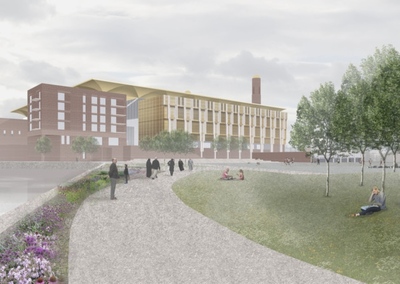 Current design for the London Tablighi Jamaat mega-mosque -- Image by NRAP Architects.
The urgent need for Muslims in Britain and around the world to speak out against the London mega-mosque scheme is based on strong traditional Islamic precepts.
First, opponents of Deobandi radicalism must counter and defeat its destructive ideology.
Mosques should be built to accommodate the needs of local worshippers, not ideological ambitions.
Further, as noted, since the time of Prophet Muhammad, Muslims who emigrate to non-Muslim lands have been called on to accept the laws and customs of the country to which they move. Not only the radical ideology of the TJ mega-mosque, but also its intrusive size, infringes on the sensibilities of its non-Muslim neighbours in a manner not respectful of British customs.
British Muslims have experienced significant problems with non-Muslims because of terrorist incidents, from the London tube bombings of July 7, 2005, to the horrifying incident last year in which a British soldier, Lee Rigby, was publicly run over by a car and hacked to death by two British-Nigerian jihadists.
As people of religion, British Muslims have the duty to protect their own community and the broader society in which they live by repudiating all extremist doctrines, including Deobandism, and by repairing conflicts that have already emerged with their non-Muslim neighbours.
Saying no to the Tablighi Jamaat mega-mosque in West Ham is an indispensable action in fulfilment of this Islamic mission.
Related Topics: American Muslims, British Muslims, Deobandism, European Muslims, Indonesia, Irfan Al-Alawi, Malaysia, Muslim-Christian Relations, Muslim-Jewish Relations receive the latest by email: subscribe to the free center for islamic pluralism mailing list