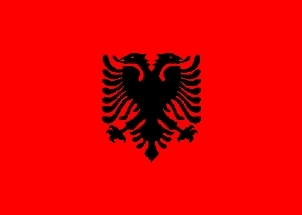 The flag of the Albanian nation.
GJILAN, Kosova — Kastriot Sadiku has a confession: Like a good Muslim, he was near a mosque when Kosova declared independence. But like a good Kosovar, he was just around the corner, sipping suds at his favorite pub.
As minaret loudspeakers broadcast afternoon prayers, "I was having a beer," said Sadiku, 25. "In the entire Muslim world, I think that's probably something that can only happen here, where our religion doesn't interfere with the rest of our lives."
Much has been made of Kosova's status as the world's newest mostly Muslim nation. But its secular government, religious leaders and faithful have carefully distanced themselves from the slightest hint of extremism.
The Republic of Kosova, they insist, embraces a decidedly laid-back version of Islam.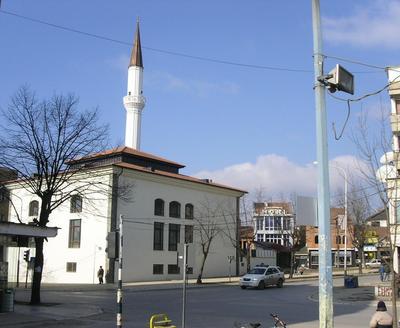 Main Mosque, Gjilan, Kosova -- Image Via Wikimedia Commons, by Planeti - GFDL-user-sq. Licensed under Creative Commons
"Our Islam is 'lite' — like Coke Lite or Marlboro Light cigarettes," said Ilmi Krasniqi, an imam at one of five mosques in the eastern town of Gjilan. "This is not Baghdad, and what goes on in Saudi Arabia cannot happen here."
That is not to suggest that radical Islam has not impacted Kosova's Muslim ethnic Albanians.
Last October, Agron Abdullahu, a 25-year-old Kosova native living in the U.S., pleaded guilty to charges of conspiring to provide weapons to five other Muslims who allegedly plotted an attack on the U.S. Army's Fort Dix military base in New Jersey. No attack was staged on the base, which is used largely to train reservists bound for Iraq.
Agim Hyseni, the chief imam in Gjilan, said Muslims in feverishly pro-America Kosova have distanced themselves from extremist ideology or acts.
Abdullahu "was an isolated individual," Hyseni said in an interview with The Associated Press in his office, decorated with a small globe and the flags of Turkey and Saudi Arabia, where he said he was schooled in the tenets of Islam.
"The people here feel no empathy for those kind of acts," he said. "They know very well what terrorism is because they've suffered through so many terrorist acts."
Relative terms in Kosova
"Terrorism" is an emotionally charged term in the Balkans, where an estimated 10,000 people were killed in Kosova's 1998-99 war between ethnic Albanian separatist rebels and forces loyal to the late Serbian leader Slobodan Milosevic.
Albanians long have accused Serbs of terrorist acts against their ethnic kin, and Serbs victims of revenge attacks have done the same.
But if terrorism is a relative term in Kosova, so is "Muslim."
The Ottoman Turks imported Islam centuries ago, but it hasn't saturated this society. Kosova was Christian before, about 7 percent of its ethnic Albanians are Catholics, and a cathedral is being built in the heart of Pristina, the capital.
The late President Ibrahim Rugova was fascinated with Roman Catholicism, and there were even unconfirmed reports after his death in 2006 that he had converted.
Although the conflict pitted Albanian Muslims against Christian Orthodox Serbs, who consider Kosova the cradle of their religion and national identity, it was a battle for turf — not a holy war.
"We've never had a Christian-Muslim conflict here," said Albulena Hoti, 20, strolling in Gjilan beneath the flags of the U.S., Britain and Germany _ all among the first nations to welcome Kosova after it declared independence Sunday.
"We're Muslims, but we're not terrorists," added Linda Kastrati, an 18-year-old student.
'Bulwark against radicalization'
Stephen Schwartz, executive director of the Center for Islamic Pluralism, a Washington-based think tank, contends Kosova will become a model of religious pluralism in Europe.
"Albanians, although Muslim in their majority, are fanatics only about their appreciation for America. Albanian Islam is moderate, and constitutes a bulwark against radicalization of European Muslims," he said.
"I don't think there's any other Muslim country in the world where there's so much Christian missionary activity that goes on undisturbed," Schwartz added.
Kosova's conflict drew only a smattering of mujahedeen — Islamic fighters from the Arab world — unlike the 1992-95 Bosnian war, where they came by the thousands to aid their Muslim brothers.
There has been speculation that Kosova, which has always enjoyed staunch backing from Washington, might give the U.S. a rare Muslim friend and some leverage in its effort to contain Islamic extremism. But intense U.S. engagement in Bosnia did little to endear America to the wider Arab world.
"America is not necessarily going to get a lot out of the Muslim world with this," Schwartz said.
Outside Gjilan's main mosque, the crowd of young men includes some with long, wiry beards and short trousers. But they are quick to eschew the strict Wahhabi interpretation of Islam followed by al-Qaida leader Osama bin Laden.
"I'm proud that our democratic and recognized country is first and foremost a very tolerant and secular state," said Fikret Morina, a 31-year-old Muslim tradesman.
"The world has no reason to be afraid of us."
Related Topics: Albanian Muslims, American Muslims, Balkan Muslims, Bosnian Muslims, European Muslims, Kosovo, Macedonia, Montenegro, Muslim-Christian Relations, Wahhabism, WahhabiWatch receive the latest by email: subscribe to the free center for islamic pluralism mailing list