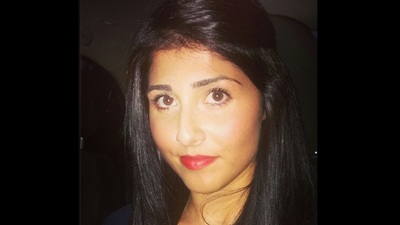 Our sister, the honorable and martyred Tuğçe Albayrak. Please recite Fatiha and read Surah Ya Sin for her.
A Sunni Muslim funeral for the slain student
Tuğçe Albayrak
, a German-born 22-year old woman of Turkish descent, was attended on December 3 by 1,500 mourners in Wächtersbach, a town in the western German state of Hesse. Prayers for Albayrak began in the local mosque, which is controlled by the Turkish-Islamic Union for Religious Affairs [DİTİB], an official arm of the Turkish government that administers Sunni religious activities in Germany. She was then
buried
in her hometown, Bad Soden-Salmünster, not far away.
Tuğçe Albayrak was an aspiring high school teacher, hoping to complete university courses in German language and in ethics. She was knocked to the pavement of a parking lot on the night of November 15, at a McDonald's restaurant in the city of Offenbach, also in Hesse. With a severe head injury and in a coma, she was kept alive for two weeks, but on November 28, her 23rd birthday, her parents asked that life-support technology for her be switched off, and she died.
Whether the death of Tuğçe Albayrak was caused by a blow to the head or by her impact on the pavement has yet to be made clear by investigators. But Tuğçe perished, according to witnesses, after trying to protect two German girls, 13 and 16, whom she allegedly heard complaining of harassment in the restaurant's toilets. The girls did not come forward immediately; following German law, their identities and statements remain confidential.
Germans as a whole – non-Muslims no less than Muslims – have been moved by the case. Tuğçe Albayrak has been treated as a civic hero. Calls for stricter measures against juvenile crime are accompanying appeals for improved schooling and more programs to prevent violence.
What immediate actions can prevent such incidents in the future? Perhaps teachers should be more aware; perhaps parents can choose better educational alternatives. Young women could be educated to defend themselves physically. Training might be offered within the sports curriculum. Another possibility is to teach boys to exercise self-control and avoid violence.
A Serbian immigrant, Sanel M., aged 18 and a resident of Offenbach, has been arrested in the case. Under German judiciary rules, his last name has not been released. He was born in Sjenica, a small town in the Sandžak region of southwest Serbia. Sjenica has a Muslim majority, and it is possible that the accused perpetrator is Muslim by origin.
According to the German daily Die Welt, Sanel M. holds a Yugoslav passport and has a lengthy criminal record in Germany. But as described separately in the same newspaper, his previous violations of law – although they included burglary and assaults, with time served as a juvenile convict – did not qualify him as a "multiple or serious offender," according to Hesse state law.
Sanel M. is now jailed in solitary confinement out of concern for his security, judicial authorities said. The crime is being handled as a physical injury resulting in death. Whether he will be tried as an adult or a juvenile is unclear, as are the results of a test to see if he was drunk. But security-camera video of the incident, posted by the German newspaper Bild and reposted by media around the world, was interpreted by Canadian Broadcasting Corporation as showing one man, presumably Sanel M., striking Tuğçe Albayrak with "some kind of club, or stick, or rock."
Who represents Islam in Germany? An integrated German-Turkish woman who defends other women, or the small group of supporters of the "Islamic State?" This question is a microcosm of the internal contradictions in Islam. Tuğçe Albayrak was not a Muslim fundamentalist. In countless images of her taken from social media and reproduced by German journalists, she does not wear a headscarf, a garment that fully covers her, or other signs of Islamist affiliation. She had principles and bravery in shielding two young girls she seems not to have known, and Germany praises her for her courage. Such valiant choices are not explained easily; they can be spurred by conscience in an instant and heard about only when they end tragically.
While Germany mourns Tuğçe Albayrak, other issues, many from Turkey, complicate the situation of German Muslims of Turkish background. In the everyday news, we find tragedy, depression, fear of outsiders, and, above all, the problem of the so-called "Islamic State."
In a recent visit to Turkey, Pope Francis called on Muslim leaders around the globe to condemn terrorist acts committed in the supposed name of Islam. The pope dealt pleasantly with Turkish President Recep Tayyip Erdoğan. Yet on November 27, the day before the pope arrived, Erdoğan condemned the West harshly.
As cited in Today's Zaman[1], Erdoğan said, "Those who come from outside [the Muslim world] only like the oil, gold, diamonds, cheap workforce, conflicts and disputes of the lands of Islam. Believe me, they do not like us.... They [Westerners] like seeing us, our children die. How long we will continue to tolerate this?"
These comments were hardly a diplomatic welcome for Pope Francis, but the pontiff conducted himself politely, expressing his respect for Islam while warning against the persecution of Christians in Iraq by the so-called "Islamic State."
Pressure is building in Germany, meanwhile, for all Muslims to declare in public their opposition to the terrorism of the so-called "Islamic State" and its self-appointed "caliph." But should every German Muslim be required to furnish proof of innocence for crimes in which they are not involved?
Such demands typically do not pertain to personal statements or acts by an individual, but presume a group responsibility of all Muslims, regardless of their attitudes toward the "Islamic State." A failure to denounce the "Islamic State" with sufficient emphasis may provoke fears of secret sympathy for it.
Collective condemnation would be absurd if demanded from all Russians for the violent intrigues of Vladimir Putin in Georgia and Ukraine. The world recognizes that some Russians support Putin and that some do not. But it seems hard for non-Muslims to distinguish Islamist radicals from Muslim non-radicals. Muslims are viewed as possessing a uniform nature, a transnational consciousness connecting them all, ignoring that not every Muslim is the same as every other Muslim.
The Islamic global community includes extremists, but, especially in Germany, most are non-extremist and adhere to the law of the land. The presence of more than a million Alevi Muslims in Germany – pluralist, secular, anti-fundamentalist, and committed to women's rights – proves that. Religious life may be lived in different ways.
One cannot repeat too often that the victims of the so-called "Islamic State" are mostly Muslims, who are fighting the "Islamic State" with weapons in hand. There is no doubt that the defeat of the "Islamic State" is important in Germany, to protect lost youths from sacrificing themselves as jihadists and to avoid terrorism by those returned from fighting abroad. General suspicion toward all Muslims will not prevent recruitment by the propagandists of the "Islamic State." The crises in Syria and Iraq did not begin with the German Muslims.
Assuming responsibility by all German Muslims for the misdeeds of the "Islamic State" merely sets Erdoğan's total disapproval of Western behavior in the Muslim lands on its head. Like Muslim radicals, who lump both Muslims who disagree with them and non-Muslims together as "unbelievers," some Westerners view all Muslims as potential terrorists. Muslims and non-Muslims continue a dangerous polarization.
For Erdoğan, the West can do nothing good. For some Westerners, the rhetoric of Erdoğan and other Islamists is more authoritative because it repeats politically correct criticisms of the West. For others, Muslims are incapable of positive contributions to the world, and must be examined regarding their attitudes. All such biased postures are, of course, wrong.
Many Muslims living in the West are poor, obscure people concentrating on their work and families, and reluctant to take a public ideological stance against the radicals. But others, such as the Alevis, have long fought radical Islam, in Turkey and in Western Europe. They are not silent, but they are left in silence – both by the element of Turkish media controlled by Islamists and by Western media.
The most serious and crushing harm to those Muslims who respect their non-Muslim neighbors and despise extremism is that many Western commentators appear utterly uninformed about the representatives of the moderate, non-extremist Muslims – from the minority communities in the West to Indonesia – and their eloquent disapproval of extremist Islam and the "Islamic State." On December 4, only days after Pope Francis went to Turkey, Al-Azhar, the Sunni Muslim university in Cairo, declared groups such as Al-Qaida and the "Islamic State" illegitimate, and condemned "all armed groups and sectarian militias who use violence and terrorism." Reflecting the Egyptian turn away from radical Islam, the country's government had, simultaneously, requested an international arrest warrant from Interpol for Qatar-based hate preacher Yusuf Al-Qaradawi. The pro-Muslim Brotherhood group of Al-Qaradawi was then expelled from the Cairo-based International Islamic Council.
Although they are hardly Western democracies, the Gulf states of Saudi Arabia, Bahrain (through its crown prince Salman Bin Hamad Al Khalifa), and the United Arab Emirates have acted to curb radicalism. The Saudis imposed legal sanctions against participation in the Syrian conflict in February 2014, with jail terms of five to 30 years for participation in terror groups, providing them material assistance, or recruiting for them. In September, Qatar, which previously sheltered Muslim Brotherhood leaders, promised to expel them. At mid-November, the Emirates' Cabinet classified dozens of Islamic groups in Europe and across the globe as terrorist, beginning with such obvious examples as Al-Qaeda, the Taliban, the "Islamic State," and numerous fronts for the Muslim Brotherhood, but also including the U.S.-based Council on American-Islamic Relations [CAIR].
Elsewhere, the kingdom of Morocco has shut down "Islamic State" recruitment cells. In late September in Paris, after the "Islamic State" beheaded French tourist Hervé Gourdel and assailed the "dirty French," hundreds of local Muslims gathered at the Grand Mosque in Paris to declare that they if being French is "dirty," they share the description proudly. The Grand Mosque's rector, Dalil Boubakeur, described Mr. Gourdel as the victim of a "cowardly murder." Muslim prayer days opposing the "Islamic State" were held additionally in Germany and Scandinavia.
In the Balkans, Bosnia-Hercegovina and Kosova have prohibited their citizens from joining the "Islamic State" and have arrested returnees from Syria and Iraq. Tunisia has shut down extremist mosques and detained jihadist financial contributors. The two main Muslim organizations in Indonesia, Nadhlatul Ulama and Muhammadiyah, both with tens of millions of members, condemned the "Islamic State."
Muslims should oppose Islamist fanatics such as the "Islamic State," but what if their defiance is disregarded? Western media know – and seem to care – little about the fight of many Muslims against radical Islam, or of the Kurds against the "Islamic State." How long will it take before responsible Westerners perceive the details of the struggle among Muslims between extremists and non-extremists, between radicals and anti-radicals?
German and other European investigative agencies can, and should, closely monitor radical Islamist agitation and obstruct involvement with extremist Muslims aside from those of the "Islamic State." But Muslims who have not engaged in jihadist behavior or advocacy should not be probed about their attitudes. Instead, they should be encouraged to speak out about when they occur, just as non-Muslims do, not because they are accused of being "complicit" but because they oppose beheadings, stonings and other practices that seem at best outdated and at worst abhorrent.
German Muslims deserve to be judged by the example of Tuğçe Albayrak no less than by the atrocities of a few who may participate in the evil of the "Islamic State."
[1] Today's Zaman is the media platform of the Islamist movement led by Fethullah Gülen, a former ally and now a rival of Erdoğan's Justice and Development Party [AKP].
Related Topics: Alevism, Balkan Muslims, Bosnian Muslims, European Muslims, German Muslims, Kosovo, Kurdish Islam, Muslim Brotherhood, Turkish Islam receive the latest by email: subscribe to the free center for islamic pluralism mailing list