Uyghur democracy leader Ms. Rebiya Kadeer's tenth anniversary of freedom

An opportunity to refocus efforts in realizing human rights for the Uyghur people
by The Uyghur American Association
Uyghur Human Rights Project and Uyghur American Association
March 16, 2015
http://www.islamicpluralism.org/2471/uyghur-democracy-leader-ms-rebiya-kadeer-tenth
[Note: The Center for Islamic Pluralism endorses this statement by the Uyghur American Association.]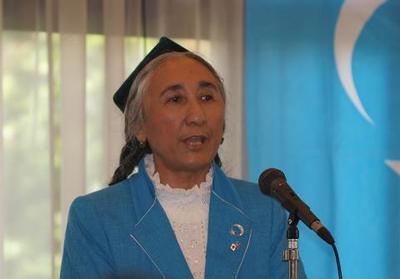 Our sister Rebiya Kadeer.
The Uyghur American Association (UAA) honors the human rights work of Uyghur democracy leader Ms. Rebiya Kadeer on the tenth anniversary of her release from notorious Chinese prison Liudaowan. UAA also recognizes the tireless efforts of the United States government and human rights organizations in securing Ms. Kadeer's freedom.
Ms. Kadeer served as UAA president from 2006 to 2011 and is the president of the World Uyghur Congress. After her release, she founded the International Uyghur Human Rights and Democracy Foundation and has traveled worldwide communicating Uyghur human rights concerns.
"Ms. Kadeer is a symbol of the Uyghur people's peaceful resistance to China's iron-fisted repressive rule in East Turkestan. She has faced down the formidable authoritarian state that is China to tell people from presidents to university students about the brutal repression of the Uyghur people. In order to silence Ms. Kadeer, Chinese officials have targeted her family, put her in prison and labeled her a 'terrorist;' however, she still continues to speak truth to power. The treatment of Ms. Kadeer shows the kind of contempt the Chinese government has for peaceful dissident Uyghur voices," said UAA president Alim Seytoff.
Mr. Seytoff added: "Although we observe Ms. Kadeer's ten years of freedom, Uyghurs still experience terrible human rights conditions in China. China has made a fanfare about so called 'Uyghur terrorism' without providing much evidence. This spin the Chinese government has put on the tensions in East Turkestan is to convince the international community that repressive measures against Uyghurs are justified. At this perilous time, governments and multi-lateral agencies must strengthen their support for Uyghur rights by treating China's terror allegations with utmost skepticism and challenging Chinese officials on their appalling human rights record in East Turkestan."
Uyghurs are routinely imprisoned for the their peaceful advocacy aimed at improving human rights conditions. Professor Ilham Tohti and webmaster Gulmire Imin were jailed for exercising their freedom of speech. Professor Tohti was particularly outspoken on a number of economic, social and cultural issues facing the Uyghurs through his Uighurbiz website. The detention of HIV/AIDS activist, Akbar Imin is a further example of the limited space the Uyghurs have to raise social problems with the state.
The case of Uyghur author, Nurmuhammet Yasin shows the tight constraints placed on artistic freedom. The jailing of Abdukiram Abduweli and Alimjan Yimit are demonstrative of the curbs place on religious rights in East Turkestan.
Brief biography of Ms. Rebiya Kadeer
Ms. Rebiya Kadeer is the mother of eleven children, a human rights leader and former businesswoman. She established a multimillion-dollar trading company and a department store in Urumchi. To provide assistance and opportunities to disadvantaged Uyghurs, especially women, Ms. Kadeer started the "Thousand Mothers Movement" in December 1997, to empower Uyghur women to start their own businesses.
Ms. Kadeer served as a delegate to the National People's Congress and the Chinese People's Political Consultative Conference, as well as a delegate to the United Nations Fourth World Conference on Women in 1995. Originally held up as a model of Uyghur success and philanthropy, Beijing's attitude toward Ms. Kadeer changed when she criticized China's treatment of her people during a National People's Congress session in March 1997. In her speech, she demanded that the Chinese government honor the autonomy conferred on the Uyghur people and respect their human rights. She also criticized China's harsh crackdown of a Uyghur demonstration that had taken place a month earlier in Ghulja.
In 1997, Ms. Kadeer was stripped of her membership in both the National People's Congress and the Chinese People's Political Consultative Conference and forbidden to travel overseas. She was arrested in 1999 while on her way to meet with a U.S. Congressional delegation that was visiting East Turkestan to investigate the human rights situation there. She was sentenced to eight years' imprisonment in March 2000, following a secret trial. Forced to spend two years in solitary confinement, she witnessed brutal torture and abuse carried out on her fellow prisoners.
Ms. Kadeer's case received wide international attention as Amnesty International and Human Rights Watch publicized her case and aggressively pursued her freedom. In 2000, Human Rights Watch honored Ms. Kadeer as a human rights monitor. In 2004, Norway's Rafto Foundation honored her with the Rafto Award. Then, on March 17, 2005, three days before an official visit to Beijing by U.S. Secretary of State Condoleezza Rice, she was released from prison, ostensibly on medical grounds, and sent to the United States, where she was given refugee status. In retaliation for her human rights advocacy, Chinese authorities have frequently persecuted Ms. Kadeer's children and other family members.
Ms. Kadeer has actively campaigned for the human rights of the Uyghur people since her arrival in the United States and for her work has been nominated for a Nobel Peace Prize. In September 2005, Ms. Kadeer founded the International Uyghur Human Rights and Democracy Foundation in Washington, D.C, which works to promote human rights for Uyghur women and children in East Turkestan. In May 2006, she was elected to the presidency of the Uyghur American Association. In November 2006, she was elected as president of the World Uyghur Congress, which represents the collective interests of the Uyghur diaspora, both in East Turkestan and in countries throughout the world.
See also:
Dragon Fighter: One Woman's Epic Struggle For Peace With China
http://www.kalespress.com/kp/Dragon.html
The 10 Conditions of Love
http://www.10conditionsoflove.com/links.html
* * * * *
The Uyghur American Association (UAA) works to promote the preservation and flourishing of a rich, humanistic and diverse Uyghur culture, and to support the right of the Uyghur people to use peaceful, democratic means to determine their own political future.
The UAA has undertaken the Uyghur Human Rights Project (UHRP) for the purpose of promoting improved human rights conditions for Uyghurs and other indigenous groups in East Turkestan, on the premise that the assurance of basic human rights will facilitate the realization of the community's democratic aspirations.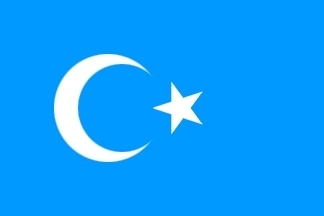 The flag of East Turkestan.
Related Topics: Central Asia, China, Kazakhstan, Uighurs, Uzbekistan receive the latest by email: subscribe to the free center for islamic pluralism mailing list