Zakir Naik, 49, an Indian Muslim by birth, and a medical doctor by education, is known widely in the Arab and South Asian Muslim communities. He represents a style of radical Islamist television preaching that most non-Muslims might identify with Christianity. Naik is an ostentatious caller to Islam who alleges he can easily bring members of other faiths into the Muslim fold.
In multireligious India, such claims are inflammatory and may easily lead to violence. The year 2010 saw Britain, whose significant Muslim minority is overwhelmingly South Asian, ban Naik from entry to the country. Canada then imposed the same bar on Naik visiting for Islamist revival events.
But Naik is intent on gaining the greatest possible global audience for his extreme opinions. He directs a television network, titled PeaceTV, broadcasting in Urdu, Arabic, English, and Spanish, among other languages, and based in Mumbai, Saudi Arabia, and the Gulf state of Dubai.
Naik is considered by moderate Indian Muslims to embody the core ideology of Wahhabism, which underpins the Saudi kingdom and supports the terrorism of groups like Al-Qaida. The brutality of the so-called "Islamic State" in Syria and Iraq represents a metastasized version of Wahhabism, unrestrained by the economic and regional politics of the Saudi rulers.
The "Islamic State" targets Shia Muslims as well as moderate Sunnis, spiritual Sufis, Christians, and ancient sects that have survived in Syria and Iraq for millennia. But in India, Sunnis and Shias have joined together against the destructive efforts of Zakir Naik.

At the beginning of this year, alarm over Naik's Wahhabi agitation led 10 Indian Sunni and Shia organizations to unite against an appearance by the flamboyant sermonizer at the India Islamic Cultural Centre in New Delhi. The 10 groups constituted themselves as the "Sufi Voice of India" (SUVOI - Sada-e-Sufia-e-Hind). Syed Babar Ashraf, a leading Indian Sunni Sufi, filed two judicial complaints against Naik "for derogatory comments about different faiths causing communal disharmony by hurting religious sentiments." Understandably, hate speech is illegal in India.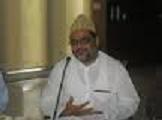 Syed Babar Ashraf, our brother and teacher.
Syed Babar Ashraf and other moderate Indian Muslims have accused Naik of links with Jama'at ud-Dawa [JUD - Community of Preaching], the "charity front" for Lashkar-e-Taiba [LET - Army of the Righteous], a Kashmir-based jihadist group that, in turn, assists Al-Qaida. LET has committed crimes from the U.S., where a group of its supporters - the "North Virginia jihad network" - was imprisoned in 2003-2005, to the London Heathrow airport conspiracy of 2006 and the bloody atrocities in Mumbai in 2008... plus others less well-known to the world. LET was declared illegal as a terrorist group in India under the Unlawful Activities (Prevention) Act of 1967.
In protesting the divisive exhortations of Zakir Naik, the new, united Sunni-Shia-Sufi front, SUVOI, and Syed Babar Ashraf, declared that such fanaticism harms "the religious sentiments of all sects of Islam along with the rest of the faiths." The Sufi leader commented, "being an exponent of a putative puritanical Islam, Dr. Naik has been spreading the message of exclusivism among the Muslim masses, which will prove disastrous in the long run. It would be wise on our part to remind ourselves of the destruction Wahhabi ideologues have caused to world humanity in general, and non-Wahhabi Muslim believers in particular. Apart from advocating political extremism resulting in large scale violence, the Wahhabis unashamedly destroy shrines associated with the Holy Prophet (Peace Be Upon Him) thus damaging invaluable world heritage." The recent orgy of vandalism by the self-proclaimed "Islamic State" in Iraq represents an extension of the same doctrine of cultural annihilation.
Syed Babar Ashraf stated further that the Indian "Sufi Sunni community comprises nationalist Muslims who want to work with the majority Hindu community for an inclusive growth of the country. India needs to consider an inclusive growth of minority communities as envisaged in its constitution, for promotion of a nationalistic mindset, and not for Muslim appeasement which favors Wahhabi ideology but does not help poor minority people who want peace, coexistence and employment above everything else. This community does not want appeasement, it needs employment, minimum guarantee of livelihood, education and security... Such people can then be educated in the ways of their Sufi heritage and can become the frontline of the fight against terrorism by educating other people about the Sufi heritage of the Indian Muslims and its difference from the terrorist or Wahhabi ideology."
How, then, does Saudi Arabia, where Naik's PeaceTV functions and which continues to support Wahhabism as the sole official interpretation of Islam in the kingdom, deal with Zakir Naik? Since his installation as the new monarch in Riyadh in January, King Salman Ibn Abd Al-Aziz, half-brother of his predecessor, King Abdullah Ibn Abd Al-Aziz, has appeared committed to continuation of the limited but real reforms in Saudi life that King Abdullah imposed.
King Abdullah built grand universities, loosened restrictions on media, and promised positive changes in the status of Saudi women. King Salman may do the same. But for both rulers, the influence of the Wahhabi clergy was and remains a major obstacle to the normalization of the country. In an example of the push-pull between the modernizers and the Wahhabi hardliners, the dissident blogger Raif Badawi was subjected to 50 lashes for supposedly "insulting Islam." Badawi was seized and flogged during the brief period between the entry of King Abdullah into the hospital in December and Abdullah's death in January, during which the situation in the kingdom was confused.
King Abdullah's office had referred the Badawi case to the Saudi Supreme Court after the public whipping. In a typical example of Wahhabi ferocity, Badawi had been sentenced to 1,000 lashes to be administered over 20 weeks. Nevertheless, after the first session of torture Badawi's punishment was suspended and has not been resumed. One may speculate that Western outrage at the scourging moved the Saudi authorities to stop it, but the Saudi royals have seldom proven vulnerable to criticism of their denial of human rights, either by Westerners or Muslims.
While the possibility that King Salman commanded the Wahhabi clergy, which acts in place of a normal judiciary, to retreat from its persecution of Badawi, relations between the throne and unreconstructed Wahhabis like Zakir Naik demonstrate that the foundation of the Saudi state - an 18th century marriage alliance between the House of Saud and that of Ibn Abd Al-Wahhab, founder of the Wahhabi sect - endures. The vicious corporal punishment of Raif Badawi was ordered because he criticized Wahhabism, not Islam.
And at the beginning of March 2015, King Salman bestowed a prestigious award, the "King Faisal International Prize for Service to Islam" on Zakir Naik. The Pakistani newspaper Dawn, in its issue of March 2, pointed out some curious aspects of this honor. First, it noted that regarding the horrors of September 11, 2001, "[i]n a July 2008 PeaceTV broadcast Naik suggested that Al-Qaida was not responsible for flying hijacked airliners into New York's World Trade Center... 'Even a fool will know that this was an inside job,' he said in the video, claiming then-President George W. Bush was behind the attacks."
In another bizarre aspect of Saudi life today, the ceremony honoring Naik included presentation of a similar award to a subject of the kingdom, Abdulaziz bin Abdulrahman Kaki, for research on the cultural history of the holy city of Medina. There Wahhabi bigots have demolished Islamic monuments and demanded further acts of devastation, continuing their established line of behavior and inspiring the spurious "Islamic State." Will Kaki oppose ultra-Wahhabi demands in this matter?
But even more strangely, the King Faisal International Prize was also granted, Dawn reported, in medicine, to Jeffrey Ivan Gordon of the United States, for research on obesity, and in science, to Michael Gratzel of Switzerland for development of solar cells, and to co-winner Omar Mwannes Yaghi of the United States for his achievements on metal organic frameworks.
Which way, then, for the Saudi-Wahhabi partnership? Will the rulers of Riyadh continue to celebrate figures like Zakir Naik, who instill contempt for others, Muslim and non-Muslim, or will they protect their Islamic cultural legacy while embracing new advances in science?
Related Topics: African-American Muslims, American Muslims, Balkan Muslims, British Muslims, Canadian Muslims, Irfan Al-Alawi, Kosovo, Muslim-Christian Relations, Muslim-Jewish Relations, Saudi Arabia, Wahhabism, WahhabiWatch receive the latest by email: subscribe to the free center for islamic pluralism mailing list