Skopje/Shkupi
In Homage to Catalonia, George Orwell described, on his return to Barcelona after serving in the front lines of the Spanish Civil War, "an unmistakable and horrible feeling of political rivalry and hatred" in the Catalan capital. During a late-May visit to Skopje/Shkupi, capital of the independent Republic of Macedonia, something similar was in the air.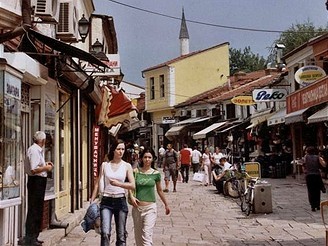 The Bitpazar [Old Market] in Skopje/Shkupi, where Albanians are now concentrated.
In April and May, Macedonia was in upheaval. Forty armed men raided a police station in Goshince, on the border with Kosova, April 21. That event was blamed on a marginal group calling itself the National Liberation Army, organized from among Macedonia's Albanian minority. On May 8, in the northern city of Kumanova, an outbreak of fighting left 8 police officers and 14 rebels dead. Macedonian authorities arrested 30 in the affair—18 from Kosova, 2 Macedonian Albanians living in Kosova, 9 citizens of Macedonia, and 1 Albanian citizen living in Germany.
The complex nature of the Republic of Macedonia makes the convolutions of the Spanish Civil War look simple by comparison. The country is often called the Former Yugoslav Republic of Macedonia (FYROM) because Greece asserts that the name "Macedonia" can only be applied to the territory Athens governs south of the previous Yugoslav-Greek frontier. Although their common border is extensive, Greece boycotts Macedonia.
The Republic of Macedonia replies to this gesture of contempt by claiming Alexander the Great, who came from ancient Macedonia and lived in the fourth century b.c., as its historical ancestor—notwithstanding the fact that most present-day citizens of the Republic of Macedonia are Slavs whose forebears did not appear in the region until at least the sixth century a.d. Alexander the Great was definitely not a Slav.
Neither are a large minority of the citizens of independent Macedonia. While the population is estimated at 2 million, no census figures have been released since 2002, when Slavs made up 64 percent, Albanians 25 percent, and others (Turks, Roma, Serbs, and unspecified) 11 percent. Albanians claim their share is closer to half.
Slav Macedonians are mainly Orthodox Christians, though some are Muslims. Macedonian Albanians are mostly Muslims, with significant Catholic and Orthodox minorities. Mother Teresa was an Albanian Catholic born in Skopje/Shkupi, although the Slav authorities try to claim her along with Alexander.
The mischief in Macedonia is mysterious. The recent outbreaks of violence occurred under the government of Nikola Gruevski, leader of a formerly leftist, now ultranationalist party, the Internal Macedonian Revolutionary Organization-Democratic Party of Macedonian National Unity. Gruevski rules in tandem with a previously insurgent Albanian party, the Democratic Union for Integration.
Gruevski has faced a growing challenge since Zoran Zaev, the Slav leader of the opposition Social Democratic Union of Macedonia, an ex-Communist party, accused the prime minister of wiretapping tens of thousands of members of the country's political and intellectual elite—and released the transcripts. Gruevski had already been branded as profoundly corrupt.
Some veterans of the Kosova Liberation Army (KLA) who are now affiliated with the militantly nationalist Alliance for the Advancement of Kosova (AAK) were involved in the Kumanova clash. A KLA combatant and AAK representative, Xhafer Zymberi, was reported killed. The AAK, an opposition party in Kosova, expressed its dismay at the Kumanova incident. AAK leader Ramush Haradinaj fretted that Albanians throughout the Balkans had never been in a better position than now. "Albania is in NATO, Kosova is independent, and Albanians in Macedonia have progressed," he told a Kosova radio station on May 11.
Numerous Macedonians believe that Gruevski was responsible for the April and May bloodshed. His motive, they claim, was to divert attention from the popular discontent with his government. Blogger Ivana Jordanovska described the chaos on the night of May 8 as follows: "The police forces of Macedonia entered Divo Naselje, a neighborhood of .  .  . Kumanova. According to official sources, the police had information about a terrorist group hiding in some of the houses in this ethnically mixed part of town that was planning to carry out attacks on state institutions. Throughout the night and following day, sounds of grenades and gunshots could be heard, while several buildings were burned and civilians evacuated. As I drove into the city from the airport, there was one thought I couldn't get rid of: Who would benefit from this crisis? .  .  . The narrative being spread made no sense. .  .  . The terrorists could not have expected support from the local Albanians."
Jordanovska noted that if, as the Macedonian police declared, foreign terrorists had infiltrated the country and engaged in a skirmish, "the government would have to declare a state of emergency. A state of emergency allows for special measures, such as introducing a curfew or revoking the right to protest. And what's been happening in Macedonia lately? Protests."
Mobilizations against Gruevski did not begin with the wiretapping controversy. His critics charged him with fraud in last year's national elections. The anti-Gruevski forces have targeted, additionally, an unpopular education law, a new tax regulation, reform of secondary schools, the imprisonment of a journalist, and the death of a young female denied medical attention because of bureaucracy. But most crucially, a Gruevski supporter, Martin Neshkoski, was beaten to death by state police after Gruevski's electoral victory in 2011. The wiretapped conversations released by Zaev include discussions of the Neshkoski case by Gruevski and his closest cronies.
Bigger protest rallies began on May 5 and culminated on May 17. Thousands of Slav Macedonians, Albanians, and Macedonian Turks assembled to call for Gruevski's removal. The next day, a pro-Gruevski countereffort brought together Slav Macedonians and Serbs.
Officials loyal to Gruevski blamed the Kumanova carnage on Kosova. Kosova leaders responded by calling for a "credible and transparent" investigation of the massacre. With the positive identification of 18 Kosovar Albanians involved in the assault, Kosova police raided their homes in search of evidence.
In the Kosova journal of record, Koha Ditore (Daily Times), the respected commentator Enver Robelli demanded to know "who are these people, these Albanians who gave themselves a mandate to fight?" Robelli called on Albanians in Macedonia to gain their legitimate rights while removing Albanian criminals from politics.
Alternating between fantastic conspiracy theories, Serbian sources claim that "the West" supports an attempt to create a "Greater Albania" uniting Albania proper, Kosova, and Albanian ethnic areas of Macedonia, south Serbia, Montenegro, and Greece. Serbian president Tomislav Nikolić, during a visit to Italy, invoked this specter.
Meanwhile, a frenzied Serbian academic, Ljubodrag Dimić, argued that "Greater Albania" is an Islamic State (ISIS) project, supposedly aimed at holy war against Balkan Christians, with the purported complicity of Catholic Croatia.
Further, the Kumanova tragedy coincided with the indictment of 32 people by the Kosova authorities for participation in and recruitment to ISIS forces in Syria and Iraq. Under a recent Kosova law, anybody convicted of fighting abroad faces a prison sentence of up to 15 years.
Kosova officials say more than 200 people from the republic have joined ISIS, with at least 40 already killed. Kosova deputy foreign minister Petrit Selimi has specified that 50-60 are still serving the terrorist entity.
Dimić spun his fantasies to include an attempt to block a new Russian energy pipeline, the Turkish Stream, from passing through Macedonia. But with high mountains, that country would be impenetrable for such an engineering project. The Serbian "expert" even foresaw a Chinese scheme to build a high-speed railway that would link the Balkans to the Far East.
Chaos has been revived in the region, where the hand of Vladimir Putin is detected even beyond talk about the Turkish Stream pipeline. On May 15, Russian foreign minister Sergey Lavrov visited Belgrade, capital of Serbia, to support the gas pipeline project through Turkey, Greece, and Serbia, while "helping stabilize" Macedonia.
To anyone walking through Skopje/Shkupi, a city of at least half a million, the physical evidence of mischief is eloquent. The city has only a façade of modernity—in contrast with Prishtina, the Kosova capital, where economic progress is real. In Skopje/Shkupi, new bridges across the Vardar River, which formerly divided the Slav and Albanian districts, empty into giant plazas that have pushed Albanian shopkeepers and cafe owners further northeast. The city has been transformed in pseudo-Roman, neofascist style, with huge statues to the heroes of an invented history, beginning with Alexander. A Holocaust Museum has opened, although the members of the ancient Jewish community of Macedonia were handed over to the Nazis during World War II. But Slav Macedonia has a short memory: In the main square, stickers are for sale depicting Tito, Stalin, Mao, Castro, and Hitler.
Related Topics: Albanian Muslims, Balkan Muslims, Bektashi Sufis, Bosnian Muslims, European Muslims, Kosovo, Macedonia, Montenegro, Muslim-Christian Relations, Russia, Sufism, Turkish Islam receive the latest by email: subscribe to the free center for islamic pluralism mailing list