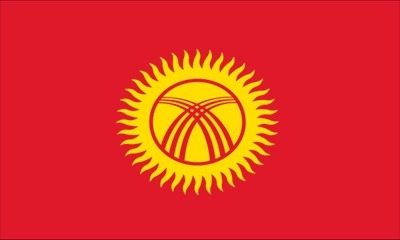 The flag of Kyrgyzstan.
On Sunday, October 4, the Central Asian former-Soviet republic of Kyrgyzstan held national elections to its 120-member parliament. The main incumbent party, the reforming Social Democrats (SDPK) were returned to power, and the ruling president, Almazbek Atambayev, who is their leader, gained a second term. But the previous administration was replaced, and the polling was certified and praised enthusiastically by international observers.
The Organization for Security and Cooperation in Europe (OSCE), which monitors elections in many such countries, reported that the "lively and competitive elections were unique in this region." The Financial Times noted that Kyrgyzstan had held "possibly the most competitive elections in the history of post-Soviet Central Asia." The winning Social Democrats were credited with 27.4 percent of the vote, and 38 seats, while their leading rival, the Ata Jurt or Fatherland party, received 20 percent and 28 deputies. Twelve other parties competed with them. The Kyrgyz constitution forbids any party from electing more than 65 representatives.
Kyrgyzstan has 5.6 million people, 70 percent of them ethnically Kyrgyz. They are Sunni Muslims, as are about 20 percent more drawn from surrounding Central Asian Muslim communities. The rest are Russian. Kyrgyz, a Turkic language, and Russian, are the official languages, reflecting the heritage of tsarist and Soviet rule. Kyrgyzstan was conquered by the tsarist empire in 1876. Like other ex-Soviet states, Kyrgyzstan has a significant Jewish community and maintains good relations with Israel.
Kyrgyzstan is the most remote from Moscow, Berlin, and Washington of the former Soviet republics, but several factors make its political future important.
First, it is close to Afghanistan, with its capital, Bishkek, separated from Kabul by about 650 miles, across the territory of the former Soviet republic of Tajikistan. From 2001 to 2014, the U.S. military operated Manas Air Force Base, later retitled the Manas Transit Center, in Kyrgyzstan, as a hub for Afghan operations against the Taliban.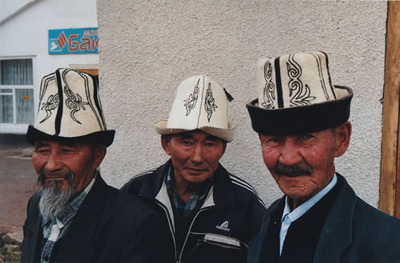 Kyrgyz men in traditional headgear.
Radical Islam is weak in Kyrgyzstan, where local Turkic cultural traditions dominate. In the surrounding region, however, Islamist extremists have been recruited in Uzbekistan, and are said to be active in Kazakhstan and Turkmenistan. Tajikistan, which is Persian-speaking but Sunni rather than Shia, is an under-the-radar satellite of Iran. On the eastern border of Kyrgyzstan sits China, with a restive minority of Turkic Uighur Muslims, some of them drawn into jihadism.
Further, Kyrgyzstan has an energetic civic culture, as was seen in the Tulip Revolution of 2005, when the former Communist Askar Akayev, who had led the country after the fall of the Soviet empire, was overthrown. In 2010, his successor, Kurmanbek Bakiyev, was cast out of power in the "second Tulip Revolution," which also saw ethnic conflict between Kyrgyz, Uzbeks, other Muslims, and Russians. A new constitution was adopted by referendum, strengthening the role of the parliament, and the present incumbent, Atambayev, was elected in 2011.
Kyrgyzstan was the first post-Soviet state to be admitted to the World Trade Organization, in 1998. Its political journey has indeed made Kyrgyzstan unique in Central Asia. China is run by a traditional Communist party-state, Russia suffers under Putin's de facto dictatorship, and Turkmenistan, Tajikistan, Uzbekistan, and Kazakhstan are controlled by undisguised autocrats, most of them in position since the end of communism. Mongolia is democratic, but is ignored, and has steered clear of a new Russian or Chinese embrace.
The most significant aspect of the situation in Kyrgyzstan involves its, and President Atambayev's, relations with Vladimir Putin. Last year, an Eurasian Economic Union (EEU) was formed by Russia, Belarus, and Kazakhstan, with Armenia and Kyrgyzstan invited to join. Kyrgyzstan's membership was confirmed on August 6. While it is presented as a common trade zone comparable to the European Union, the EEU also provides ominously for mutual defense commitments.
Putin does not favor the "color revolutions," of which the "Tulip Revolutions" were among the best known. The Russian overlord has demonstrated his distaste for any such movement in his assault on Ukraine, which saw the "Orange Revolution" in 2004-05. But Atambayev's country is unlikely to suffer the consequences of Moscow's attentions as seen in Ukraine. Kyrgyzstan is too far away and does not possess a large enough Russian minority to cause an upheaval on behalf of Moscow.
Still, Kyrgyzstan follows a narrow pathway between Russia, China, radical Islam, and the urge of its people for political liberty. Prior to the EEU, it has belonged since 1996 to the Shanghai Cooperation Organization (SCO), with Russia, China, Kazakhstan, and Tajikistan. And finally, the entire region is targeted for influence by the Turkish Islamist party of Recep Tayyip Erdoğan, the Justice and Development Party (AKP).
The history of Manas AFB illustrates the convolutions forced on Kyrgyzstan by its political history and the intrigues of Putin. The base was established near Bishkek toward the end of 2001. In 2005, the former U.S. base at Karshi-Khanabad in Uzbekistan was closed and Manas became the main U.S. facility in the region. Some years after the "first Tulip Revolution," Kyrgyz president Kurmanbek Bakiyev called, in 2009, for the closure of Manas. Still, the base was not handed over to Kyrgyzstan by Washington until 2014.
Kyrgyzstan and its post-Soviet rulers have been forced to cooperate with Russia and China by economic conditions. The Central Asian state is poor, and dependent on agriculture and mining. Its export base is limited, and its per capita gross domestic product is only $1,250 per year.
The country is not a perfect example of post-Communist modernization. The Financial Times pointed out that the ranks of the 14 Kyrgyz political parties include numerous oligarchs and that more than 10 percent of candidates were disqualified for criminal convictions. Parliamentary seats were sold openly, according to the London newspaper.
Remote as it was, a U.S. base in an independent, impoverished ex-Soviet Central Asian country, inclined to real democratization, was clearly discomforting to Putin. In terms of American interests, the election in Kyrgyzstan underscores an important lesson: wherever we oppose terrorism, the will of the local populace to gain sovereignty and prosperity is our most significant asset. Putin's claims to a place in the fight are nothing compared with his personal and political ambitions. Kyrgyzstan is lucky to be as far from Moscow as it is.
Related Topics: Central Asia, China, Iran, Kazakhstan, Kyrgyzia, Muslim-Jewish Relations, Pakistan, Turkish Islam, Uighurs, Uzbekistan receive the latest by email: subscribe to the free center for islamic pluralism mailing list