Iran Meddles in Nigeria's Sectarian Strife
by Stephen Schwartz
The Weekly Standard Blog
December 23, 2015
http://www.islamicpluralism.org/2535/iran-meddles-in-nigeria-sectarian-strife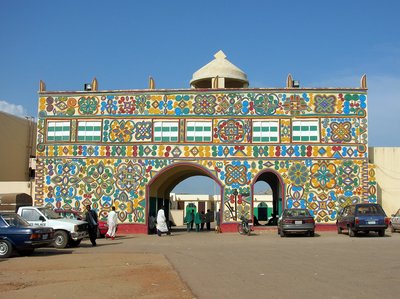 Gate to the palace of the Emir of Zaria, Nigeria -- Photograph 2005 Via Wikimedia Commons.
Nigeria, once known only as Africa's most populous country, now mainly makes headlines for the eruption in its northeast of the brutal jihadist force, Boko Haram ("Western education is prohibited"). Boko Haram has occupied parts of Nigeria and invaded neighbors, including Niger, Cameroon, and Chad. It declares itself a West African province of the so-called Islamic State (ISIS).
The four countries attacked by Boko Haram and another Muslim-majority state, Benin, have formed a coalition against it, with support from the United Nations, the United States, Britain, and France. But resistance to the jihadis has been weak. Nigeria is well-endowed with human and financial resources—before the shale revolution it stood alongside Saudi Arabia and Venezuela as a leading vendor of oil to the U.S.—but its political and social structure have left it vulnerable to a serious terrorist threat.
The most infamous atrocities of Boko Haram have been its kidnapping of girls and women. A series of suicide bombings in mosques, markets, and other public places have been carried out by young females, leading to speculation that they have been indoctrinated or coerced by Boko Haram. Nigeria is 50 percent Muslim and 40 percent Christian, while 10 percent follow indigenous beliefs, according to the CIA World Factbook. The northern strip of the country is Muslim, and the south mainly Christian.
Boko Haram is not the only radical Islamist group active in Nigeria. The overwhelming majority of Nigerian Muslims are Sunnis, and Boko Haram claims to act in their interest, but the country has a small Shia community as well. Nigerian Shias were proselytized and radicalized by the Islamic Movement of Nigeria (IMN), led by sheikh Ibrahim Al-Zakzaky, who turned to extremist Shiism in the aftermath of the Iranian revolution of 1979. Al-Zakzaky's rise, from a headquarters in Zaria, in the northern state of Kaduna, preceded the emergence of Boko Haram in 2002 and the launching of its insurrection in 2009. In 1996, the Nigerian government ordered Al-Zakzaky's arrest for declaring that only an Islamic government could be obeyed.
Through the decades, beginning in the 1980s, Al-Zakzaky and his followers have clashed with Nigerian authorities. Last year Al-Zakzaky's group, as noted by Newsweek, confronted the Nigerian army in Zaria, leaving 34 people dead, including three of Al-Zakaky's sons. On November 27, 2015, a procession celebrating Al-Zakzaky in the northern Nigerian state of Kano was bombed, killing some 21 people, but responsibility for that action is a matter of contention. Al-Zakzaky said then, according to the Nigerian news portal pulse.ng, that the atrocity had been committed by the Nigerian government and declared that Boko Haram is "imaginary."
In the latest episode, on December 12, IMN militants blocked a road near Zaria, preventing the passage of the Nigerian army's chief of staff, Lt. Gen. Tukur Buratai. Once again, violence broke out. According to the National Mirror, the conflict began as a standoff, after which 15 people were killed (the total number of casualties is disputed). Al-Zakzaky's house was raided and he was arrested by the army but has been turned over by them to judicial authorities for prosecution, Buratai said on December 17.
Nigerian media speculate that the agitation of Al-Zakzaky and his supporters could create a second—and worse—Boko Haram. The Saturday Sun, another Nigerian paper, described Muhammad Yusuf, founder of Boko Haram, as a former associate of Al-Zakzaky. The paper warned that Al-Zakzaky's group could do damage to Nigeria that would make Boko Haram's assault look like "child's play."
But more remarkable about this obscure incident in a faraway place has been the response of Iran and of Shia groups around the world to it. However small a minority Shias may be in Nigeria, it is clear that Al-Zakzaky looms large in Iranian geopolitics. Akbar Hashemi Rafsanjani, head of the Iranian Expediency Council, a leading organ of the Islamic Republic, denounced the raid on Al-Zakzaky's house to the official Iranian news agency PressTV. The smiling face of Iranian power, President Hassan Rouhani, telephoned Nigerian president Muhammadu Buhari to offer him, medical aid for the victims and other assistance.
PressTV ran an interview with IMN representative Ibrahim Musa under the headline "Nigeria army raids on Shias a Wahhabi-Israeli-American plot." Another Iranian agency, Tasnim News, reported that thousands of Iranians rallied in support for Al-Zakzaky. Moqtada Al-Sadr, the radical Iraqi Shia cleric now living in Iran, summoned his ranks to denounce the Nigerian government. Similar protests were called by Hezbollah in Beirut. In Pakistan, Shia Muslims marched in support of Al-Zakzaky in 50 cities. A demonstration in support of Al-Zakzaky was held by some American Shias at the Nigerian Mission to the United Nations in New York on December 18.
An Iranian gambit for influence in West Africa would seem to follow Iran's support for the Houthi uprising in Yemen, as well as its continued involvement in Iraq, Syria, and Lebanon. Nigeria may now be caught between two fires: that of Boko Haram and that of the Islamic Movement of Nigeria.
Related Topics: American Muslims, Iran, Iraq, Macedonia, Muslim-Christian Relations, Pakistan, Shiism receive the latest by email: subscribe to the free center for islamic pluralism mailing list