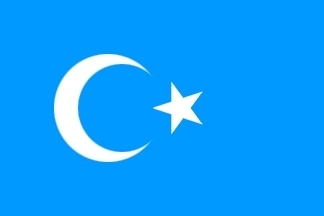 The flag of East Turkestan, Uyghur homeland occupied by China.
[Note: The Center for Islamic Pluralism endorses this statement by the Uyghur Human Rights Project.]
The Uyghur Human Rights Project (UHRP) is extremely concerned about the pending trial of Patigul Ghulam and urges concerned governments and human rights organizations to call on China for her immediate and unconditional release.
Citing a source close to Patigul's family, Radio Free Asia (RFA) reported the trial is scheduled for April 7, 2016. According to the March 30, 2016 RFA article, Patigul has been charged with leaking state secrets for discussing her son's case with overseas media.
Patigul Ghulam has faced continued harassment from Chinese officials in her determination to discover the fate of her son, Imammemet Eli, who was forcibly disappeared in the days following unrest in Urumchi on July 5, 2009.
UHRP believes the upcoming trial of Patigul Ghulam is not only an attempt to end her search for Imammemet Eli, but also a measure designed to intimidate other Uyghurs seeking answers about loved ones disappeared after the 2009 unrest.
"The trial of Patigul Ghulam on charges of leaking state secrets is a clear case of state persecution of a defenseless individual. All she is guilty of is attempting to find out what happened to her son after Chinese police arrested him in 2009. In accordance with international human rights standards, Patigul should have been informed as to the whereabouts of Imammemet immediately after his detention. However, she now stands to lose her liberty because the Chinese authorities are covering up a gross violation of human rights," said UHRP Director Alim Seytoff.
Mr. Seytoff added: "The charge Patigul faces is indicative of the Chinese government's destructive approach to the welfare of the Uyghur people. It appears the repressive conditions under which Uyghurs live is a state secret that cannot be opposed peacefully or revealed to the outside world. This approach tells Uyghurs to keep quiet while the state implements policies that do not reflect their interests. The international community should call for Chinese authorities to immediately and unconditionally release Patigul from detention and provide information regarding her son's situation."
According to the March 30 RFA article, Patigul was arrested in May 2014 approximately a month after an interview she gave to RFA's Uyghur Service. In the interview she disclosed a recent meeting with Wang Mengshen, the Urumchi city police chief, about her son's disappearance. Only after six months in detention were her family permitted to visit. Subsequent visits have been possible on a monthly basis.
In information shared with UHRP, it is understood that court details have not been disclosed to the public or the family. Patigul has a state appointed lawyer, but the trial will be conducted behind closed doors. The family has been warned about sharing information on the case with overseas media and has expressed their fear of government harassment.
In an article dated September 4, 2012 RFA described the disappearance of Imammemet Eli. Patigul told RFA reporters her son has been detained on July 14, 2009 and the last indication she had of his condition was nine months after his arrest. She learnt from Eli's fellow inmates he had been tortured and as a result of his injuries been sent to a hospital. "I don't know where my son is, whether he is alive or dead," Patigul is quoted as saying in the report. RFA also noted that Patigul had been petitioning the government and police to disclose the whereabouts of her son and had confronted Wang Mengshen in March 2011 for information. On September 8, 2012 she was placed under house arrest.
On July 5, 2009, Uyghur men, women and children peacefully assembled in People's Square, Urumchi to protest government inaction over a deadly attack on Uyghur factory workers in Shaoguan, Guangdong Province. In separate reports published in 2010, the Uyghur Human Rights Project and Amnesty International interviewed eyewitnesses to the demonstration, who described security forces' use of deadly live fire against Uyghurs. Despite such evidence, Chinese state media called the events of July 5, 2009 a "terrorist" action.
Human Rights Watch documented in a report the disappearance of 43 young Uyghur men and youths after the July 5, 2009 unrest in Urumchi. We Are Afraid to Even Look for Them describes large-scale sweep operations in the Uyghur neighborhoods of Erdaoqiao and Saimachang in Urumchi and smaller, targeted raids that continued through at least mid-August, 2009. Human Rights Watch highlights the arbitrary nature of the detentions, stating that, in some cases, "the security forces simply went after every young man they could catch and packed them into their trucks by the dozens."
In a report dated May 14, 2012, Radio Free Asia described how 36 Uyghur families had come forward with accounts of family members missing since the July 5, 2009 protest. An article published by Amnesty International on the third anniversary of the Urumchi unrest claimed "there are more than two hundred families in one county in Hotan prefecture alone with disappeared relatives." Furthermore, from interviews with eyewitnesses to the unrest, UHRP documented allegations of Uyghur disappearances in reports issued in 2010 and 2011.
The primary international legal instrument protecting individuals against state enforced disappearance is the International Convention for the Protection of All Persons From Enforced Disappearance. Although China is not a signatory to the convention, the instrument establishes international human right standards. Article 12.1 states:
"Each State Party shall ensure that any individual who alleges that a person has been subjected to enforced disappearance has the right to report the facts to the competent authorities, which shall examine the allegation promptly and impartially and, where necessary, undertake without delay a thorough and impartial investigation. Appropriate steps shall be taken, where necessary, to ensure that the complainant, witnesses, relatives of the disappeared person and their defence counsel, as well as persons participating in the investigation, are protected against all ill-treatment or intimidation as a consequence of the complaint or any evidence given."
See also:
Patigul Ghulam – "I don't have a gun, I have only my mouth and my tears, and you cannot control them."
http://weblog.uhrp.org/patigul-ghulam-i-dont-have-a-gun-i-have-only-my-mouth-and-my-tears-and-you-cannot-control-them/
A mother's anguish drives her quest for the truth
http://www.womensrights.asia/rfa_patigul_ghulam.html
* * * * *
The Uyghur Human Rights Project (UHRP) is a human rights research, reporting and advocacy organization. Our mission is to promote human rights and democracy for the Uyghur people, raise awareness of abuses of Uyghurs' human rights, and support the right of the Uyghur people to use peaceful, democratic means to determine their own political future.
UHRP was founded in 2004 as part of the Uyghur American Association (UAA), a Uyghur diaspora group which works to promote the preservation and flourishing of a rich, humanistic and diverse Uyghur culture. In partnership with UAA, in 2016 UHRP began operations as an independent group.
Related Topics: Central Asia, China, Kazakhstan, Kyrgyzia, Pakistan, Turkish Islam, Uighurs, Uzbekistan receive the latest by email: subscribe to the free center for islamic pluralism mailing list