Ramadan Greetings From Indian Sufis for 2016 CE, 1437 AH
by Haji Syed Salman Chishty
Chishty Foundation
June 8, 2016
http://www.islamicpluralism.org/2574/ramadan-greetings-from-indian-sufis-for-2016-ce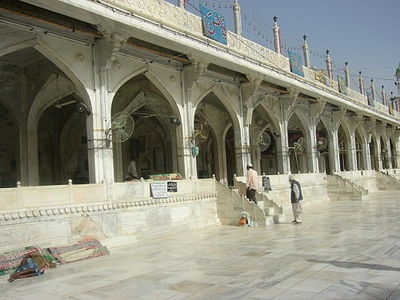 Ajmer Sharif Shrine -- Photograph 2010 by Shahnoor Habib Munmun, Via Wikimedia Commons.
There's hidden sweetness in the stomach's emptiness.
We are lutes, no more, no less. If the soundbox is stuffed full of anything, no music.
If the brain and belly are burning clean with fasting, every moment a new song comes out of the fire.
The fog clears, and new energy makes you run up the steps in front of you. When you fast, good habits gather like friends who want to help.
Its table is set beyond day and night.
So what is fasting? An invitation to a secret feast....... - Hz. Rumi's Book of Masnavi Sharif.
Welcome to the month of secret spiritual feasts - Have a blessed sublime month of Ramadan mubarak.
Duas and Blessings from Ajmer Sharif, India - the blessed seat of the Chishty Sufi order in South Asia for the last 800 years....
"Love towards All, Malice towards None"
Sultan ul Hind Gharib Nawaz Hazrat Khawaja Moinuddin Hasan Chishty (r.a.) -
Haji Syed Salman Chishty
Gaddi Nashin - Dargah Ajmer Sharif
Director - Chishty Foundation - Ajmer Sharif Humanitarian Non-Profit Trust - Regd. by Govt. Of India
Postal Address: Chishty Manzil, Jhalra Street, Dargah Sharif Ajmer - 305001 - Rajasthan - INDIA
Tel : +91 145 2429473 ---- Cell : +91 9829174973
Twitter : @sufimusafir
Skype : sufi.musafir ------ www.chishtyfoundation.org
---
Ramzaan greetings to whole of the team of CIP.
Babar Ashraf
Related Topics: American Muslims, Central Asia, European Muslims, Pakistan, Sufism receive the latest by email: subscribe to the free center for islamic pluralism mailing list