South Asians everywhere mourn slaying of religious singer
by Irfan Al-Alawi
Lapido Media [London]
June 29, 2016
http://www.islamicpluralism.org/2579/south-asians-everywhere-mourn-slaying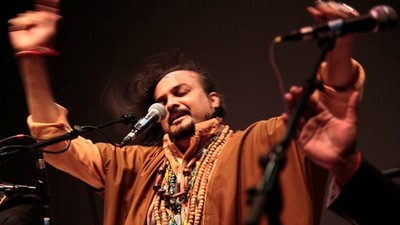 Amjad Farid Sabri. Fatiha.
Amjad Farid Sabri was a
beloved
qawwal
or Sufi singer known throughout Pakistan, India, and Bangladesh, as well as the South Asian Muslim diaspora.
Drive-by motorcyclists murdered him in his car with a companion in Karachi on 22 June.
Just 45, Amjad Sabri was driving to a television studio for a celebration of iftar, the end of the daily Ramadan fast, when the attack occurred.
Both the targeted men died.
Sabri leaves a wife and five children.
He was the son of the most famous Qawwal, Ghulam Farid Sabri who, with his brother Maqbool Sabri, revived the sacred Qawwali genre, performing at Britain's WOMAD Festival and New York's Carnegie Hall in the 1970s.
Qawwali is an intensely spiritual and loving form of devotion to Allah and the prophets, in verse with musical accompaniment.
It is a centuries-old form of devotion based on the meditative and metaphysical Sufi tradition within Islam.
The Hakimullah Mehsud faction of the Taliban took responsibility for the crime.
The fundamentalist terror group denounced Amjad Sabri as a 'blasphemer', supposedly because the singer praised Muhammad, which the Taliban and other adherents of the Deobandi sect label idol-worship.
Sabri was cited in a blasphemy case involving Geo TV in Islamabad's High Court in 2014.
The assailants in last week's assassination escaped but the murders seem of a piece with a wave of extremist – and some claim Wahhabi – inspired aggression against Sufi shrines in south Asia culminating in the 2010 bombing of the Data Durbar shrine in Lahore when 45 worshippers died.
The Data Durbar monument includes the tomb of the eleventh-century Sufi mystic Abul Hassan Ali Hajveri, known as Data Ganj Baksh, or 'the giver of spiritual treasures'.
Thousands of Pakistani Muslims turned out for the funeral of Amjad Sabri after gathering at his home to console his survivors.
Sohail Anwar Siyal, home minister of Sindh province in southeast Pakistan, which includes Karachi, offered a reward of 5 million Indian rupees (£55,000 or USD75,000) for information leading to the arrest of the killers.
Last Saturday (25 June), Sindh chief minister Qaim Ali Shah doubled the provincial budget outlay in the case, providing 10 million rupees to the family of Amjad Sabri for support of his widow and education of his children.
That same day, the Pakistan Counter-Terrorism Department (CTD) leaked to the media the apparent arrest of five suspects in the case.
The main detained individual, whom they did not name, is reported to be a member of the Muttahida Qaumi Movement [MQM].
MQM originates among Muslim refugees from India and has dominated politics in Karachi.
After Amjad Sabri's death, the MQM had condemned the murder and ordered a three-day mourning period for the singer.
Last Sunday, Aoun Sahi, writing in the Los Angeles Times, quoted Ali Raj, a friend of the dead singer, who declared, '"In a society like ours where sectarian lines and groupings are so clearly defined, Amjad Sabri lived life on his own terms. He was a devoted Sufi singer, passionate about where he was coming from and what he believed in."'
Related Topics: British Muslims, Deobandism, Irfan Al-Alawi, Pakistan, Sufism, Takfir, Terrorism receive the latest by email: subscribe to the free center for islamic pluralism mailing list