Western Imaginings

The Intellectual Contest to Define Wahhabism
by Rohan Davis
New York: American University of Cairo Press, 2018. 232 pp. $55.

Reviewed by Stephen Schwartz
MIddle East Quarterly
Spring 2019
http://www.islamicpluralism.org/2700/western-imaginings
According to Davis, Wahhabism—the puritanical version of Sunni Islam formulated by the eighteenth-century cleric Muhammad bin Abd al-Wahhab and formally adopted by the Saud family in 1744—is based on "imaginings" by maleficent Westerners. But Wahhabism is not an analytical concept, a propaganda slogan, or a hate term, though apologists may try to present it as such.
Davis's book supports the writings of Natana Delong-Bas, whom he seeks to whitewash, ignoring that her book—itself a whitewash of Wahhabism—was assisted directly by Saudi ruling figures.[1] He evinces no knowledge of Islamic sources aside from secondary texts in English. Instead, he lists "authorities" such as Jacques Derrida, Gilles Deleuze, Noam Chomsky, and other authors useful for padding a bibliography, but not for Islamic, comparative religion, or Middle East studies. Indeed, Davis, who holds a Ph.D. from RMIT University, Melbourne, describes himself as a specialist in "the sociology of intellectuals [sic] tradition" focused on neoconservatism.
Davis's book exemplifies the institutional corruption, willful dishonesty, and pseudo-intellectual manipulation in Middle East studies. Full disclosure: Much of this book constitutes an attack on this reviewer and his work and is a feverish, Jew-hating pamphlet of a kind that proliferated in Germany and Eastern Europe in the late nineteenth century.
The volume is replete with meaningless jargon and invented concepts employed to subvert the truth that Wahhabism is the official form of Islam in Saudi Arabia; that it motivates terrorism; and that it explains 9/11. Wahhabism is not imaginary and was not invented by any observer. It is a repressive reality faced by a billion-plus Muslims in their daily lives and by non-Muslims as well.
Put simply, this book is a shoddy hit job intended to stir hatred of moderate Muslims, Sufis, Jews, critics of Wahhabism, and others who recognize the danger to the world of Saudi ideology.
[1] See review of Natana J. Delong-Bas's Wahhabi Islam: From Revival to Global Jihad, "Brief Reviews," Middle East Quarterly, Winter 2005.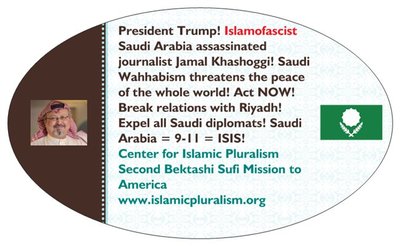 receive the latest by email: subscribe to the free center for islamic pluralism mailing list