Islamic heritage lost as Makkah modernises

CIP International Director Al-Alawi on Saudi vandalism of holy sites
Voice of the Cape [South Africa]
January 7, 2009
http://www.islamicpluralism.org/764/islamic-heritage-lost-as-makkah-modernises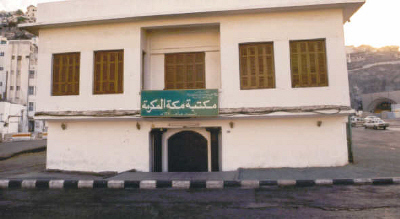 Birth Place of the Prophet
Places like these, which is where the Prophet SAW was born has now been turned into a library. It is one of over 300 holy sites linked to the Prophet (SAW), his family or companions that have been lost in the past 50 years. With the rapid construction and development of cities like Makkah and Madina in the Saudi Kingdom to make way for modern cities that would ostensibly make haj a smoother experience, more sites are likely to be lost. That is according to Dr Irfan Al Alawi, executive director of the Islamic Heritage Research Foundation.
He was speaking to VOC last week shortly after the Saudi Gazette reported that the Promotion of Virtue and Prevention of Vice - which is part of the Shariah police – has called for 14 historic sites in Makkah to be eradicated or shut down so that visitors, mostly "unaware" pilgrims from across the globe, would not indulge in un-Islamic rituals there. The Saudi Civil Defence also called for implementation of safety regulation at those sites or immediate closure of them.
According to Al Alawi, the department which falls under the Ministry of Police, have been responsible for the enforcement of several "bizarre" laws based on the belief that no intercession was needed and therefore visiting places which held a heritage value for Muslims was akin to idolatry. "They want many of the historic sites eradicated or shutdown. The Islamic Heritage Research Foundation was started specifically because many of these Islamic heritage sites were being wiped away as Muslims watched on. Authorities are saying that the developments are intended to make the pilgrimage bigger and better, but in fact, Makkah, Mina and Arafat are being blown to pieces."
He said while there was a way to ensure strategic expansion, which shows respect to heritage sites, other reasons motivated the present construction. "One must understand that there is lots of financial gain to be made for the Saudi rulers and those investing in these marble castles. Over the last 50 years we have lost 300 historic sites linked to the Prophet (SAW), his family or companions, never to be replaced again. Yet we learn from our history.
Dynamited
"While they blow up these places of historic value, the Muslim world appears to have gone to sleep. They appear only worried about Masjidul Aqsa – not that they should not be – and about issues like the protection of the name Muhamad and thing like the teddy bear issue, when places like the house where the Prophet Muhamad (SAW). I think we should realise that the cradle of Islam is Makkah.
"We all face Kaaba-tullah and if places like the mountain of Hira, Jabal Thur, the house where the Prophet (SAW) was born are to be demolished as the Saudi government has already highlighted, all of these mountains mentioned in the Quran and within 7km of Makkah will be levelled. Mina and Arafat are being dynamited to make them level," he said.
He said while there were still a few remaining heritage sites left, it was fast disappearing. This includes the house of Sayedina Hamza and Masjidul Aqaba where the allegiance was given to the Ansaar, both of which are close to Makkah. "In Madina there were companions of the Prophet (SAW) buried in Masjidul Qatabiyya a minute's walk from the Prophet's mosque. They thought it was causing innovation and removed the three graves from here and put them in Jannatul Baqi and eventually demolished it. Even the caves in the mountain of Uhud where the Prophet rested they want to block off. The place where the Prophet's wife, Mariya gave birth to their son, Ebrahim, was demolished; the grandson of the Prophet's grave and masjid has been dynamited…so this is a continuous destruction."
According to Al Alawi, the Saudi rulers don't concern themselves much with heritage because their interpretation of Islam sees the veneration of such sites as a form of shirk (idolatry). "The very first destruction of heritage started in 1924-1925 when Ibn Saud conquered Saudi Arabia and the very first thing he destroyed were two cemeteries, Al Baqi in Madina and Muala in Makkah.
"And then he tried to destroy the green dome in Madina. Many things happened in that period – many holy mosques, the domes built on the graves of the Prophet's relatives were all destroyed. If we go back over the past 70, we see only about 40 heritage sites remaining and only because they are out of the way. Had they been closer to the Grand Mosques they too would have been under great pressure to be demolished."
Preservation
By contrast, Al Alawi said, the Saudi government could learn much from the Ottoman empire who went to great lengths not only to preserve heritage sites, but also educated people about them. "They taught people not to worship these sites, but there is no reason why one cannot go there to seek the blessing of praying at places where for instance the Prophet (SAW) might have gone to pray, just as his Companions had done."
Asked how much this Saudi position on heritage had to do with Wahhabism, he said: "A lot. There is a definite strategy which had a lot of influence from the Wahhabi movement and it is going stronger as Makkah is being modernised. The Wahhabis believe in tauhid. They do not believe in intermediary from the Prophet. At the same time, they have this sickening ideology that only they are right and those who don't believe as they do, are demonised. Yet we forget that Makkah is in fact a sanctuary to all Muslims, yet I'm afraid that it has become like a Las Vegas."
The flipside of this approach, Al Alawi said was that pilgrims who visited the Kingdom were completely unaware of such heritage sites and although this might encourage tourism, Saudi authorities were reluctant to allow them to ziyarah (visit) such places. "I have great sympathy for the hujjaaj who do not know of this Islamic heritage. Even those who wish to visit such sites have difficulty in finding an informed guide to take them. Often people have to ask their taxi drivers and then too, one cannot be sure of the accuracy of their knowledge."
SA Roadshow
He said this is why educating people about such sites in all countries where you find Muslims is important. "I believe that King Abdullah wants to make a change so the opportunity for all Muslims to exert pressure is now, although I don't know if we will see change in his lifetime. We must consider that if in the 1980's they could completely replace the Kaaba, what stops them from removing the Green Dome in Madina? What is needed is more awareness on these heritage sites around the globe because the time is running out quickly as Makkah is being blown to pieces."
But this did not mean Muslims had to get emotional and talk of overthrowing the Saudi government. "Such approaches do not work. Rather we need to work strategically, which is why I am looking forward to coming out to South Africa by May for a roadshow, introduced by Sheik Siraj Hendricks, where we will show people exactly how these heritage places are being blown up, bulldozed and destroyed."
Meanwhile, more details are available at [email protected] or at www.islamicheritage.eu.
Related Topics: Saudi Arabia receive the latest by email: subscribe to the free center for islamic pluralism mailing list