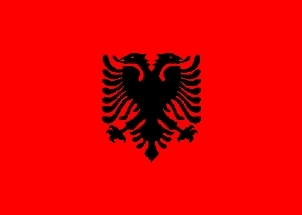 The flag of the Albanian nation.
On May 20, Tomislav Nikolić was elected president of Serbia in a second-round runoff against incumbent Boris Tadić. Tadić, who sought a third term, and his Democratic party, have been described as victims of Serbian populist opposition to European Union financial austerity. Nikolić, candidate of the Serbian Progressive Party (SPS), calls for Serbia to join the EU but favors economic coordination with Russia instead of Western Europe. Tadić now seeks the prime minister's post.
The victorious Nikolić went to Moscow on May 26, before his inauguration, to confer with Vladimir Putin. While there, Nikolić commenced a series of public remarks that should have had, to say the least, a clarifying effect among Eurocrats and others. For Nikolić and his party, nationalist grievances outweigh investment issues. He announced that along with trade cooperation with Moscow, Serbia would adopt a "neutral" posture and would not apply to join NATO.
The new Serbian president further declared from Moscow that he would not "trade" Serbian claims that Kosova remains its territory, to gain entry into the EU. He added that Serbia might recognize Abkhazia and South Ossetia, the regions of Georgia occupied by Russia in 2008, as separate countries, in retaliation for international support to independent Kosova. The Republic of Kosova proclaimed its sovereignty in 2008, and its status has been accepted by 91 nations, including the United States, but not by Serbia.
Nikolić had served in the regime of dictator Slobodan Milošević during the 1999 NATO intervention that freed Kosova from domination by Belgrade. But he had been flattered, in the months preceding Serbia's elections, by Western media. They described him as a politician who, while long associated with extremist Serbian ideology, had cast his past record aside. The "new Nikolić" was said to place Serbian entry into the EU ahead of other goals. European officials have, nevertheless, stated consistently that accession to the EU must be based on regular diplomatic relations between Serbia and Kosova.
With his return to Belgrade, Nikolić resigned as head of the SPS, and was inaugurated on May 31. But Nikolić reinforced the conviction that his new political costume concealed a zealotry unmitigated since the Balkan wars of the 1990s. He described his aim for Serbia to become "an equal member of the EU" but without giving up Kosova. In his first week in office he told state television in Montenegro that the Serbian massacre of some 8,000 Bosnian Muslim men and boys at Srebrenica in 1995 – which led to U.S. and NATO action to end the Bosnian war – was "not genocide."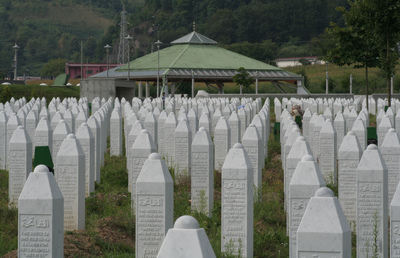 Srebrenica-Potočari Memorial and Cemetery for the Victims of the 1995 Genocide -- Photograph 2008 Via Wikimedia Commons.
While campaigning between the first and second electoral rounds in May, Nikolić was interviewed by the authoritative German daily Frankfurter Allgemeine Zeitung. He defended the 1991 Serbian siege of the baroque Croatian city of Vukovar on the frontier between the two states. In the assault on Vukovar, much of the town was damaged and numerous innocent civilians, including injured patients at the local hospital, were murdered by Serb irregulars. According to Nikolić, Vukovar was a "Serb town" to which Croats had no reason for returning.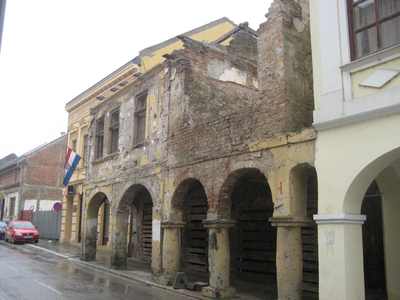 Vukovar, Croatia -- Photograph 2007 Via Wikimedia Commons.
None of this should have been surprising considering Nikolić's prior career. From the collapse of the former Yugoslavia until his foundation of the "pro-Europe" SPS in 2008, Nikolić was a prominent disciple of Vojislav Šešelj, head of the Serbian Radical Party (SRS) and the most unrestrained inciter and organizer of ethnic violence in the group surrounding Milošević.
Šešelj is currently under indictment at the United Nations International Criminal Tribunal for Former Yugoslavia (ICTY) in the Hague, for crimes against humanity and war crimes. In 2003, Šešelj turned himself in at the UN tribunal, and Nikolić took over direction of the SRS. In addition to serving Milošević and Šešelj throughout their period of unimpeded aggression, Nikolić ran three times for the ex-Yugoslav and Serbian presidency, as the hardest-line aspirant.
The Nikolić victory comes at a bad time for Kosova and the region. The area of Kosova north of the divided mining town of Mitrovica was once inhabited by a mix of Albanians, Serbs, Slav Muslims, and others, but has been a rallying place for Serbian nationalists since 1999. Some of the latter live in Kosova while others cross the unmarked and ineffectively-monitored frontier with Serbia. The Serbs have carried on an enduring campaign to expel Albanian residents of the northern enclave, and to prevent control of the border by the ethnic Albanian government in the Kosova capital, Prishtina.
Serbs support "parallel structures" in northern Kosova – including a separate government and police – in defiance of the international administration in the country, which styles itself the EU Rule of Law Mission in Kosovo (EULEX). Putin's Russia supplies aid to the Serbs in their northern zone, with regular truck convoys, while Serbian militias blockade traffic and commerce with the rest of Kosova. NATO troops sealed the Serbia-Kosova border in 2008 after local Serbs rioted to protest Kosovar independence and burned down customs and immigration posts at two villages, Jarinje and Bernjak, north and west of Mitrovica.
In July 2011, the Kosova authorities attempted to reassign customs and immigration officials at Jarinje and Bernjak. A Kosovar Albanian border guard, Enver Zymberi, was killed, five others were injured. The Jarinje control station was burned down a second time by a Serbian crowd. Serbian and Kosovar media alike reported that EULEX officials assigned to administer Jarinje had fled when they saw the approach of uniformed, masked men. The border post at Jarinje was retaken by NATO Kosovo Forces (KFOR) troops led by U.S. personnel. As the moderate Pristina daily Express Zëri (Voice) noted, "Rescue Comes from the Americans."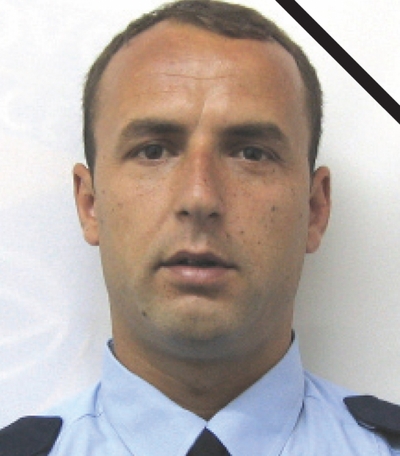 Rahmetli Enver Zymberi, 1979-2011. Photograph Via Rrokum TV, Prishtina.
Through last year, control of the Serbia-Kosova border posts fluctuated, with EULEX and KFOR attempting to maintain an official Kosovar presence. While barricading roads and assaulting the posts, Serbs also used uncontrolled roads to continue supplying their "parallel structures." In September 2011, eight Americans and one German were attacked when they shut down one such route.
Northern Kosova remains unsettled. In April 2012, a bomb planted at an apartment house in Mitrovica killed a Kosovar Albanian, Selver Haradinaj, 38, and injured his wife and four children. On June 1, with Nikolić in office in Serbia and increasingly issuing militant statements against normalization of relations between Serbia and Kosova, action by NATO soldiers to remove Serb barricades at Zveçane in northern Kosova resulted in a day of clashes in which the Serbs shot at American-led KFOR troops, who responded with rubber bullets, tear gas, and water cannons.
NATO secretary general Anders Fogh Rasmussen justified the action by KFOR as self-defense.
[Note: The Albanian-language text of this article is accessible at http://www.islamicpluralism.org/2050/schwartz-nikolici-nuk-ndryshon.]
[Shënim: Teksti në gjuhën shqipe i këtij neni është i arritshëm në http://www.islamicpluralism.org/2050/schwartz-nikolici-nuk-ndryshon.]
Related Topics: Albanian Muslims, Balkan Muslims, Bosnian Muslims, European Muslims, Kosovo, Russia receive the latest by email: subscribe to the free center for islamic pluralism mailing list