CIP Names Murat Muftari of Michigan as New U.S. National Director
by Stephen Schwartz
Illyria [New York]
January 8, 2013
http://www.islamicpluralism.org/2166/cip-names-murat-muftari-of-michigan-as-new-us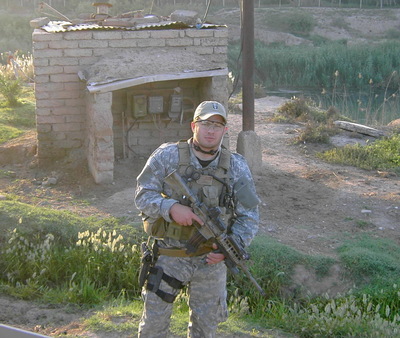 Murat Muftari after an overnight mission pursuing foreign terrorists, Baquba, Iraq, Spring 2006.
The Center for Islamic Pluralism is pleased and proud to announce the appointment of Murat Muftari as its U.S. National Director.
Murat is an Albanian-American and adherent of Bektashi Sufism. He is a former soldier in U.S. Special Forces who served in Iraq during the war to liberate the country from the dictatorship of Saddam Hussein. Murat is the co-founder and president of the Albanian Legacy Foundation.
He is therefore a proven moderate Muslim who has distinguished himself in defending the values CIP holds to most: support for American democracy, the freedom of the oppressed, and pluralism in Islamic thought and practice.
Murat, as CIP U.S. National Director, will be based in the Detroit area, which has a large Muslim presence, including numerous Albanian-Americans in addition to Arab-Americans. He will develop programs for outreach to other American religious communities as well as reinforcement of pluralistic and spiritual principles in American Muslim life.
Public affairs groups and institutions interested in meeting with Murat and learning about his experiences may contact the CIP national office in Washington, DC.
We welcome Murat to our ranks and look forward to his and our success, guided by the will of Almighty Allah and the examples of Bektashi spiritual leaders and patriots.
Stephen Suleyman Schwartz
Executive Director
Center for Islamic Pluralism
Note: Articles by Murat Muftari may be read here and here.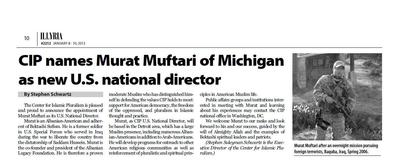 We Are One.
Related Topics: Albanian Muslims, American Muslims, Bektashi Sufis, Canadian Muslims, European Muslims, Iraq, Kosovo, Macedonia, Montenegro, Muslim-Christian Relations, Muslim-Jewish Relations, Sufism, Wahhabism receive the latest by email: subscribe to the free center for islamic pluralism mailing list